Upcycling the newer and greener version of recycling, is the best way to add value by transforming or reinventing something old and disposable into something of higher quality. The art of reusing discarded and old objects in a new way is becoming a rage among individuals across the globe. In addition, a popular pastime for many, nowadays one can easily find thousands and thousands of blogs, pages and programmes dedicated to the art of upcycling. Proving to be phenomenon that has taken the home décor industry by storm, here are the simple tricks that will surely help you in converting your contemporary living space into a green space.     
Make-old-into-new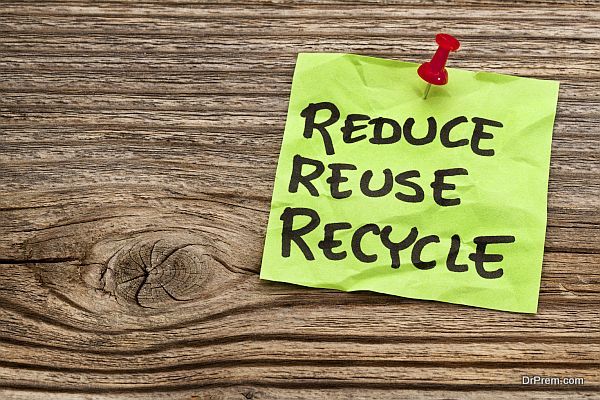 Gone are the days when buying expensive garden accessories or home accessories was fashion, as in the end they would surely end up in dump. Now is the time of make-old-into-new, as it gives you chance to refurbish old into something that will bring aesthetics in your contemporary living.
Reinvesting in junk
Upcyling is like reinvesting in junk, giving you chance to adopt natural path to green and clean living by creating unique home furnishings and decorating your home with latest garbage trends.
De-cluttering living space
It not only boost your creative side but helps you reuse you reuses and recycle old artifacts into modern home decoration items. De-cluttering the living space, turning garbage into artifacts – upcycling is the great way to create natural handmade decor promoting green living and eco homes. With a little imagination and zest to create something, anyone can turn budget-friendly items into an eye-catching piece that will add oodles of personality to your home.
Old suitcase into table
Have you ever thought how smartly you can convert the old and vintage suitcase into something that is functional and have capacity to store away-unwanted material? All you need is a glass and some rigorous cleaning to turn it into one-of-a-kind coffee table.  The suitcase will also act as closet to keep old magazines and likes, while glass on top will become the surface for placing items.
Paint it
Not an expert when it comes to hammering and DIYs well then by just painting your old cabinet with some valiant colors one can covert old piece into a fresh décor item. So, spice up your dresser, console or cabinets by adding some bold color and patterns to give it a new feel and look, while also increasing the age of the items.
Drawer divider
It is next to impossible to place your items systematically in your drawer. Nevertheless, now one can fashion the drawer with empty cereal boxes. Just cut the boxes according to the shape and size of the drawer and your personal drawer divider is ready.
CDs to convert old plates into modern decor
Old CDs can be used to offer new life to old plates and trays. With the help of glue, one can easily stick old shattered CDs on plate. When placed in light these plates reflect lights, giving the complete room a magical feel. What all you need is old trays/plates, old CDs and glue.
Coffee Cans as Canister
Rather than throwing away empty coffee cans, they can be repurposed as kitchen accessory for placing and storing items. Not only offering clean look to kitchen, they bring symmetry and aesthetics in kitchen. People with strong creative bone can also add colors for personal touch.
Summary
Ideal for people who want to support green living, upcycling not only helps in bringing flesh element in your living space, but also saves money.