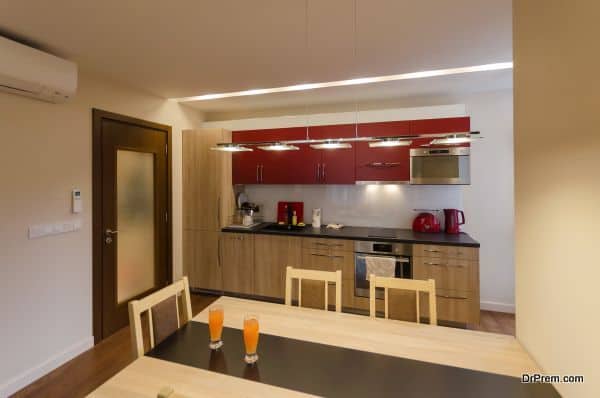 <![CDATA[Modular kitchen are becoming increasingly popular due to ease of installation and cost saving attributes of it aside from the fact that they are functional and aesthetically pleasing as well. Check out these amazing tips when it comes to designing a wooden modular kitchen for your home.
Design a wooden modular kitchen for your home
Wood itself is a symbol of warmth and comfort amongst nature. No wonder that it is such a popular choice for decorating homes. The rich colors and varieties of wood used in homes can never go out of style. Wood is also faored because it is durable and easy to clean. If you are looking to add a wooden modular kitchen to your home, check out these cool tips.
The shape of the kitchen – There are so many choices when it comes to chooing kitchen styles. Always choose the shape of the kitchen layout well planning in adance by keeping in mind space constraints. Whether it is an L-shaped kitchen you want or a U-shaped, it all boils down to how you use the space so thet you can move about doing your business easily and also so that the space is utilized well.
The theme of the kitchen –  When you are using wood for your modular kitchen you can create different moods and feels even with the type of wood being used. Wood gies you so much to explore. With distressed wood for all your kitchen cabinets, drawers, etc, you can get a old-world feel about the kitchen which makes you warm and comfortable. If you want a modern touch, add sleek and shiny textured wood for all your kitchen tops and cabinets to give the clean , chic look. To complete the theme, you can also add wooden floors to your kitchen or atleast wood-like materials that look more or less like the real thing.
Drawers, cabinets and shelves – Always choose high quality, sturdy wood that is durable and lasts for years when it comes to your storage utilities like drawers, cabinets and shelves. Another important quality to look for while purchasing them is if they are termite-resistant and wood can be a victim to termites.
Additions – If you do not want to go all 'wooden', then opt for some color in the form of colorful shelves, cabinets, etc to serve as accents. You can also use a different material like granite or marble for the kitchen counter top.