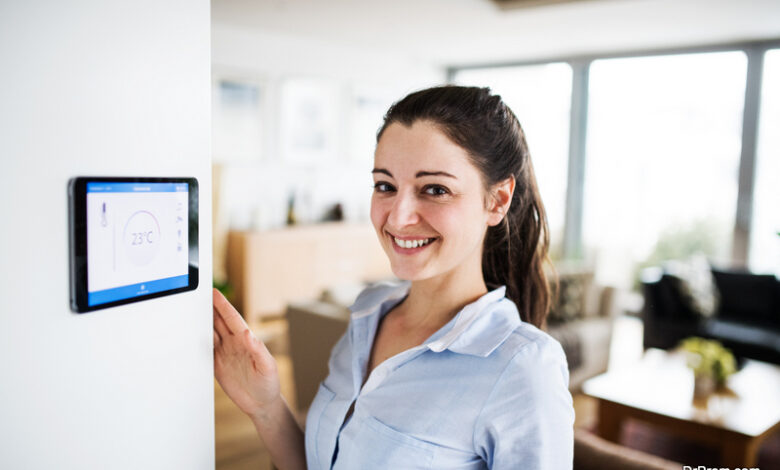 With a wide assortment of programmable thermostats available on the market, you should not get confused and settle for something that either is not up to the mark or that does not suit your requirements and preferences well.
While choosing a programmable thermostat, you must keep a few things in mind, such as whether it is compatible with your present HVAC system or not, whether the product is actually capable of giving you the comfort and energy savings as it claims or not. Following are some other things one must consider while buying a thermostat:
Compatibility with your present HVAC system
Whichever thermostat you choose for your home, you must check it for compatibility, whether it is compatible with your HVAC system at home or not. In order to check the HVAC compatibility, you are supposed to look into some details.
For instance, check for the type of heating and cooling systems in your home such as a boiler, furnace heat pump, or electric baseboard. Then pick a programmable thermostat that claims to work well with all these systems because not every programmable thermostat has a design that suits all heating and cooling devices.
One more thing you should consider is the number of heating and cooling stages because many new programmable thermostats are compatible with one-stage cooling or one or two stage heating. You can check the heating and cooling stages by looking inside the old thermostat for the number of terminals with wires on them.
If you have two or more stage heating and cooling then you should purchase an advanced multi-stage thermostat, which is compatible with most of the heating and cooling appliances.
Voltage and wiring of your present HVAC system should also be compatible with the new programmable thermostat. Most of the modern HVAC systems are low voltage (24V), so you can pick the thermostat accordingly.
You can use a voltmeter to check the voltage of your thermostat, or ask the technician to check so. Check the wiring diagram on the new programmable thermostat and try to match it with the preset wiring scenario, they both should match.
Compatibility with Your Home
Next comes the compatibility with your home, which again should be ideal. A programmable thermostat that you are planning to pick for your home must match with your home's layout. For instance, consider the location of thermostats and the number of heating and cooling zones. The place or spot you choose to locate a thermostat in your home has a lot to with the performance and efficiency of a thermostat.
The ideal location for thermostats in homes is where there is no direct sunlight, there are no barriers that could interfere with its working, and of course, a place where it is convenient and comfortable for you to access it anytime. The number of heating and cooling ones in your home determine your thermostat purchase decision, as in you go for multiple programmable thermostats if there are multiple heating and cooling zones in your home.
Some thermostats come with a learning option, which call for a location that is a high-traffic area and not an isolated one. The built-in sensor that measures family's activities and creates a customized temperature schedule works better in a high-traffic location, as it generates accurate auto-programs. On the other hand, an isolated place makes it generate inaccurate and ineffective results.
A programmable thermostat helps bring energy efficiency to your household, making it an environmentally friendly place. In order to get maximum out of your thermostat purchase make sure you choose a model that is compatible with your present HVAC system and also with your entire home.