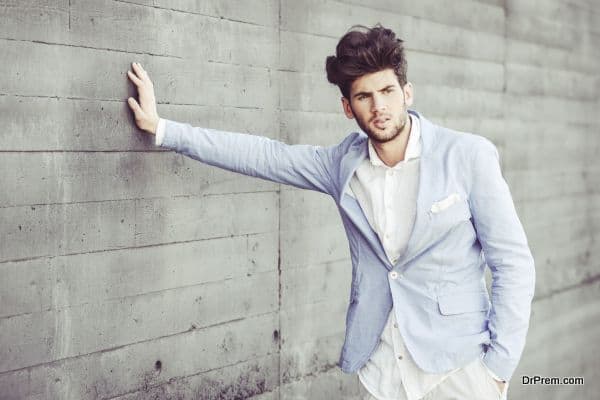 If you are like many other men who think being stylish requires putting in tremendous efforts then you must read on. This article intends to debunk this myth for all you men out there and let you know that being stylish is not all that tough. Following are some easy and simple ways that can help you improve your style, eventually making you a stylish man.
A tailored suit does it all
Many men wear a suit but not all look flattering because it is not a tailored suit. You must ensure you get a tailored suit that fits your body just perfectly and see how great you look in it. A well-fitting suit besides making you look good makes you feel happy and confident about you. And the more confident you are, the better you present yourself.
You belt and your shoes must sync
A very simple rule probably you were ignorant of or you just avoided it every time is about the belt and the shoes you wear. You must match the belt with the shoes you wear, as doing this gives a man a polished look. It is the simplest thing to do but the impact it leaves upon your looks is great. Same color belt and shoes give your personality a structure or a proportion, thus giving you a balanced look.
Buttoning and unbuttoning
A bit weird though but a small thing like buttoning or and unfastened button have to do a lot with your style. A single-breasted one button suit, you should button it and unbutton it when you sit. The one with two buttons, as a rule of thumb you should remember buttoning the first button and leave the second open always. The rule for the single-breasted suit with three buttons is to fasten the middle button and leaves the upper and the lower button unfastened.
Your posture says it all
There are two men, one is wearing the best of clothes and accessories and is standing in a lame posture. The other one is wearing simple clothes and no accessories but is standing in a firm and upright posture. Who do you thing appears cool and stylish? Well, in any case it would be the latter one because his posture is right, which is of paramount importance for making a person look good and stylish.
Expand your color horizon
Stop being color shy. Enough of wearing nothing but a combination of blue, black, brown, and white, which adds monotony to your looks. Try wearing different colors but only ones that suit you, as there is only a few men who carry all colors well. To find out which colors suit you, the best way is to try them all. A colorful outfit can help you a lot to become a stylish man.
A leather jacket
You must invest on a leather jacket and make it a part of your wardrobe. It is so versatile that it can make any outfit pop and make you feel stylish. A leather jacket or a coat is something men of all ages carry of well.
Dress Shoes
By dress shoes, we mean a different pair of shoes for a different outfit. Gone are the days when only women used to own numerous pairs of shoes, as today even men own a matching shoe wardrobe for the clothing they have. If you cannot manage to have such a vast collection of shoes, no need to worry as owning super versatile pair of loafers and a pair of wingtip shoes can also do.
With time, even men have also realized how being stylish works as an asset, and how it helps putting them a step forward everywhere. It is all about getting the hang of some easy yet fruitful style hacks that help adding an impressive style to a man's personality.