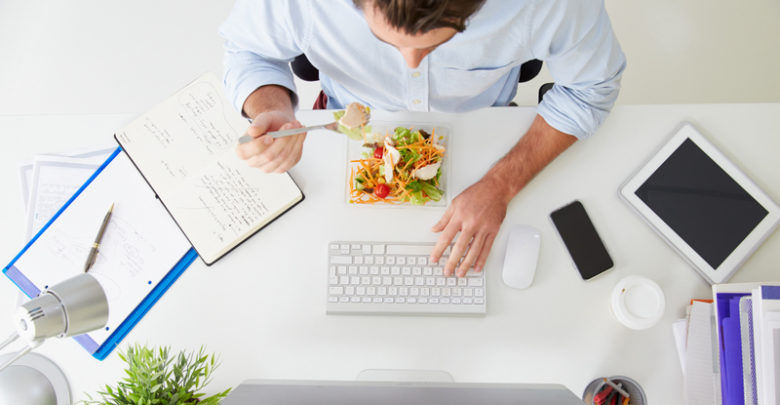 Working continuously throughout the day does make you hungry. If you eat heavy meals, the energy goes into digestion and you feel sluggish and your productivity goes down. It's better to snack healthy to boost your energy and satiate your hunger. You can stash some of the snacks in your workstation, so that they are handy and accessible for a quick bite. Check out these great ideas for afternoon snacks for the office:
11 healthy afternoon snacks for the office
Carrots, cauliflower, broccoli and hummus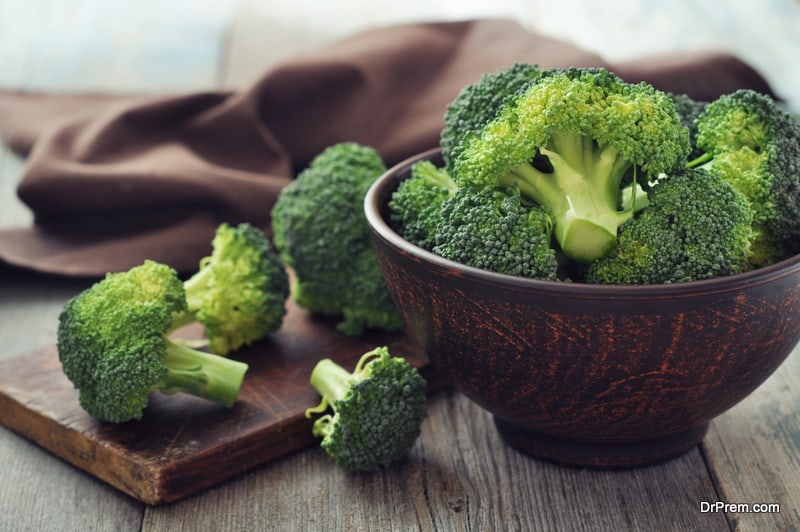 Carrots are highly beneficial for health as they contain potassium and vitamin A. Hummus, made from sesame oil and chickpeas are full of healthy fats and fiber. You can make hummus with extra virgin olive oil too if you wish to make it even healthier.
Make about two cups at one go and store in the fridge. Dip raw carrot, celery, cauliflower (boiled) and broccoli sticks to enjoy a healthy mid-morning snack. An additional benefit of hummus, according to studies, is that it might play a beneficial role when you want to lose weight and control glucose and insulin.
Crackers and tuna
Wheat crackers and a resealable tuna can/packet is an easy treat, which will instantly deliver omega 3 fatty acids, protein and fiber at one go. As calories go, this snack, 3 ounces tuna and six crackers, has around 200 calories. If you want to reduce the calories, eat fewer calories. You could make a tuna salad, or buy a tuna in water to avoid the oil.
Mini sandwich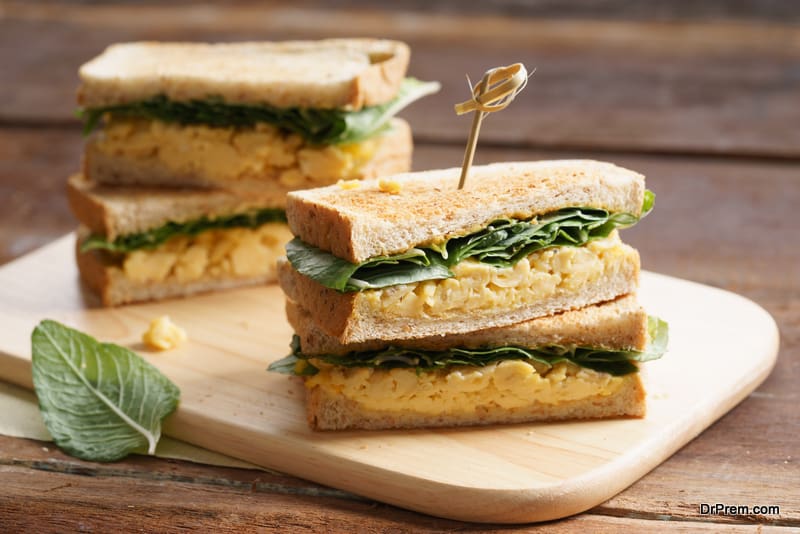 One of the perfect afternoon snacks for the office is a small sandwich. It will keep you going till the evening. Select whole grain or multigrain bread, cucumber, carrots, tomatoes and/or slices of turkey or chicken  breast or grilled chicken chunks. This mini sandwich would have very less calories, and offer plenty of minerals and vitamins.
Another delectable sandwich could be the adult version of the childhood favorite –peanut butter and jelly. Skip the jelly, replace it with homemade fruit jam, along with whole bread or multigrain bread and choose almond butter or other exotic butter instead of peanut butter.
Seeds
This is a perfect afternoon snacks for the office which is a no fridge one as well. Seeds are protein rich, non-messy and can be easily stored. Seed are excellent to munch in the office, so keep them stocked in your drawer. Sunflower and pumpkin seeds are the most preferred seeds, but chia and hemp are great options too.
Peanut butter and apples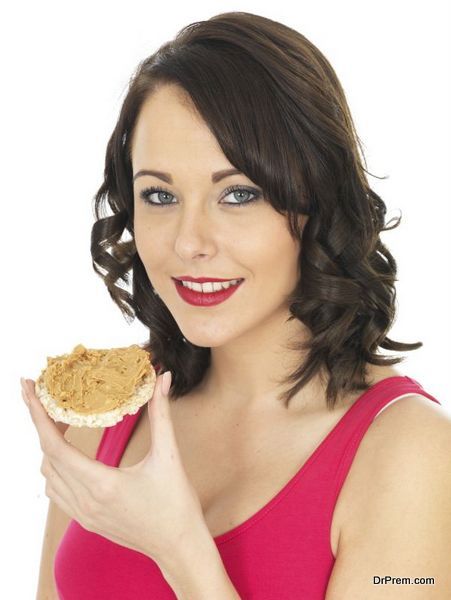 Fruits are certainly healthy, but office workers may need something more filling to keep them going. Apples with peanut butter is a delicious combination, as the salty peanut butter complements the crispy sweetness of apples. Almond butter would be good with apples too, but the butter should not have any added sugar. This combination is one of the best afternoon snacks for the office.
An apple has 95 calories of health, with 25 gram carbs, 4.4 gram fiber, and 28% vitamin C, so it's not for nothing that the simple fruit can keep many diseases and deficiencies at bay. Of course, you can bite into an apple just like that, if you're not fond of peanut butter. Apples with peanut butter is a no fridge healthy snack too.
Seaweed snacks
One of the unique afternoon snacks for the office is seaweed snacks which are crispy squares of dried and salted seaweed. Seaweed is high in iodine, thus great for office workers who might have thyroid health issues. You might be able to find seaweed online or locally, depending on where you live. Select dried seaweed, which have ingredients such as olive oil, salt, etc.
Yogurt
Unsweetened yogurt mixed with veggies like cucumber, carrot, red, yellow and green bell peppers can be kept in a sealed container inside your desk and consumed when you feel the hunger pangs. This snack is perfect for those who are trying to lose weight.
Alternately, you can make a fruit, nut and yogurt snack and sprinkle walnuts, almonds and pecans on top. This little snack is packed with protein, calcium as well as probiotics, which does wonders for your gut. If you don't have any problems with blood sugar, then a honey drizzle would taste lovely, especially if you have a sweet tooth.
Sourdough toast and avocado
Sourdough toast with avocado is packed with healthy snacks and fiber. Sourdough, made with a fermentation process, has similar properties to prebiotics as well as probiotics. Prebiotics, which are non-digestible fiber, is food for your gut bacteria, and probiotics promote gut health. Eating this in office, from time to time, will improve your digestion and gut health.
A good digestion keeps you happier as you're not bogged down by small digestion related problems, which may be minor, but does hamper your concentration at work.
Instant oatmeal packets
Most people think oatmeal is only for breakfast, but actually you can have it as one of the healthy afternoon snacks for the office. You can store packets of them in the drawer, and microwave them in a bowl with water. Sprinkle cinnamon, nuts and seeds to enhance the taste.
Crispbread
The flat bread, which is dry like crackers, are usually made from rye flour; but you can buy multigrain and whole wheat varieties too. Crispbreads are crunchy, which can be eaten just like that, but taste great with your favorite toppings and spreads. Dip the crispbread in some store-bought salsa to change the taste once in a while. Both the salsa and crispbread can be stored in your desk drawer, and as such are wonderful high calcium, high protein, yummy afternoon snacks.
Raw nuts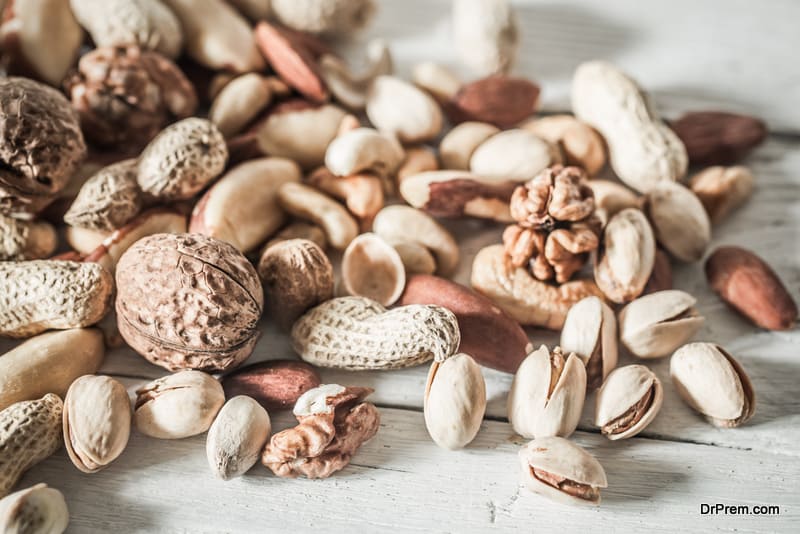 Raw nuts too are a great option for afternoon snacks, or snacks during the day. They are shelf stable, are packed with healthy fats as well as protein. Keep a selection of raw nuts in the office, ranging from almonds, walnuts, cashews, pecans, pistachios, etc to get different taste and slightly different benefits every time.