Tips for beautiful, flawless skin to black women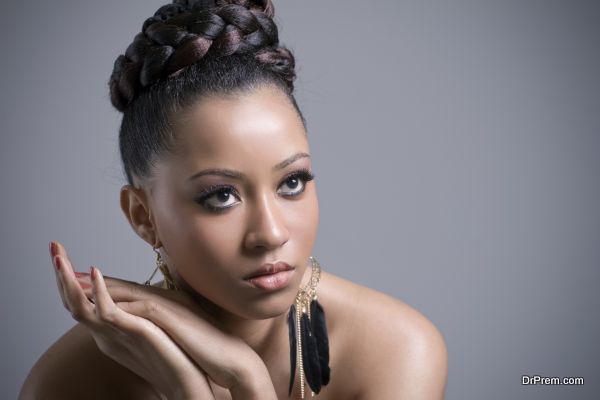 Looking at your best comprises of taking utmost care of the skin. Even black women, healthy can have flawless skin by being little sincere and following easy tips. A couple of factors, namely cleansing, toning, moisturizing and daily routines are highly crucial in getting the skin appear great every time. An even and smooth complexion for black women is attainable via proper care. After all beautiful, healthy skin begins from within and radiates outward. Below are few effective skin care tips that will help black women achieve beautiful, flawless skin.
Checking the skin is vital. Look for darker spots that were not present in the skin previously. However, pay attention to existing marks and see if there have been any changes with respect to colour, size and shape.
Facial cleansers work much more than just cleaning the skin. No matter clean and clear skin is vital, an ideal cleanser will help in promoting healthy skin via replenishing skin with moisture and antioxidants.
Toners are known to even the skin tone, as these are full of alcohol. The perfect toner for the black skin along with making the skin tone even will also prevent skin cells especially that are overactive against overproducing skin pigment with time.
Adding additional moisture to the skin is the key. With darker skin tones, the skin is likely to appear ashy and dry devoid of proper maintenance. It is best to use a good moisturizer post a shower as it is at this time the skin is capable to absorb moisture in large quantities.
The significance of water too cannot be overemphasized. Consuming at least eight glasses of water daily is necessary and compensate for caffeinated and alcoholic drinks with more water.
Another vital tip is to perform exercise regularly, as this is an effective component of healthy skin care. Workouts daily help in keeping the skin toned. Trying activities such as walking, biking, sports, swimming or jogging will work wonders.
Black women, particularly with dark skin tones, believe that sunscreen lotion is not for them as they rarely complain of tanning or sunburn. This is totally a myth. Black skin too requires protection against the damaging sunrays. It is nice in picking a moisturizer that is sunscreen based, as this single lotion will perform the job of both.

 
Summary:
For majority of black women, having healthy skin needs minimal amount of work, yet beautiful, radiant skin is undoubtedly worth the effort. Be it an hour worth's or merely 10 minutes of pampering, paying proper attention to the skin counts.