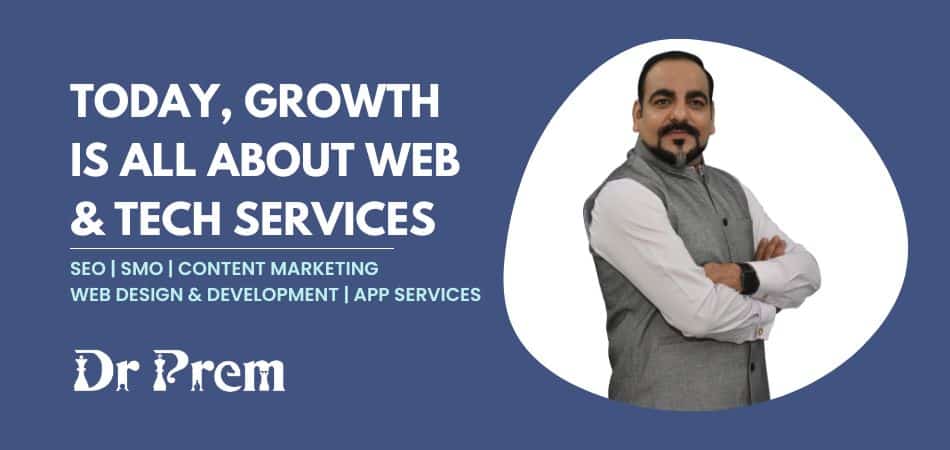 With the RAEGR ARC 1350, a wireless powermat, you can charge your Phones, Apple Watch and Airpods simultaneously. This means you can use all of your devices at the same time, without worrying that one or the other will run out of juice, before you finish what you are doing. To me, that is extremely convenient! Here's a look at this new wireless charging mat, with specifications and other details.
 Is it only meant for Apple devices?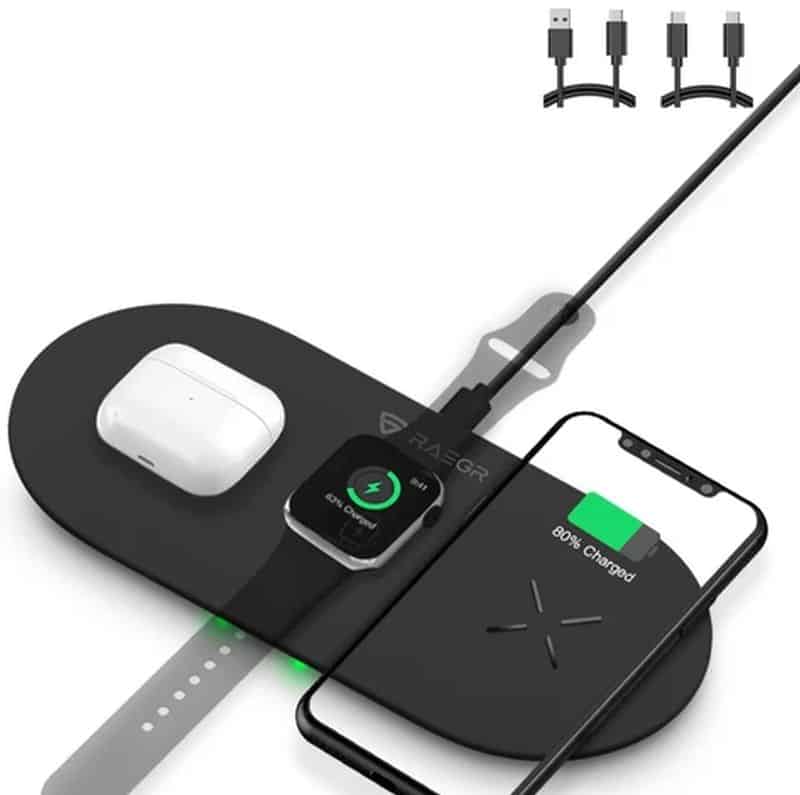 Image Source : tekkitake.com
Though it seems as though it is a dedicated wireless charger for Apple devices only, it can actually charge your Android smartphone too. This is because it provides Qi-certified charging which means the RAEGR Arc 1350 will charge all Qi-compatible devices, such as Android smartphones. So if you have Apple as well as Android devices, then you do not need separate chargers, just this one powermat will suffice. 
RAEGR Arc 1350 specifications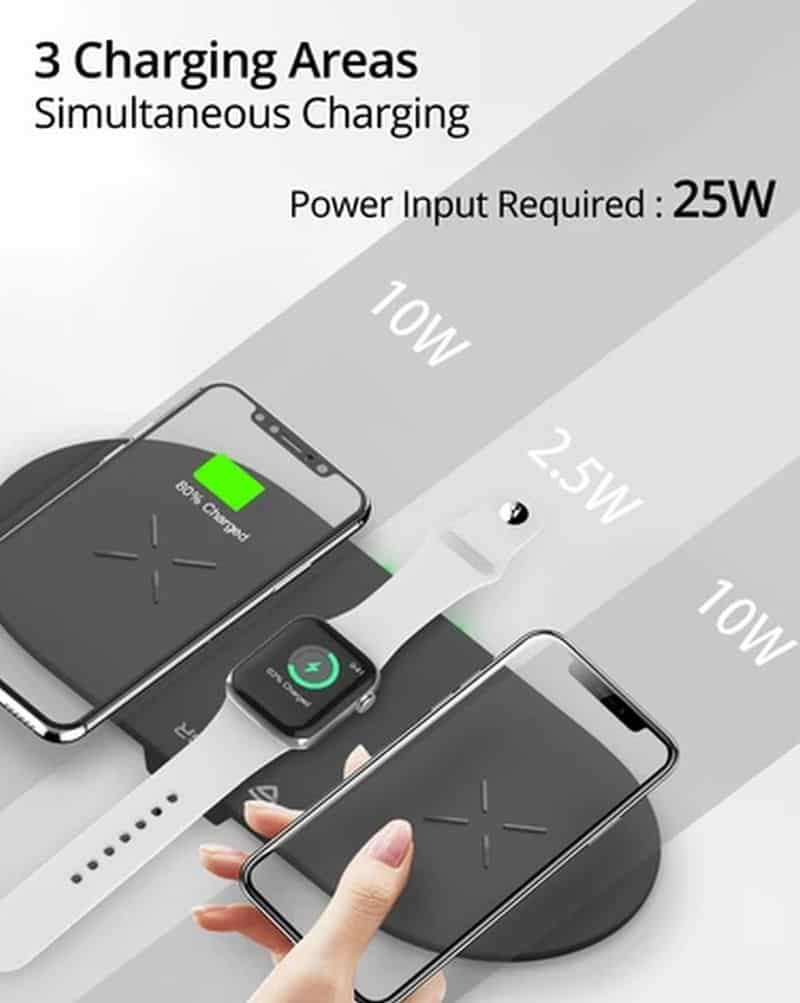 Image Source : tekkitake.com
The RAEGR Arc 1350 is 10W + 10W powermat, which can be used to charge two devices such a phone and Airpod simultaneously. Apart from that, it has a 2.5W space meant to charge the Apple Watch in the centre. As mentioned before, it is Qi certified, so it means you can not only charge your iPhone but other Android devices belonging to you or other family member, but it should be Qi certified as well.
There are two USB Type C cables which can be used with any kind of wall adapter, having four different charging speeds – 2.5W, 5W, 75W and 10W.
The 7.5W is used to charge Apple iPhone 12 series/SE (2020), Apple 11/11 Pro/11 Pro Max/XS/Max/XR/XS/X/8 and 8 Plus with adapter QC2.0 OR QC3.0 (9V, 1.67A/0. The 5W output is for all Qi enabled devices and phones using standard adapters. 2.5W output is for the Apple Watch, Series 1 to 6 only, as the charging mat does not support Series 0 or Gen 1 Apple Watch.
10W output can be used to charge Samsung Note 5/8/9/10/20 series, Galaxy S20, S10 to S7 series and S6 Edge plus.
You can also charge other compatible devices, such as Qi-certified phones and devices from Google, Huawei and Samsung. Charge your Samsung or Apple TWS earbuds on this charger too.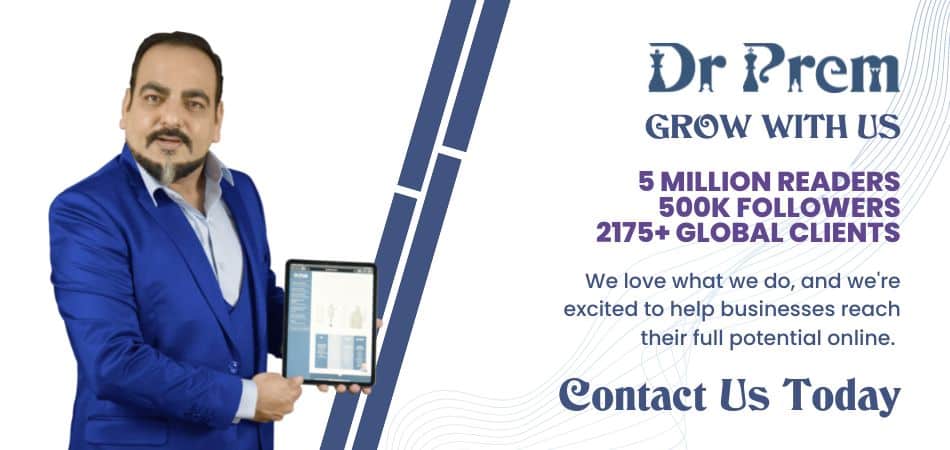 Easily portable
Image Source : tekkitake.com
The look of the RAEGR Arc 1350 is quite sleek and attractive. It is slim as well as lightweight, giving it the look of an ultramodern bit of technology. The lightweight, slim body lends itself to portability. It can be carried around easily with you. Put in any room of your home, within your reach.
For avid travelers, this charger is very convenient as it can be packed in your luggage. Imagine not having to search for plug points in your hotel room or in an unfamiliar place. Usually, your devices have to take turns to get charged, but with this innovative charging mat from RAEGR, you can charge them all at the same time, along with the Apple Watch.
The right and left hand side charging areas are fitted with anti-slip silicone threads. This is another admirable feature, as you no longer have to worry about damage to your devices, by falling or slipping off, while they are being charged.
The charging mats come with LED lights, indicating the status of charging. The lights are pleasantly bright, without being jarring on the nerves, and they won't be too bright at night, as some LEDs tend to be. 
The color is a sleek black, which looks great in any setting or environment.
Safety features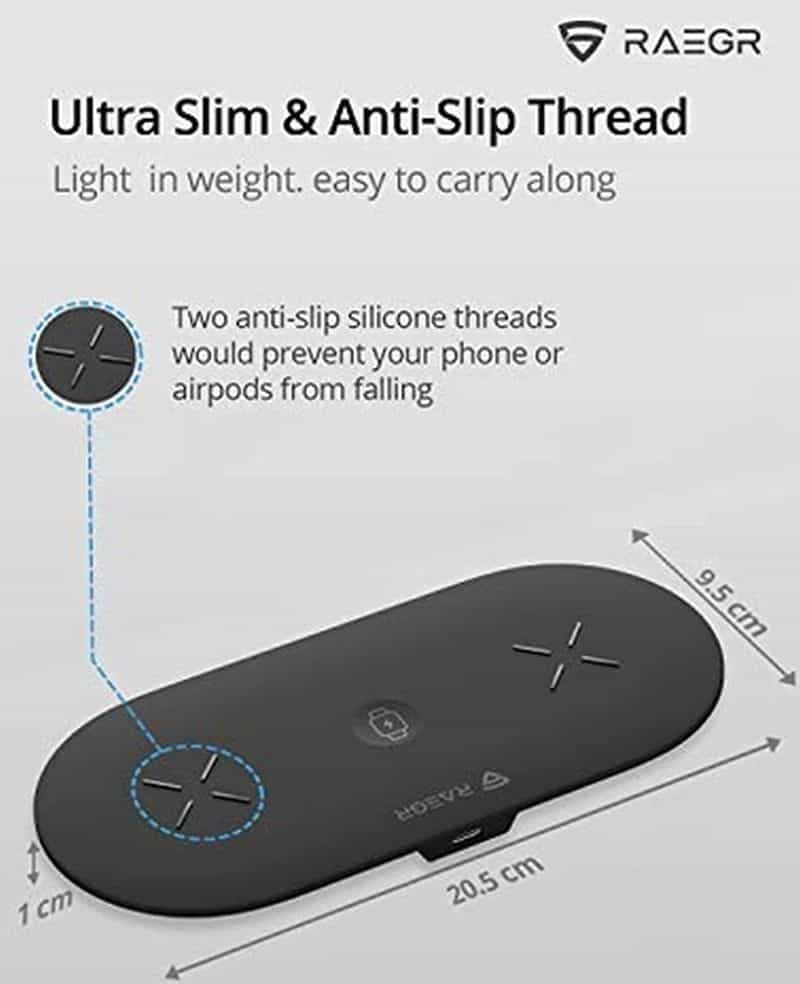 Image Source : tekkitake.com
There have been instances when expensive phones or other devices are damaged due to overcurrent or overvoltage and so on. The RAEGR Arc 1350 is equipped with features such as temperature control, short-circuit protection, overvoltage protection as well as overcurrent protection. These features cover everything that could happen to your devices while they are being charged. 
Price point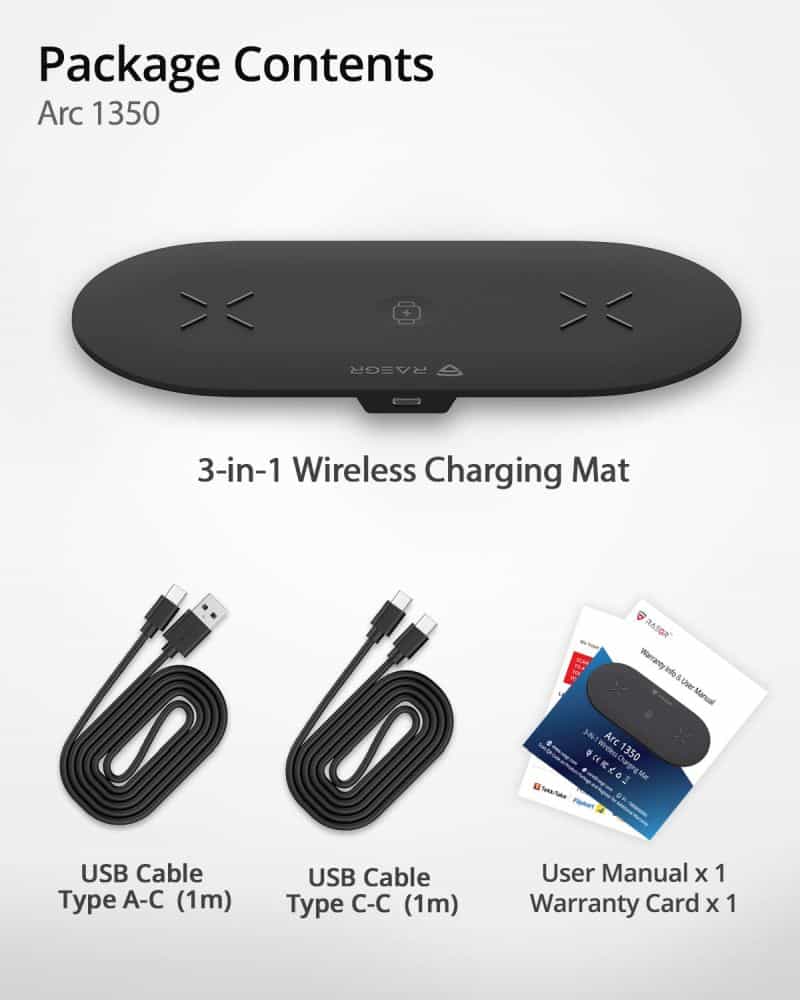 Image Source : tekkitake.com
The price is reasonable too, considering that you would be getting three chargers for the price of one. It is available online in India from sites such as Amazon and Flipkart. It is priced at Rs 2,999 and the manufacturers have offered a warranty for one year and an extra 6 months when you register or on activation.
This is a revolutionary product, as it means your days of charging multiple devices from different platforms on separate chargers are gone. You now have the option of buying any device, without having to think twice whether you would have to have a separate charger for it. With the powermat from RAEGR, your life will become more convenient and easy!