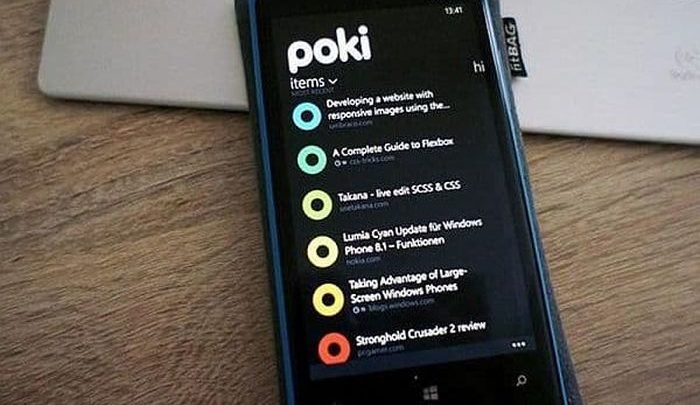 Poki is a third-party client of the free bookmarking service Pocket. Poki is especially designed for the Windows Phone.
Appearance

The Poki app is attractively designed to let you bookmark your favorite articles, videos and reads on the Web so you may access them later anytime on your Windows Phone. The app fits well with the design of the Windows Phone. However, the app has scope for becoming more streamlined in terms of sharing the stored content. The plus point of its simple appearance is that it does not spoil user experience.
The app has four panes that you may slide through. The first one displays your recently saved items and allows you to filter these items by unread, favorite and archived items. The app also allows you to scroll through older items that can be cleaned up, if required. You may additionally find items by their word count. The second, third and fourth panes display your highlighted/favorite items, created tags and a search bar, and app settings, respectively.
Performance

This app can be accessed on your Windows Phone. While it runs smoothly, it causes some text cluttering issues due to its linked Pocket service performing the bookmark-cleaning job. Pocket actually strips ads and images from articles in order to provide clean text. However, this issue creates an impact on Poki's functionality and performance too. You may find some formatting problems when the content is transferred from official Pocket app to Poki.
Ease of use

Poki is based on some of the top features of the Pocket service so these features may also be brought on a Windows Phone. However, it also lags behind Pocket (providing official apps for Mac, iOS, Windows and Android devices) due to the absence of those features. This affects the ease of its use to certain extent. On the other hand, navigation is quite easy with its simple interface.
Usefulness

The Poki app provides offline access to all your saved articles and videos on Web. You may access them on your Windows Phone even if stored on your personal Pocket account. This is a very useful app if you want to read or listen to your saved content later on your Windows Phone. The read-aloud function of this app can also let you hear the text being read by different readers who you may select according to your preference.
Value for money

While it is a free app, you can always go for added features for comfort by paying just $2. Thus, you get good value to money on this cool app.