Science and scientists have always been a little mystifying to ordinary mortals like us. Especially when scientists love to use scientific terms as a matter of course, unconsciously, even for things like global warming. Climate change is something which cannot be ignored any longer, and everyone has to be aware of the phenomenon. If the majority of global population understand it thoroughly, then people would take steps to reduce their carbon footprint. But this is only possible with clear communication. Keeping this in view, the Yale program on climate change communication may be a beginning to help people understand climate change. Let's learn more about it:
 Yale program on climate change communication
What you say makes a huge difference. If you talk clearly and succinctly about a topic, you will get the results you desire. But unclear communication will never get the point across. You may think that global warming and climate change are important issues on which every person on Earth must take action. But if your climate change communication strategy is not understandable, you will not be able to change/influence people's opinion about it, or inspire them to contribute to climate change in a positive manner.
Yale program on climate change communication aspires to ensure that climate change communication strategy is explained properly to the public. There is plenty of scientific evidence to show that climate change has been caused by humans. And a center for climate change communication, like the one at Yale, can make communication effective to the extent that people vote for ecological policies as well as change personal behaviors.
Why there is the need for clear communication?
Programs like the Yale program on climate change communication are extremely crucial. According to social scientists, who have observed the science behind scientific communication, the language of the communication mattersmassively. How a scientist explains a particular subject and frames a discussion for the masses, makes a huge difference.
Paradox of communication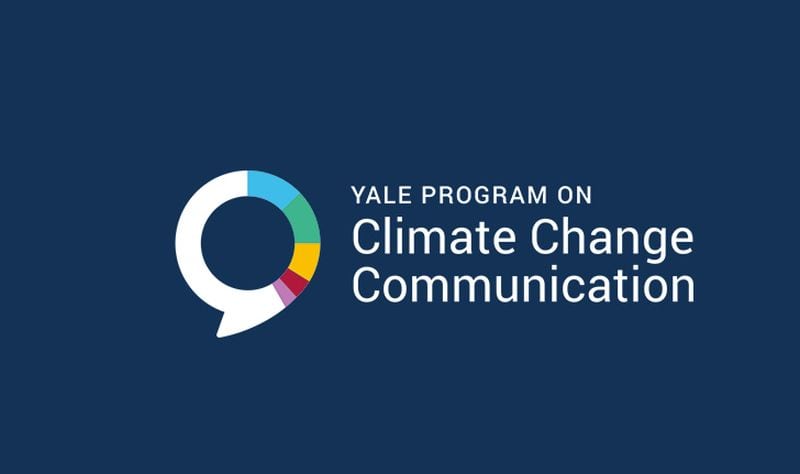 Image Source : climatecommunication.yale.edu
There is a huge amount of data about climate change. All this data is in scientific language, which is Greek to the common man. Scientists at Yale have realized that humanity is at loggerheads with itself. It knows the dangers it faces from climate change.Therefore, the climate change communication strategydeveloped by the Yale program on climate change communication would be a great help.
According to Dan Kahan, professor of Law at Yale, there has never been a time when humanity has known a lot about how to mitigate the dangers they are facing, but agree very little on their collective knowledge. Dan Kahan is one of the leading researchers of the science behind communication science.
Kahan's work demonstrates that even if a person has scientific knowledge, he/she may not necessarily have a science supported belief system about topics such as global warming, frocking, or personal gun possession. Belief systems, he found, were formed by social groups people belong to.
Everyone is a part of some social group or other. Which groups we belong to is determined by our religious or political affiliation, occupations, or sexuality. When people are confronted with scientific data which seem to attack the groups' values, they are more likely to become defensive. They may consider the evidence to have flaws, and this might strengthen their belief in earlier beliefs, which are not supported by scientific evidence.
For example, people may not believe in rising temperatures, especially in areas which in which the climate has not become scary yet. In this case, Yale program on climate change communicationcan help to stress climate change communication importance and benefits.
The importance of climate change communication
Research suggests that scientists should not bombard people with huge amount of scientific information. Instead, they should focus on the presentation of facts. People have all the facts, but how do they assimilate all the facts and form an understanding of what to do in their daily lives? This understanding could help people to change their behavior into ecofriendly behavior which may reduce emissions, and thus reduce global temperatures.Yale program on climate change communication hopes to frame scientific information into a language which can be comprehended easily.
Just like picture frames enhances a painting or image and draws attention to different aspects of the image, linguistic frames can perform a similar work. They can draw attention to ideas. Climate change communication importance and benefitsare enormous. This has led to Yale University setting up a whole program dedicated to climate communication.
Ways of framing climate communication
As mentioned before, framing or finding the right language is of utmost importance. Communicators will have to learn how to present facts in an engaging and convincing manner. They also have to keep in mind that while framing climate change communication strategy, they have to keep the rational and religious matters separately.
According to a successful communicator, who is a biologist too, Andrew Thaler, scientists should not talk the science lingo while talking. They should instead talk about things which their audience is familiar with. For example, they can talk about things which are important and relevant to the audience, such as farming, flooding, fishing, future, and faith.
Talking about climate change in the context of these activities makes it easier for the audience to grasp the changes that are taking place. The main thing to pay attention to is to present scientific evidence which is important to the social groups they belong to while not contradicting their beliefs at the same time.
What Yale University's program does?
Yale University's aim is to advance the study of climate change communication and to help world leaders communicate effectively. This would increase the public's understanding of the climate risks and opportunities. Yale University researches on public knowledge regarding climate change, policy preferences, and people' behavior at local, national, and global scales.Then this research is published as public reports, scientific articles, interactive maps, public presentations as well as private briefing. 
At this point of time, every single person on Earth has to reduce his/her carbon footprint. Only this will ensure that we reach the global target of reducing the Earth's temperature by 2 degrees. Scientists can help to explain the hows and whys of climate change and also the way to mitigate global warming, in a language which is easily understandable and convincing. This is the work which is being done by the center for climate change communication at Yale.