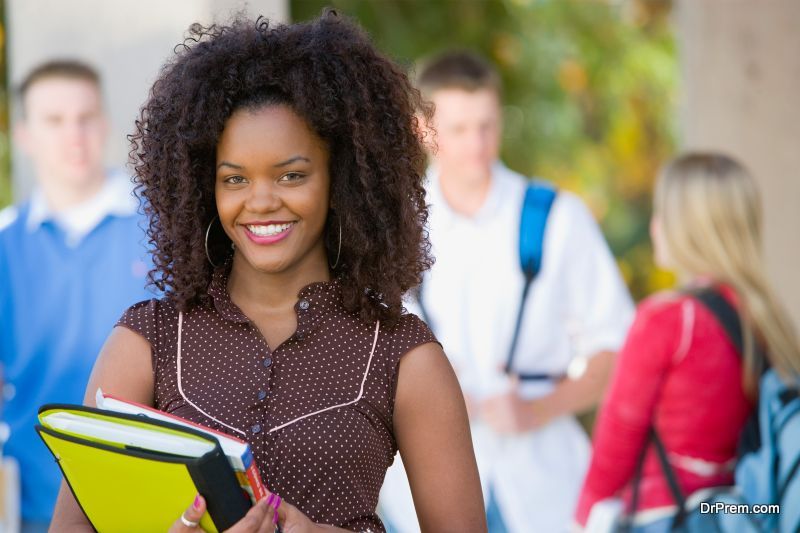 College is the place where a young girl takes her baby steps into the world of fashion. She wants to create an impact and become popular and the poor thing has to manage this with her limited pocket money. Some of you young ladies might feel that winters can play a spoilt sport. But that is not the case. Even in winters you can look stylish and that too by keeping your budget in place.
1. Look cool with tights and leggings
Colourful leggings and tights are perfect way to keep you warm and to look chic. All you need to do is match it up with the right T-shirt or long top. You can also opt for the printed varieties of tights and leggings. Floral prints, animal prints etc look stunning.
2. How can we miss out on sweaters?
Sweaters are a must in winters. You can wear a loose sweater on a short skirt or shorts and cover your legs with tights. Wear a loose thin top on a sleeveless sweater and look awesome. On a not so cold winter day wear a tight fitting sleeveless sweater and tight fitting jeans and look hot.
3. Jackets can do the trick
One of the best ways to keep warm in winters is by wearing one more layer of clothing on your sweater. The best option for a college girl is a jacket. It could be a leather one or a normal woollen jacket. As compared to over coats jackets are better off for college going girls.
4. Hood it up:
Now a college beauty will not prefer those typical hats. Then why not go in for a hood to cover up your head and ears. A funky woollen cap can also look chic. You can use bright coloured woollen caps which showcase your sporty nature. You can also make use of ear muffs.
5. Scarves are your best bet
Bring out the vibrancies of your outgoing nature with colourful scarves. Just tie a scarf loosely round the neck or let it peek out from your jacket pocket or better still let it style up your hair. Either ways scarves look just so cool for a funky college teenager.
6. Boot it up
Combat boots are your best bet this winter. Ankle fitting shoes on a pair of leggings will look really nice. Avoid footwear which will expose your feet. You can also wear socks and sneakers. This will keep you warm, make you feel comfortable and you will also look cool.
7. Gloves and socks when the temperatures are just too low
If the mercury has dipped really low then you need gloves and mittens. Also wear woollen socks to protect your feet.
8. Fashion accessories for the style icon
Keep in mind that the accessories you carry must also ooze with style. Right from the bag that you carry to the glasses that you wear. Carry a comfortable sling bag and carry a leather folder in your hand. If you love the fur your mom carries then you can just wrap it around your neck. Let your glasses have the perfect frame to give you a good look and also they will protect your eye from cold. Let your make up also be winter friendly. Let it not be glossy and just touch up lips with a lipstick that has loads of moisturiser.
So all you pretty young girls wear your thinking caps and start gearing up for the winter. Just mix and match all that you have in your closet and come up with the perfect winter look.