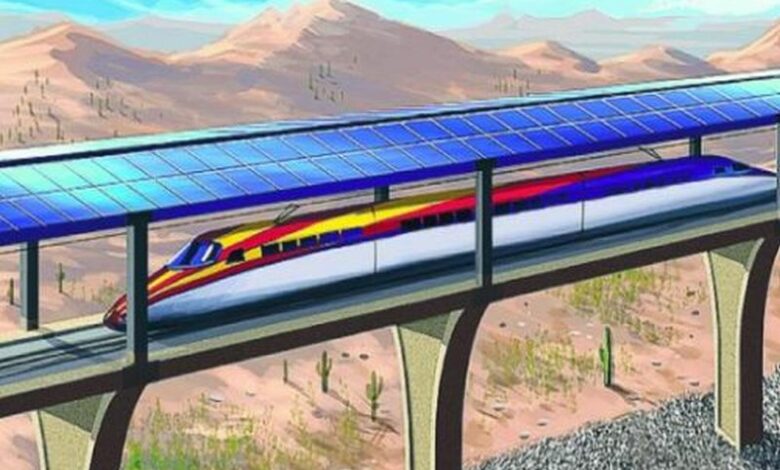 People living in Tucson and Phoenix might soon be traveling guilt-free in a solar-powered train, thanks to a Tuscan company. The company had proposed to run a high-speed commuter train between Tuscan and Phoenix, powered by solar energy. Though the idea is still in its initial stages, but the project's creators, Retired civil engineer Bill Gaither and business partner Raymond Wright, are pitching the idea to area cities and potential investors.
As of now, the focus is on starting a train system connecting Tuscan and Phoenix in a first phase. However, there are plans to extend the services to Grand Canyon and south to Nogales.
The train would run on four tracks. The innermost two tracks would be reserved for nonstop travel from Tucson to Phoenix and the other tracks would provide service to six intermediate stations in Chandler, Maricopa, Casa Grande, Eloy, Red Rock and Marana, extending the Phoenix-Tucson travel time to approximately 60 minutes, according to the project outline.
The train would require 110 megawatts of electricity and would operate with solar power generated from overhead panels.
Advantages
• The rail could open opportunities for both the white- and blue-collar workers and give Arizonans the opportunity to reside comfortably in communities outside of the metro areas.
• With the gas price fluctuations in the past year and all-day rush hour clogging, cheaper alternative transportation is a tempting concept.
• Furthermore, it is a transportation mode that does not pollute the environment
• The train would make the most of Arizona's most abundant renewable resource – the sun – for power.
• The estimated requirement of the train is 110 megawatts of electricity. With Arizona's sun intensity being the highest in the nation, excess power could be stored to fuel nighttime operation or sold to the local power grid to reduce or eliminate overhead costs.
Disadvantages
• The cost for this first phase alone is estimated at a mind boggling $27 billion.
• The time line is also a bit of a sticking point. The soonest that a bill can be submitted for legislation is next year.
• Not only are construction costs an economic thorn, but so is the up-front money for an economic and tax revenue analysis before the project moves forward. University of Arizona's Eller College of Management quotes $35,000 for the job.
• Another major hurdle in the progress of this project is that Arizona-Tucson line is not on President Obama's list of high-priority commuter rail lines at this point.
It just occurred to me that wont it be a better and cheap alternative if we try to mix an already existing successful technology with a new one? We know that Maglev trains, though a huge success, require a lot of power. What if this power is provided by solar energy?
Via: ChelseaGreen