Shipping Container Architecture is now largely seen as an eco-friendly and cost-effective alternative to rising constructions costs, mammoth use of resources therein as well as real estate space crunch. We present below some stunning and awe-inspiring examples of this new age housing idea, which is fast turning into a very real option for the coming generation.

1. Redondo Beach House (California)
The Redondo Beach House by De Maria Designs in affliation with Logical Homes is constructed using modified containers, which are mold proof, fire proof, termite proof and structurally superior to wood framing. This project has given birth to a new residential product line termed Packaged Architecture.
2. Container City (London)
Conceived by Urban Space Management, London's Container City took just five months to complete the original 12 work studios, after which living spaces were added to it. Recycled materials made up 80% of building supplies. Architect Nicholas Lacey and partners and engineer Buro Happold used component pieces to build up adaptable living and work spaces.
3. Port-A-Bach (New Zealand)
Atelier Workshop has designed Port-A-Bach to be a self contained holiday home, with walls that fold up. These truly mobile and eco-friendly container homes can be transported anywhere with ease, and do not require any electricity or plumbing setups.
4. Manifesto House (Chile)
The Manifesto House by Infiniski utilizes pre-made materials like shipping containers and wooden pallets to create an uber cool modern house. Built in Curacavi, the modest home is composed of two 40′ shipping containers and two 20′ containers. Cheap and quick to construct, this plan uses sustainable materials while incorporating renewable energy systems.
5. Crou Student Housing (France)
French architecture firm olgga Architects has designed a student housing complex called Crou, using 100 recycled shipping containers. Located in Le Havre, Crou comprises individual shipping containers stacked on top of one another – each signifying a different student's room.
6. Zigloo Domestique Complex (Canada)
A residential home created by Keith Dewey, the Zigloo Domestique project in Victoria, British Columbia is built out of old shipping containers. The 2,000 sq ft interiors are comfortable and contemporary. The project cost about $150 per square foot, compared to a similar quality traditional project that cost about $250 per square foot.
7. Keetwonen Student Housing (Amsterdam)
The biggest container city in the world, Keetwonen came at a time when living in a converted shipping container was a new concept in the Netherlands. It turned out to be a big success among students, and is now the second most popular student dormitory in Amsterdam. Spacious, comfortable, cost-effective and well-insulated – Keetwonen has it all.
8. The Ecopod
Another container home designed for on-off grid living, the Ecopod can be used as a stand alone unit or with other structures, and is designed to minimize environmental impact. Operating with an 80 watt solar panel and minimal electrical needs there is no need to run power lines or trench power cables to the unit, it's ready to use minutes after setup.
9. 2+ Weekend House (Slovenia)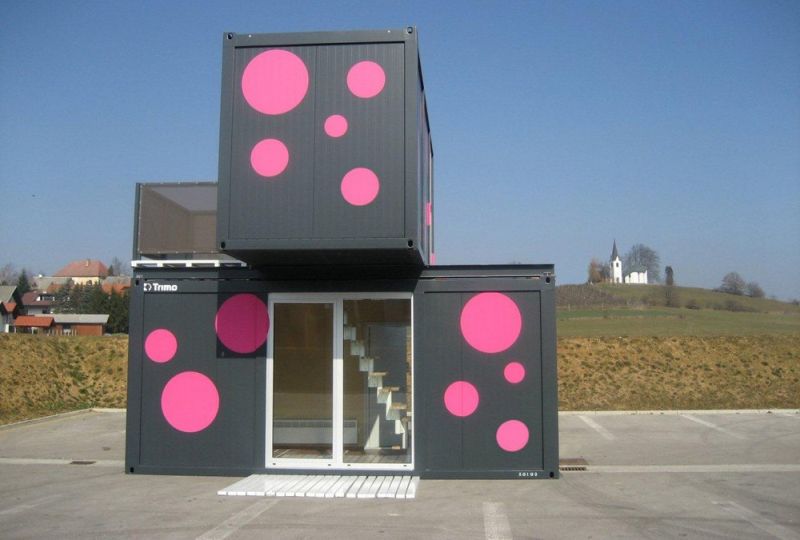 Image Source : 10.aeccafe.com
The ConHouse system of small-size housing container units takes the housing/office ISO container to the next evolutionary level. As opposed to the other container projects, which mostly feed on the excess of available cargo containers, ConHouse pushes the development of containers manufactured especially for housing and office purposes.
10. Ross Stevens' House (New Zealand)
A wall of containers, built against a hill in Wellington, this house – designed by Ross Stevens – uses the spaces between the containers and the hill to expand its living area beyond the limiting interior dimensions of a standard ISO box.