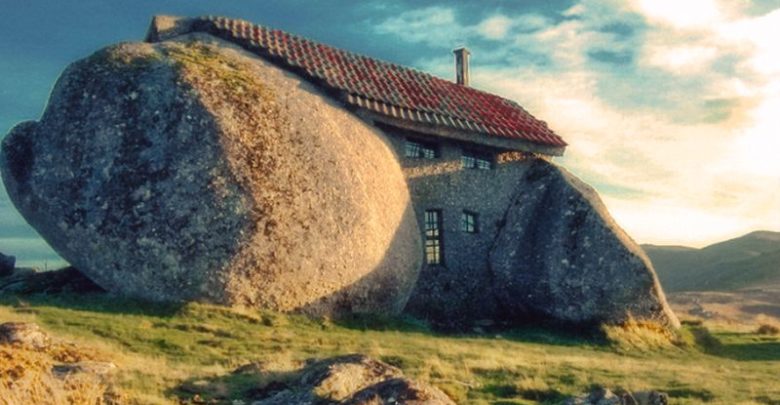 Architecture always surpasses our expectations. It leaves no stone unturned in its effort to surprise us. Which reminds us what this article is all about. In this article, we have some of the most stunning stone houses from around the world that are sure to interest all the modern Flintstones out there. If you have always liked the idea of living inside a stone house, here we have some of the most magnificent stone houses with timeless appeal from around the world. Hit the jump to see them all. In the latter section of the article, we have two bonus visual treats for you – a list of some of the best egg-shaped houses to some of the coolest and stunning seashell houses.

Built in 1974, this is an amazing example of a stone house. The House of Stone sits between two huge stones and is said to have been inspired by American Flintstones cartoon. The environmentally friendly house has stone furniture and a shingled roof. Located on the hillside of Fafe mountains, the stone house attracts tourists from around the globe.
 Old Stone House in Washington, D.C.

Built in 1765, the Old Stone House in Washington, D.C., United States is an example of vernacular architecture and its exterior is made of blue granite and fieldstone. One of the oldest unchanged buildings in Washington DC, the Old Stone House has its interiors done in the 18th-century style.
Constructed between 1771 and 1773 by George Gibson the younger, the Stone House in Deptford is one of the oldest structures in the London Borough of Lewisham. The use of Kentish Ragstone, a limey sandstone, bestows the building with unique looks.
Olde Stone House, 968 Eden Terrace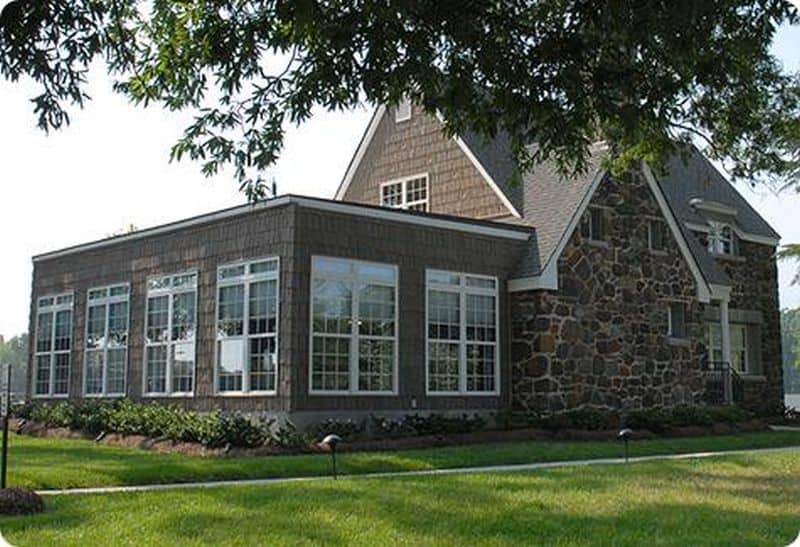 Image Source : winthrop.edu
The beautiful Olde Stone House has been constructed at the start of the 20th century. Featuring an elegant stone exterior, the Olde Stone House has been given a makeover, while keeping intact many of the original architectural details.
Bull Stone House, Hamptonburgh
Built in the 1720s by William Bull and Sarah Wells, the ten-room stone house spreads over 120 acres and is situated in central Orange County, New York.
Abeel House, Hudson Valley
This beautiful Dutch stone house was built in 1750 and features eight rooms, 7 working fireplaces, 4 bedrooms, and 4 baths. The 2500 square foot property enjoys museum quality standards. This is truly one of the most magnificent stone houses in the world.
The Stone House, Manassas
Built-in 1848 as a stop on the Fauquier and Alexandria Turnpike, the two-story stone house is situated in Manassas National Battlefield Park
Stone house, Buenos Aires
This amazing house in Buenos Aires has its exterior done in natural materials, mostly stone and wood. The load-bearing walls have been done in stone.
Before you go…
Architecture is an ever-evolving field. Especially when it comes to houses, architecture takes splendid shape and form. It is not just stone houses that make jaws drop everywhere. Just for you, here are some of the most amazing egg-shaped houses. Read on to be surprised.
Six spectacular egg-shaped houses to blow your mind
Architects take inspiration from various elements of nature. Many of them have decided to give the oval or egg shape a new meaning by building egg-shaped houses around the world. If you are an egg lover then you will surely enjoy residing in one of the six spectacular egg-shaped houses mentioned in the following passages.
Candy Textured Egg Houses:
A group of Tuscan engineers has built the beautiful Kasa-Uovo or egg houses lead by Roberto Casati. These houses are unique in color, texture, and design. They are painted in soft pastel hues and look like big sized Easter eggs. Each of the egg houses is just 70 square meters but they are so compact that individuals can comfortably reside inside. These houses are very energy efficient and reduce 70% wastage of conventional energy resources by using photovoltaic cells and wind turbines. The engineers have used only tires of old cars and woods for building these houses. They can resist a sudden earthquake.
Fire Shelter 01: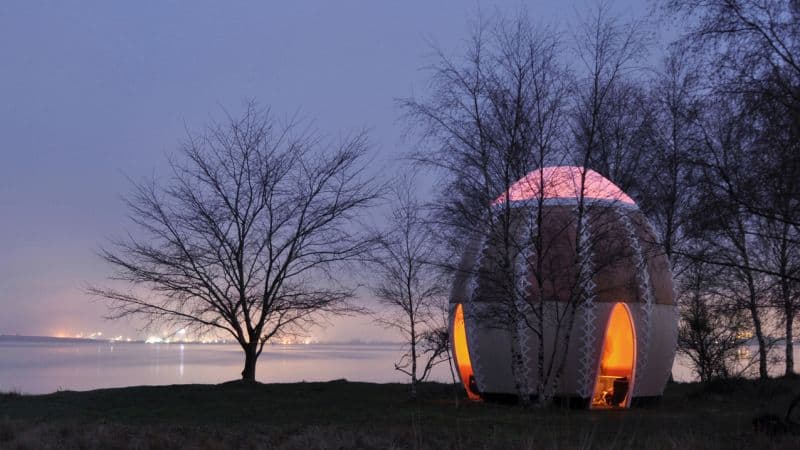 Image Source : archello.s3.eu-central-1.amazonaws.com
Simon Hjermind Jensen has designed the unique Fire shelter 01 and given it an egg like shape. This personal project has been developed at Sydhavnstippen in Copenhagen. CNC technology has been used to develop this structure using plywood and polycarbonate. There are two opening on the sides of the structure and a fireplace inside it.
Giant Egg shaped Eco Houses: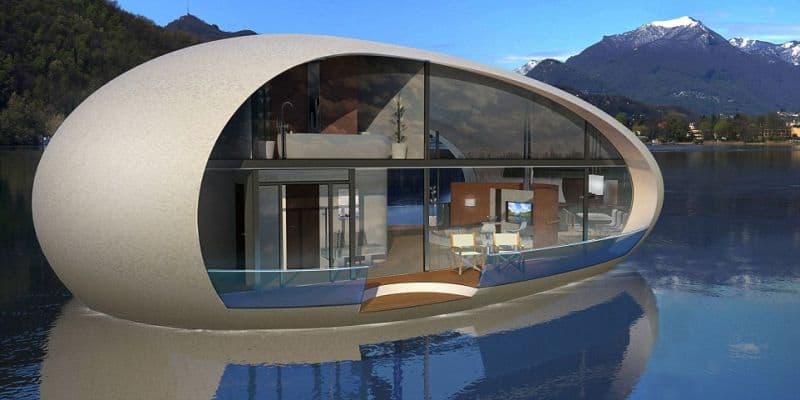 Image Source : i.dailymail.co.uk
Probably the BMT Asia Pacific is obsessed with the egg shape because they have constructed houseboats and floating lodges that are perfect look-alike of an egg. Henry Ward and Richard Colwill together designed the very first models of the sea suit series. The roof is insulated and there are solar panels for keeping the egg-shaped houses comfortable throughout the year.
Egg Shaped Backyard House: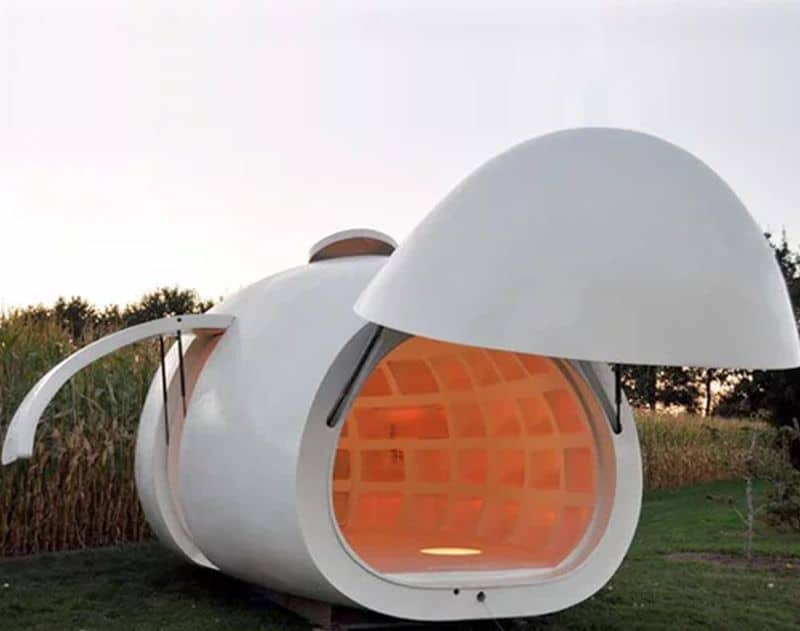 A Belgian Architectural firm named dmvA has made a unique house for your guests. You can keep this egg-like structure in your backyard. It can be the perfect residence for a sudden houseguest. You can also use it as your home-office, spare bedroom, library and much more. There are many storage units inside this egg-shaped house, together with a moderate bathroom.
Egg-shaped Sidewalk House: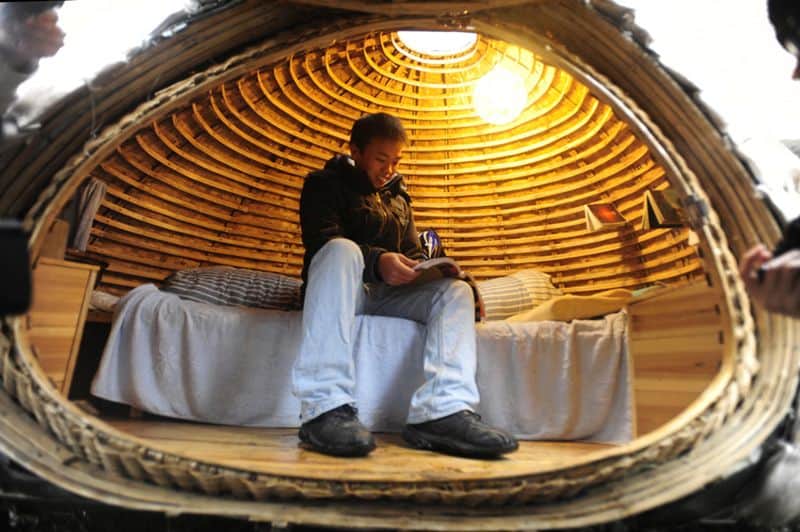 Image Source : a.fastcompany.net
Dai Haifei constructed a wonderful egg-shaped home to avoid paying the high home rents in Beijing. He started residing near the office of his employers. The six-foot longhouse has been made with wood chips, bamboo strips, sack bags, and grass seeds. This house is solar powered and it cost Dai $964 to build this abode.
Egg Shaped Hem-Loft Tree House: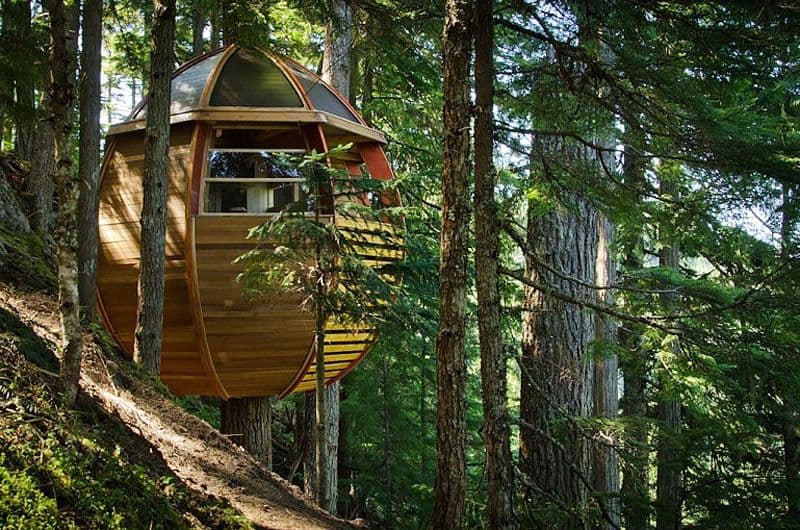 Image Source : cdn.homedsgn.com
After losing his job at a social media startup, Joel Allen felt quite hopeless and started aimlessly roaming in the woods at Whistler, B.C. He found a perfect secret spot to construct his egg-shaped home with free materials from Craigslist.
Egg-shaped homes are fascinating and modern. They have emphasized the necessity for personal space in modern individuals. Residing in one of these egg-shaped houses can be very exciting.
Nautical living: 4 Stunning Seashell Houses
Whether you live by the seashore or in the middle of a busy city, nautical home décor has become quite popular with the homeowners. While some people go for maritime inspired décor for their home interiors, a few have taken their penchant to an entirely new level by living in houses that literally look like seashells. If the beautiful seashells and nautical home décor interests you, do check out some of the most stunning Seashell houses after the jump.
Image Source : cdn.architecturelab.net
Location: Sverdlovsk region, Russia
Designed by: Yuriy Gaydukov, ArchStudia Vega
This stunning Seashell House in Sverdlovsk region, Russia features three different levels and a 7-meters high stained-glass window at its gable end that brings inside the natural light. The residential property uses bionic forms in its architecture. The walls and the ceiling of the Seashell House feature the chameleon coat that changes its color to the illumination and different time of the day. The construction of the Seashell house started in 2006 and ended in 2011.
Location: Isla Mujeres, Mexico
Owned by: Octavio Ocampo
One of the most unusual and unique homes in Isla Mujeres, Mexico, the Conch Shell House is inspired by the form of a seashell. Built with traditional material like concrete and recycled and found materials, the Conch Shell House draws inspiration for seashells for both the interior and exterior. A good amount of seashells and items found on the local beach has been used for the decoration. The Conch Shell House has two bedrooms for four people, two bathrooms and a swimming pool. You can rent this house too.
Image Source : home-reviews.com
Location: Mexico City
Designed by: Mexican architect Javier Senosiain
Commissioned by a young couple with two children, the seashell-inspired Nautilus house was made using ferrocement construction. One of the major highlights of this huge snail-shaped house is the innovative entry that has been made into a wall of colorful stained glass. Everything for the interior and exterior have been chosen carefully to complement the organic theme of the architecture.
Image Source : images.adsttc.com
Location: Karuizawa, Nagaro, Japan
Designed by: Kotaro Ide, ARTechnic Architects
The awe-inspiring two-story Shell residence is spread over 3,500 square feet and offers majestic views of the forest of Karuizawa. The surrounding caves and rocks give a distinctive appearance to the shell-shaped structure and its architecture aims to create a balance between the structure and nature. The huge shell structure has been made with reinforced concrete to help protect the house from high humidity levels and the cold.