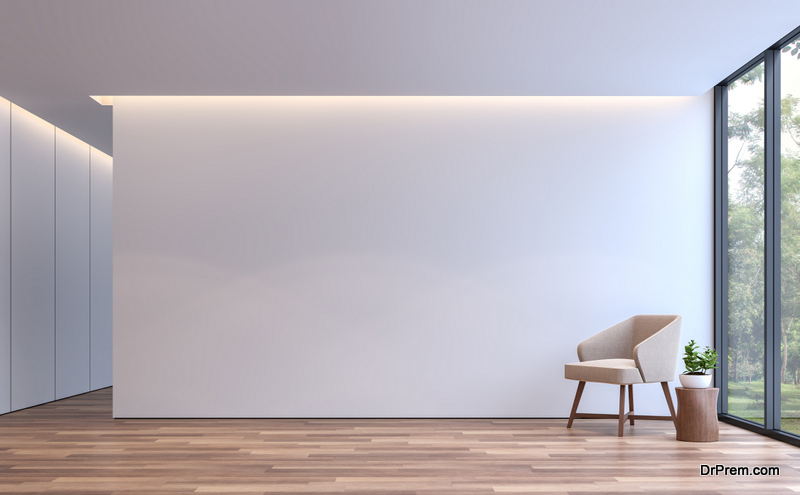 The lighting of your home can make it an inviting and stylish space, you'd love to be in. Wall lights are functional and can be used as a décor element too. Wall lights can serve as the main light fixture or serve as complementing lights. From ultra-modern to art deco, you have a huge range of choices. There are some incredible designer lights which will convert your space into gorgeous and beautiful. Here are some tips to choose the best wall light design, the latest trends and some stunning wall lights to give you an idea:
The best tips to choose wall light design
Where do you use the wall lights?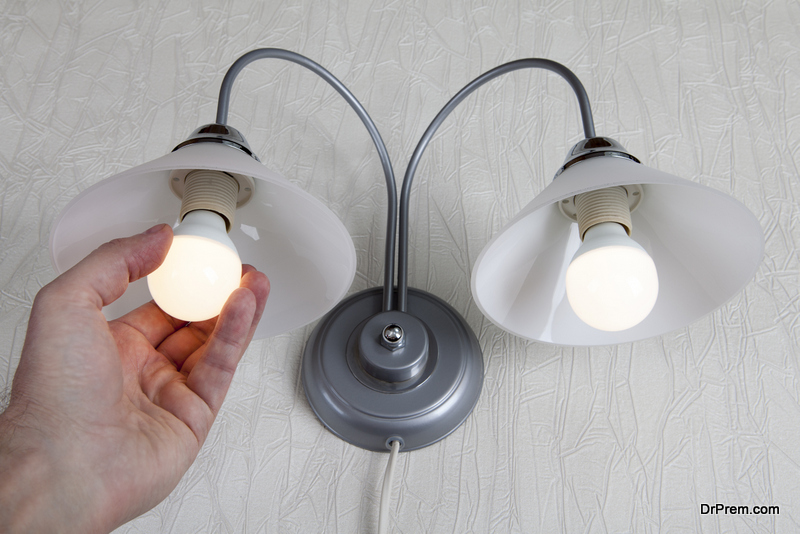 Wall lights work well with ceiling lights and in some cases can be your room's main source of illumination. Wall lights can create an atmospheric effect and cut out glare. In bathrooms, as well as other rooms, use wall lights to create a layered lighting effect. Light up a dark corner or doorway with wall lights.
In the craft room or study or home office, a swing arm wall light can be a good alternative to the traditional ceiling or desk lamp. Use picture lights to pour light on your prized artworks. Outdoor wall lights can help to accentuate your outdoor wall light design.
Pick lights according to functionality
If you want to use wall lights to accent your interior lighting, they can be decorative with wall fixtures which match your interior décor style. A translucent wall light design will provide diffused lighting which will make the interior brighter. If you want the wall lights to function as task lights, then go for sconces which offer a spotlighting effect.
Work out the amount of light you need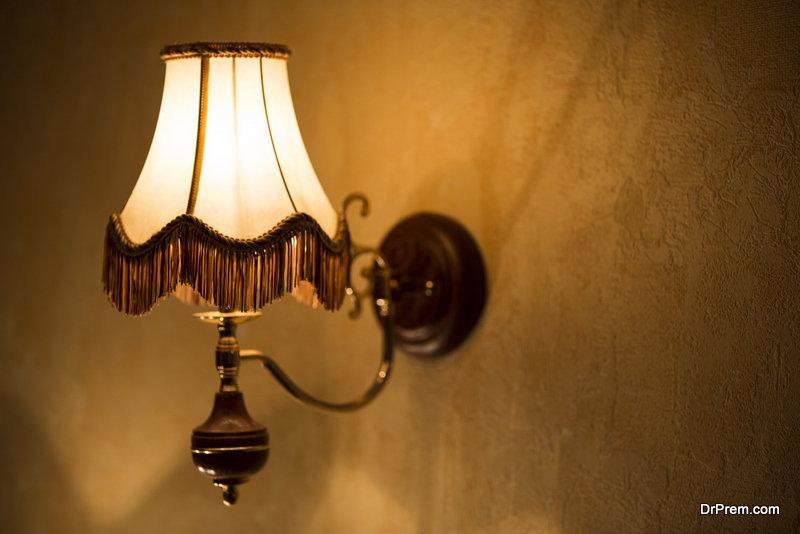 The first thing you have to do before shopping for wall lights is that you have to find out the light needed in the room. Use the wall lights to create mood lighting, if you don't intend to use them as the main light fixture.  Choose dimmable light switches which will allow you to change the atmosphere of the room whenever you want.
Use several wall lights in a long corridor
Create a beautiful corridor with a series of strategically placed wall lights with gorgeous wall light design. You can place them 8 ft apart for best effect.
Use wall lights to highlight your room's best features
Instead of using a lamp to highlight a particularly charming display on a side table, you can mount a wall light. Choose the right wall light and fixture, which could even become a part of the display.
Use them as bedside lamps
This idea is really great as you would save a lot of space on your bedside table. A pair of wall lights placed at reading height will be an additional décor feature in your room.
What are the wall light types you can buy?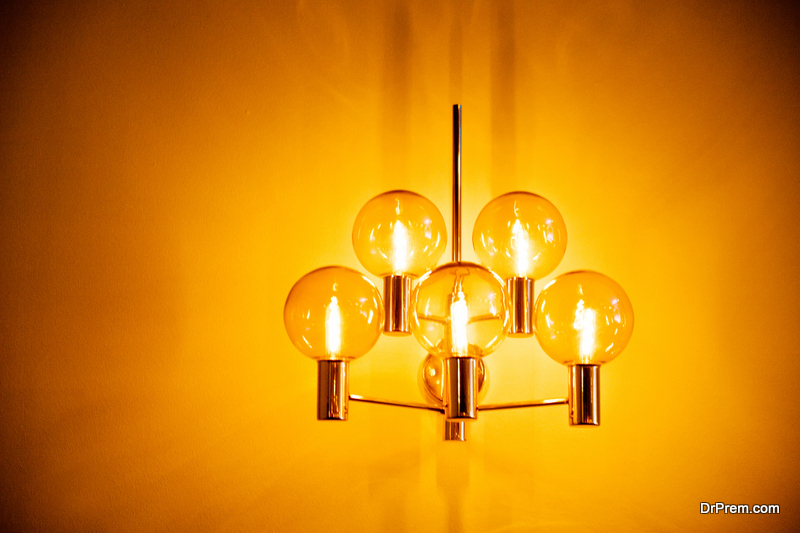 Uplights
These lights light walls upward, and are used by interior designers to impart atmosphere and accent to a room.
Downlights
Most downlights illuminate the area below the light, but some also accentuate the wall.
Reading light
When you're working on your wall light design, consider using swing-arm lighting which can help to save space and can be adjusted to bring the light closer to you.
Bath/vanity lights
These lights are specifically designed for vanity use, as they provide anti-glare, even illumination.
Picture lights
Make picture lights a part of your wall light design. These lights, as mentioned earlier, draw attention to your paintings.
Trends for wall lights for 2018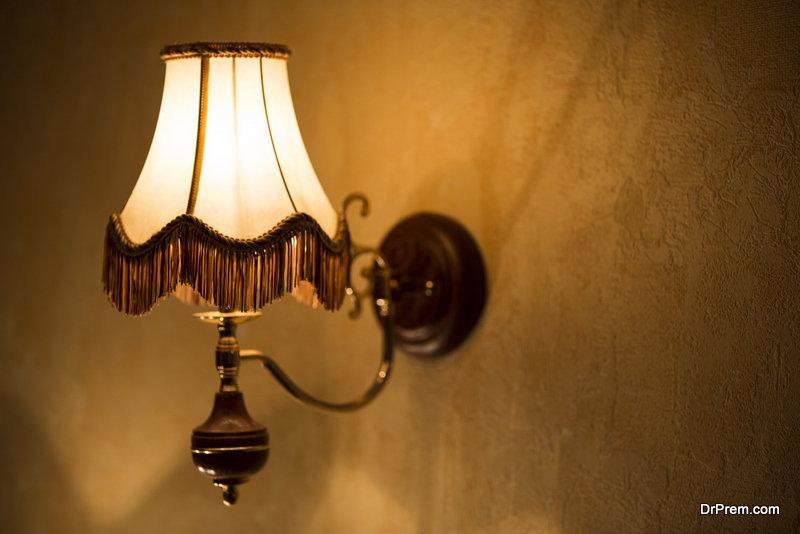 Use wall lights to add color to a neutral toned room
The latest trend in wall light interior design is to introduce a splash of color through the colored wall lights. They will cast a pretty blue, red or orange light on bare, white walls.
Fittings matter
Don't just look at the shade but choose the right fittings too, from ornate styles to ultra-modern minimalist fittings which goes well with your minimalist décor.
Soft gold is in
Wall lights with golden fixtures are in right now. The color will make your room look luxurious and opulent and this latest trend will be in vogue for a long time, as designers seem to love the color!
Subtle industrial and retro styled wall lights
Rather than rustic and stark finishes, the industrial style wall lights that we're seeing in 2018 are an upgraded version. They're sleeker, the tones are richer and the finish is smooth. There are retro lights which have such fine details that they look like works of art.
Art Deco lights
Art Deco wall light look stunning as they impart a quirky element to your lighting design. The geometric designs and clean lines fit in perfectly with any modern décor style.
Big is better
Wall lights are also being used as centerpieces, especially those which have ornate designs. The bigger size adds to the 'wow' factor of your home.
A few examples of amazing wall lights: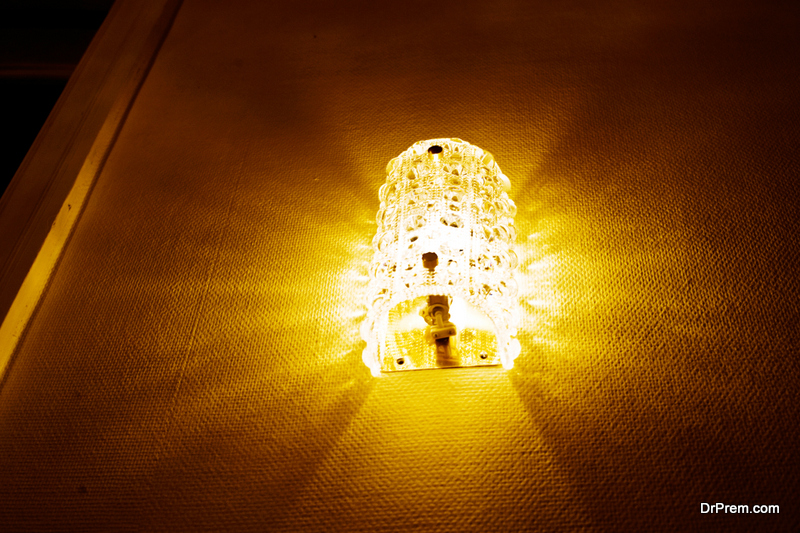 7679 Well wall light
The design combines metal and glass, has an industrial look, and can be mounted both outdoors and indoors. Both frosted and clear glass options are available, to create a beautiful but simple lighting effect.
Tetra module lights
Tetra modular wall lights are used to create a unique lighting design on your wall. You can combine as many or as few lights for a special and unusual light effect. The installation can be connected with a single cable and needs only one electrical outlet.
Cubic sconces
We just loved the gorgeous, magnificent luxury look of these cubic sconces. The three cube shaped lights with polished brass finish are attached to a single, central rod with the light source embedded in them.
Constellation
This light system which has interconnected units can be installed on the wall or ceilings. The diffused lighting creates interesting accent points in the room, and thus double as an integral part of the décor.
Wall lights can be a glamorous, sophisticated and functional part of your home's lighting design. Invest in some durable, sleek and unique wall lights to add to the lighting scheme of your interiors design.