If you are one of those people who love to spend lot of their time in front of the TV and also live in a very chilled place then fireplace will be a great thing for your house. But placing TV and fireplace together can be little difficult, especially for small homes. Fireplaces and TV stand can be a great option for your home as it helps you to enjoy both at the same time.
Here we have a list of great electric fireplace cum TV cabinet ideas that not only provide more space to your house but also enhance the beauty of your home.
Electric media fireplace
Electric media fireplaces offer elegant fireplace cabinet designs for your homes and workplace. They can be a good choice for modern homes and can give an attractive look to your home. You can place electronic fireplace in the bottom cabinet and can place your TV on the surface of the cabinet. The open cabinets attached to the furniture can add extra space to your kitchen and can make your small home look like more spacious.
Sonax fireplace cum TV stand
Sonax fireplaces offer stands in from traditional styles to contemporary styles. The real flame Hudson is one of the best types of TV stands featured with gel fuel and electronic fireplaces. This product can add a touch of elegance to your home. They are easy to accommodate and use. You do not have to worry about the space as it is easily adjustable. The stand is made from durable material and is strong enough to hold more than 100 pounds. The two spacious cabinets provides space to keep other media accessories like movie DVD holder, DVD player, and you can even store your favorite books as well. The glass doors attached to the cabinet make it a beautiful item fir living room as it can add a classy look to your home. They are available in materials like wood, metal, hand printed wooden logs, and more. You can select fire place cum TV stand according to your choice and requirement. You can easily adjust your 60 inches TV on it can enjoy your movie in winters.
Walker Edison fireplace cabinet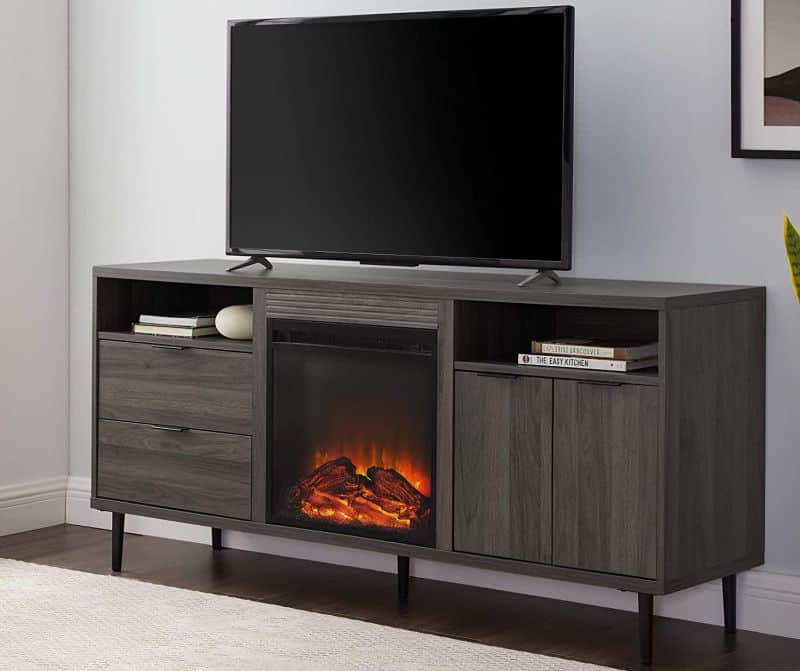 This Beautiful product has a great value and matters a lot in a small space. The warm wooden design of the furniture is quite enough to add a trendy look to your home. Walker Edison fireplace comes with a wooden media stand and an attached electric fireplace. Electric fireplace is a good option to go as it protects your TV from the fire shoots and other damages. You do not need to call for a technician as you can install it by your own. You just need to place it on a right direction and have to plug it in to a standard household outlet. It accommodates space for a 60 inches TV and other media gadgets. The surface of the cabinet is quite hard to hold heavy to heavy TV. Its feature adjustments provide you sufficient space for other media gadgets and wiring system.
Twin star window TV stand
It is beautiful and strong furniture that can hold most TVs up to 62" or 232 lbs. This can be a stunning addition to your entertainment area or home theatre. It is made from materials like wood, glass, and mental, which ensures strength and durability to the furniture. It is also available in different colors and designs. The duel usage of the furniture not only adds warm ambience to your living space but also make your movie an amazing experience.
Summary
Fireplace cum TV holder stands are one of those beautiful furniture that can add more space to your home. They are available in the market in different designs, styles, and colors.