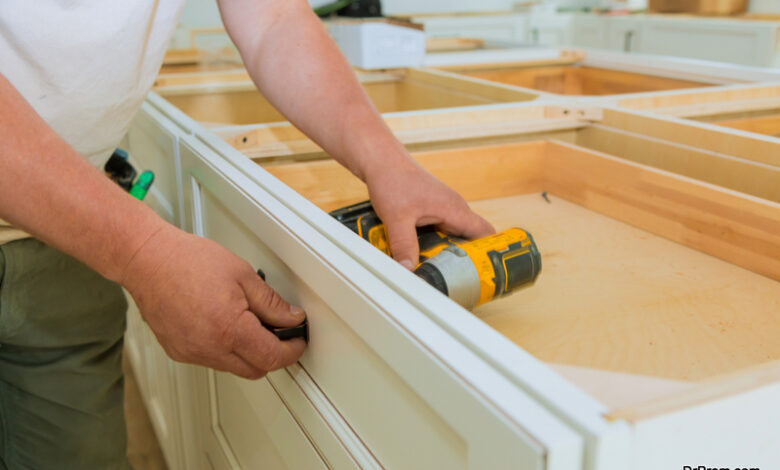 <![CDATA[Remodelling kitchen can be tedious and hard on the budget. However, there are a lot of ways that the remodelling can be done on your own. Many do-it-yourself videos posted on the internet can help you get rid of your old kitchen and making it modern. All at an affordable rate!
Any kitchen generally comprises of the following elements: the appliances, countertops, cabinets and floorings. The following stepwise guide can help you convert your old kitchen into a dashing new one at minimal costs.
The basic tools needed for the renovation are paint, paint roller, primer, paintbrush, spackle, nails, wood glue, toolbox, sand paper etc. The most important tool needed is a primer.
First process is to remove the doors attached to the casework. The worn out cabinets should be repaired. Holes if any should be filled using spackle. Wood glue should be used to laminates that are coming out of the doors. Nails should be knocked on the laminates to keep them intact. These nails can be removed after the glue has dried out completely. After the repairing work is done and dry, use sand to wipe out the adhesives or marks. Clean the repaired surfaces so that they are ready for painting.
The next process is to paint the caseworks. An effective way to start painting is by using painter's tape. This avoids merging of wet paint in unnecessary areas. However, if you are a professional then the above process can be skipped. A small paint roller should be used to apply primer to the casework. It is always preferred to use the primer in a 'W' manner rather than moving the brush up and down randomly. After the primer has dried out completely, then apply the paint's first coat. Re-coat the area with paint till the colour you desire is acquired.
After, the repairing and painting is done, you can always shop for some new updated kitchen hardware. Buy hardware that goes well with the theme of your kitchen and the colour of the kitchen walls and cabinets. Go for the trendy and easy to install ones. They are easy to install with the instructions written in the manuals provided.
Summary
The above process can cut down on your kitchen re-modelling cost effectively, almost, terminating the labour cost completely.]]>