A toaster is one of the simplest and most common appliances in the kitchen. What makes a toaster a good one? The functionality, you would say it is almost the same in all the toasters, then how could we differentiate between them? Well, it is the features and the design of the toaster, which differentiates it from the rest.
Sage Smart
The Sage Smart toaster is an ultra sleek, stylish appliance for your kitchen. The design and the functionality of this toaster are simply awesome. The toaster has two independent controls to toast four slices perfectly. If you get curious while the slices are inside, just take advantage of the 'quick look' feature.
The bread will rise above, show itself and be lowered down again. There is an 'a bit more' button, which will do the bread for 30 more seconds. Renowned celebrity chef Heston Blumenthal was involved in the creation of this fine toaster.
Magimix Le toaster
This is a four-slice toaster with a brushed stainless steel center. The Magimix Le toaster is designed to toast a variety of bread slices. You have the liberty to use either two or four slots of the toaster at a given time. The design of this appliance is simple, sturdy and stylish. The bell indicates that your toasts are done. It has the standard features like the cancel and the defrost button.
Dualit NewGen 4 slot toaster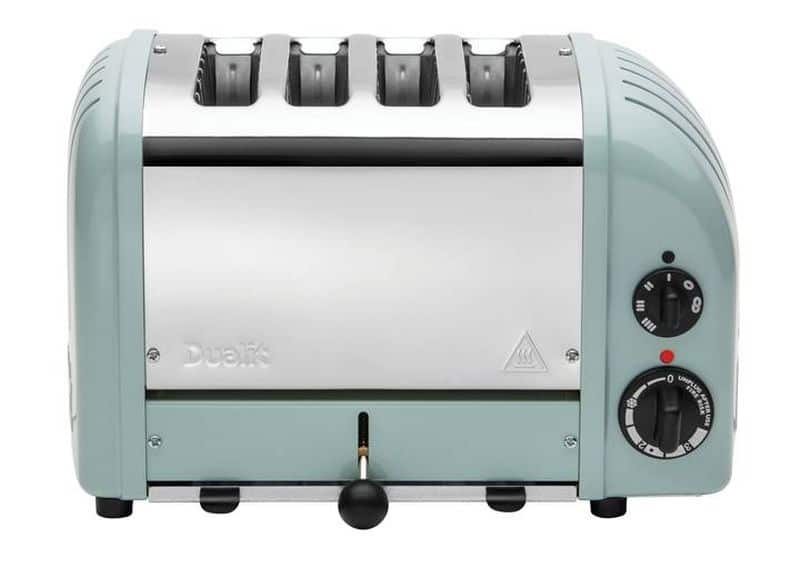 The stainless steel exterior of this toaster is sturdy and stylish. The four – slot toaster has separate timing and pop up control. The defrost and the bagel mode is present but the manufacturer didn't seem to like the reheat mode, which is absent from the toaster. You can check on the slices without disturbing the timer. This toaster will last a long time due to its good built quality.
De'longhi Icona vintage toaster
This toaster features one of the coolest designs amongst a huge variety of competitors. The buttons, the style, the colors, the knobs and indicators are superb. This four slot vintage looking toaster has two browning controls, reheat, bagel and defrost mode. The functionality of the toaster is no different from the regular ones, the uniqueness of the appliance lies in its design.
Cuisinart CPT-435 toaster
The Cuisinart toaster has stainless steel exteriors and a gorgeous design. Along with the standard features like defrost, bagel and reheat the toaster has a blue backlit LCD. The same model is available in a two slice variant too. The functionality, price and design of the CPT-435 make it in this list.
Consider a toaster more than an appliance, as it capable of enhancing the appeal of your kitchen. Function can easily walk with form in the toaster.