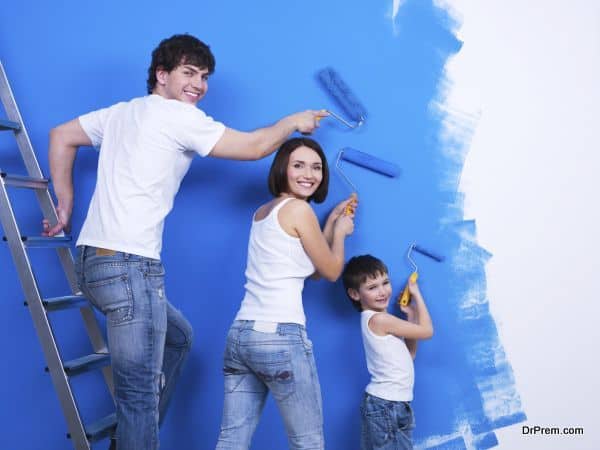 Studies have revealed that the chemicals present in several common household items can lead to severe allergies and medical conditions in individuals. These troubles are intensified in children who absorb a large amount of these chemicals on a day-to-day basis.
From the furniture, bedding, carpet and window dressings to the paint and the toys your kids play with, nearly every household item is laced with harmful chemicals that evaporate and create fumes that can be harmful for your kids. Such fumes can lead to a number of serious health ailments like headaches, nausea, dizziness, eye/nose/throat infections and even kidney/liver and nervous system damage.
Simple and Effective Eco-Friendly Tips to transform your kid's room into a green zone
If you are concerned about exposing your kids to these chemicals, then take heed of these tips to transform their room into a healthy, eco-friendly zone.
Choose Organic Products
Go organic. From the toys to the furnishings and even the bedding, choose organic products that do not contain the chemicals usually found in commercial alternatives. Organic products do not need any kind of chemicals for production, and so, do not emit any dangerous fumes over time. By opting to go for organic products, you can ensure that your kid's room remains free of toxic fumes and chemical pollutants.
Choose VOC Free Paints
Paints that contain chemicals aka VOC can emit nasty fumes over a long period of time, compromising the health of your kids gravely. So choose paints that come with VOC – free labels. These paints will be non-toxic and can make a great addition to your kid's organic room design.
Skip Ready to Assemble Furniture
Ready to assemble furniture may be considered as the best choice when it comes to decorating your kid's room. These models usually contain wood treated with formaldehyde that is linked with issues like skin irritation, headache and asthma in children. Solid wood furniture is always considered the best and safest option for a kid's room. If you still prefer the ready to assemble variety, choose it from stores that offer greener versions of these products.
Refinish woods with organic products
Toddlers would tend to chew on anything from the doors and windows to the furniture. Hence you would need to refinish the wood with organic products like food safe wood oils or linseed/hemp seed oils that would be non-toxic and can be safely ingested without any worries. Many products also contain refinishes by beeswax or tung oil which is also non-toxic.
Skip Wall – to – Wall Carpets for Flooring
While wall to wall carpet may sound comfortable for a kid's room, you would need to take note of the fact that the carpet would attract dust mites and allergens over a period of time. New carpets would also tend to off gas, emitting harmful toxins in the process. So don't opt for wall to wall carpets.
Choose Organic Window Treatments
The window treatments you choose would need to not only offer shade, but protect your kids from the harmful rays of the sun. Choosing organic window treatments would help you achieve this easily. Accordingly, you can opt for materials like cotton, jute, hemp and wool to keep out the heat as well as make the room look aesthetically pleasing. In the case of roller shades, choose ones that are PVC free.
Choose Energy Efficient Lighting Options
Rather than the standard bulbs, choose CFL light bulbs for your kid's rooms. You can also opt for zero watt lighting options to increase the room's energy efficiency while preventing the heat and fumes from standard bulbs from hurting your kids.

Every parent dreams of a bright, airy and non-toxic environment for his/her kids to grow in. From choosing VOC free paints and organic window treatments to nontoxic wood finishes and eco-friendly flooring, these tips will help you create such a beautiful and safe environment for your kids to grow in.