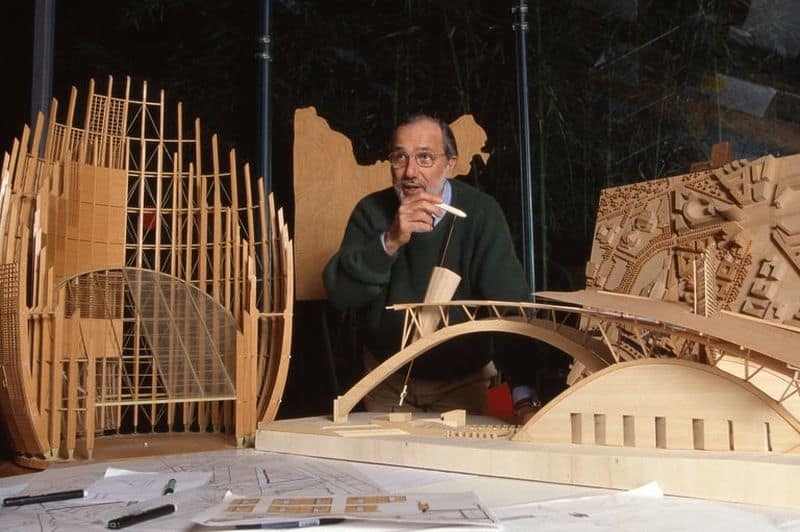 Going "Green" in all possible means is the only choice we have in order to safeguard our planet. Green architecture aims at making sustainable architecture with the help of environmental-friendly construction practices. This "Green Revolution" in architecture is brought about by skilled architects who make use of eco-friendly materials for construction so that the impact on the environment is minimized.
In this article, we will come to know about the 7 most influential green architects around the world who with their skill and creativity have been making homes which have ecologically sustainable designs.
Most Influential Green Architects from around the World
Norman Foster-


Image Source : images.adsttc.com
The list of the greatest green architects could not have begun without one of the most prolific architects who have master plans such as Masdar City (Abu Dhabi), Duisburg Inner Harbor (Germany), Thames Hub (UK), More London (London), West Kowloon Culture District (Hong Kong) and other such notable works under his profile. He founded his own company known as "Foster and Partners" along with Wendy Cheesman in the year 1967.During the long period of collaboration with Richard Buckminster Fuller, the American architect, Forster and Partners started taking to environmental friendly approach to architecture. They constructed Willis Faber and Dumas Headquarters in 1974 which is regarded as one of their first breakthrough projects. Foster and Partners aim at designing sophisticated edifices, creatively and efficiently, such that they sustain even in the most capricious regions in the world. Foster has been honored with Pritzker Architecture Prize in 1999.

William McDonough-


Image Source : mcdonough.com
American architect William McDonough is widely recognized for his architectural practices that are entirely based on creating ecologically sustainable designs. William McDonough has worked on big projects like 901 Cherry Office Building, the current headquarters of YouTube, American University School of International Service, NASA Sustainability Base, Nike European Headquarters, Ford River Rouge Complex, VMware Corporate Campus and more. He is honored with Presidential Award for Sustainable Development, National Design Award and Presidential Green Chemistry Challenge Award for his efforts towards making green buildings.

Glenn Murcutt-

Image Source : nma.gov.au
Glenn Murcutt is a practitioner known for his institutional and residential architectural works in Australia. What sets Glenn apart from his contemporaries is that fact that he believes in economical constructions and takes note of various environmental factors such as wind direction, temperature, water movement and light availability before he designs the structure.Unlike architects who aspire to design sky-high and showy structures, Murcutt settles for use his creativity to create an eco-friendly design which promotes sustainable architecture. He was awarded Pritzker Architecture Prize in 2002.

Renzo Piano-

Image Source : thoughtco.com

Italian Architect Renzo Piano is one of the biggest names when it comes to Green Architects. Although his ideas are similar, based on shaping eco-friendly design, Piano's works are unusual as there are no single shapes, materials or designs he sticks to.He undertook projects such as Centre Pompidou, Menil Collection, Old Port of Genoa and Lingotto Factory in Turin and has completed grand projects like Kansai International Airport, Fondation Beyeler, Potsdamer Platz in Berlin, Jean-Marie Tajibaou Cultural Centre in Noumea, New Caledonia and Aurora Palace in Sydney from 1991 to 2000.Among the other notable works by Renzo Piano are The New York Times Building, Whitney Museum of American Art and Los Angeles County Museum of Art. Piano is honored with various awards and recognitions including Pritzker Architecture Prize in 1998, RIBA Gold Medal, Sonning Prize, AIA Gold Medal and Kyoto Prize.

Frank Lloyd Wright-


Image Source : s3.amazonaws.com
Frank Lloyd Wright was a green architect even before it was in Vogue! He termed his constructions and designs as "organic architect7ure" as his idea was based on creating greener and more sustainable structures which are in harmonious sync with nature and surroundings. Adding to every honor, he was recognized as the "Greatest American Architect of all time" by the American Institute of Architect in 1991.His most celebrated work is "Fallingwater", a house designed in 1935 in Southwestern Pennsylvania. The house was constructed over a waterfall and the materials included nothing more than just concrete, stone and glass. Wright was also a writer and educator who influenced great green architects such as Glenn Murcutt with his ideas.

Ken Yeang-


Image Source : architecture.org.au
Ken Yeang is a Malaysian Architect and ecologist who have been implementing his ideas about sustainable architecture in theory and in practice since 1971. His idea stands for integrating man-made structures in harmony with nature. He has also worked on numerous climate responsive designs early in his career. His innovative key projects include The EDITT Tower (Singapore), The Roof Roof House (Malaysia), Menara Mesiniaga Tower (a design based on Yeang's principle of "bioclimatic skyscraper" in Malaysia), Spire Edge Tower (India), SOMA Masterplan (Bangalore) and more.Yeang's works have been recognized widely worldwide and he has been honored with more than 70 awards since 1989.  He is undoubtedly one of the most influential green architects of our time.

Rolf Disch-

Image Source : rolfdisch.de

Disch is a German Architect and a well-known environmental activist as well. He founded his own architecture firm- Rolf Disch Solar Architecture in 1969 and has since worked on eco-friendly design ideas that promote the usage of solar energy.Heliotrope in Vauban, Freiburg is one of his notable works. Heliotrope is World's first building to capture more solar energy than it actually uses. The structure is nature-responsive and rotates to the track of the sun so as to catch as much sunlight and warmth as possible. The structure is also entirely renewable, CO2 neutral and free of any kind of emissions.Other of his innovations include the Sun Ship and Solar Settlement in Vauban, Freiburg. His works have been recognized with awards including the "Eco Manager of the Year" Award in 1997, European Solar Prize Award in 2002, Global Energy Award in 2003, Germany's Most Beautiful Housing Community Award in 2006 and German Sustainability Award in 2008. No wonder we see Rolf Disch, last but not the least, in the list of the most influential green architects around the world.