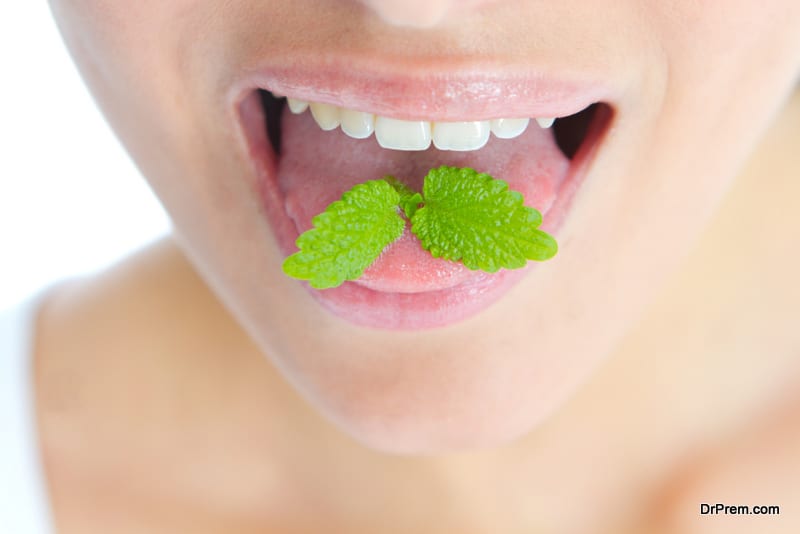 If you are worried about the chemical ingredients of your toothpaste, you need not to worry anymore. There is a permanent solution to that. Here is a list of 14 natural alternatives to toothpaste. Some of them are a bit weird and may leave you in shock, but these are truly worth trying.
Natural alternatives to toothpaste are in a rage these days. Like most of the commercial beauty and health products, toothpastes are getting revolutionised day by day. And needless to say, they are completely safe,
Here are some of the questionable ingredients commonly found in commercial toothpastes:
Fluoride: Fluoride is known to prevent cavities in mouth, but it is not safe to use as it does not promote toxin free teeth care. You may suffer from acne outbreaks in chin and mouth area.
Titanium dioxide: It has been stated that titanium dioxide is somewhere carcinogenic. The nano sized particles of titanium dioxide are absorbed by the mouth and may cause damage to the body cells.
Glycerine: Glycerine can be found in all toothpastes. This gives the toothpaste a pasty texture and does not allow it to dry out. But it may leave a coating over your teeth which prevent the remineralisation of your teeth.
Sodium lauryl sulphate: The foamy action of toothpaste is generated by sodium lauryl sulphate but it is actually a chemical surfactant which is not favourable to our body.
Artificial sweeteners: Chemical sweeteners like saccharin and sorbitol should be avoided. They are added to the commercial toothpastes to make their taste sweet. 
14 natural alternatives to toothpaste
Toothpaste is a key ingredient to maintain a beautiful set of strong, white and clean teeth. Over the years it has been found that most of the important ingredients of tooth pastes cause health issues. Thus people are seeking for some healthier and natural alternatives to toothpastes to incorporate them in their life. Here are the best alternatives to commercial toothpastes:
Sea Salt:What can be more natural than brushing your teeth with the Sea Salt. It is very easy to dab your toothpaste in the salt and brush it in a usual way. And if you are worried about abrasion, you can dissolve it in water at first and then dip your brush in that water for brushing.
Baking soda: This is one of the most popular natural alternatives to toothpastes. Just like the sea salt, dip your toothbrush in baking soda and brush as usual. Or it can be done by dissolving in the water first and then use the brine solution which is an alternative to brushing teeth with commercial tooth pastes. Many people are using baking soda as a homemade treatment for teeth whitening. Some drops of peppermint oil and stevia can also be mixed to give your mouth a fresh and refreshing feel.
Hydrogen peroxide: Hydrogen peroxide is known for its cleansing and whitening properties and is used by many people instead of toothpastes. To use it, dip the toothbrush in hydrogen peroxide and further dip it in a 1:1 mixture of fine sea salt and baking soda. The only problem that arises with hydrogen peroxide is that, in case you have amalgam fillings in your teeth, hydrogen peroxide may leach out the mercury from your filings.
Herbal tooth powder:Herbal toothpowder does a great job in cleaning the teeth. Also the natural ingredients can ease up the infection, pain and inflammation throughout the mouth.
Dry brushing: Nothing simpler as this. Many people say that there is no need of using anything along with your toothbrush. Dry brushing is a great alternative to brushing teeth with toothpastes. But the only drawback of it is that it does not give a refreshing feel in the mouth which may feel strange.
Brushing using pure water: Pure water does surprising wonders in clearing debris from your teeth but again you won't get any refreshing feel in your mouth.
Natural soap:
Sounds weird? But yes, you can brush your teeth with soaps also. Natural soaps like peppermint castile soap can be used to get a wonderful brushing experience. It tastes pretty as well as gives a soapy feel.
Tooth soap: For all those who are not interested in using actual soaps while brushing, there are a few brands that manufacture tooth soaps designed especially for tooth care and are a good natural alternative to toothpastes.
Coconut oil:
Coconut oil is known to be another alternative to toothpaste as its antibacterial and antifungal properties are extremely good for mouth cleaning. Coconut oil can be used either alone or in combination with baking soda or essential oils.
Oral Irrigation: Waterpik does wonders in cleaning the gums and teeth. The results are really miraculous. Salt water can also be used for water irrigation which has some really good benefits.
Essential oils: Drop a few drops of essential oil like peppermint oil over the dampened toothbrush. This is an easy and quick way to get the mouth cleaned and give a refreshing feel.
Oil pulling: Swish one table spoon of organic oil for a few minutes. Then brush your teeth using plain water. Your teeth will come out as clean as never before.
Xyliotol:Xylitol is a natural sugar alcohol found in vegetables and fruits and is used as a substitute for sugar in many food items. Researchers have shown that xylitol can prevent tooth decay. You may gat as lozenges or a gum or can simply take it in the form of sugar to swish around your mouth prior to brushing.
Activated charcoal:Activated charcoal has been used since centuries as a natural ingredient for teeth whitening and maintaining oral hygiene. Charcoal is known for toxin free teeth care as it binds the toxins in mouth and reduces the possibility of bad bacteria to grow and cause tooth decay. It is important to use activated charcoal to brush your teeth and rinse the mouth afterwards.