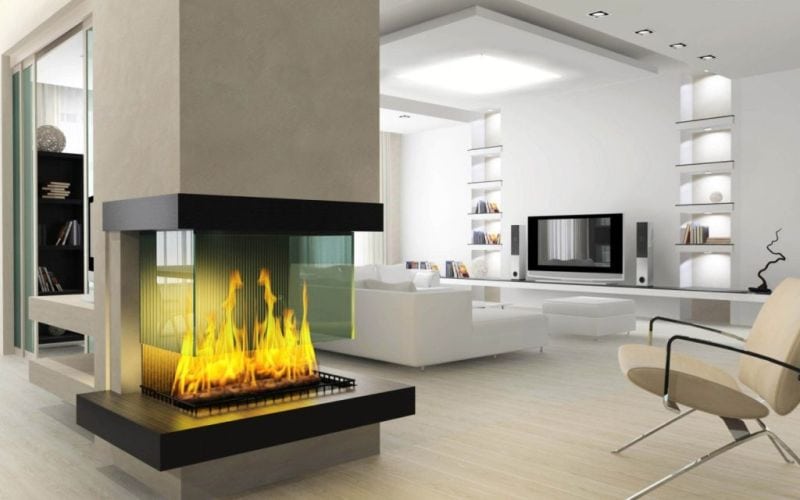 A fireplace adds warmth to your home. It's also a décor element which can be a focal point of your living room space. Fireplaces can be made from wood or stone, painted or unpainted – it all depends on your taste. Some home owners use a fireplace to add a burst of color to neutral color schemes. Fireplace designs are traditional and modern, curved or have clean, straight lines- it all depends on your preference. We have compiled some amazing fireplace designs ideas which can inspire you to design your own fantastic fireplace:
13 amazing fireplace designs to be inspired by 
Finished fireplace
Fireplace finishing is one of the latest trends in fireplace design ideas. The finished fireplace designs are extremely creative and revolutionary. Finished fireplace also allows you to upgrade the design without overhauling the entire fireplace. You can redo your old fireplace and with finishes like wood, wallpaper, art, etc. You can also update the look of your room in no time at all. The possibilities are endless.
Fire table
We really loved this fire table fireplace. It would always be nice to sit with your favorite beverage around it. You can share nostalgic stories and relax by the fire. The transparent chimney adds to the charm – you have all the enchantment of a campfire right inside your living room. A pale palette as well as a contrasting décor color scheme would beautifully complete the picture.
Mirrored fireplace
If you're a lover of amazing fireplace designs, you'll love this idea. The fireplace is surrounded by a clear glass chimney. The emissions go up the chimney, and you get a clear view of the fire too from all sides, as you enjoy the warmth. This fireplace is perfect if you have a spacious living room with an open plan design. The mirror finish creates an illusion of floating fire. Pale wooden floors and beautiful furnishings will ensure that the fireplace is the centerpiece of the entertaining area. This is one of the fireplace designs 2018 that we really liked!
Sculpture fireplace
If you want to move away from convention, then a fireplace which is molded into the wall is the one for you. The design of the fireplace matches that of the beautiful curves of the flames. The fascinating design will draw a lot of attention while occupying the least space.
Wood burning fireplace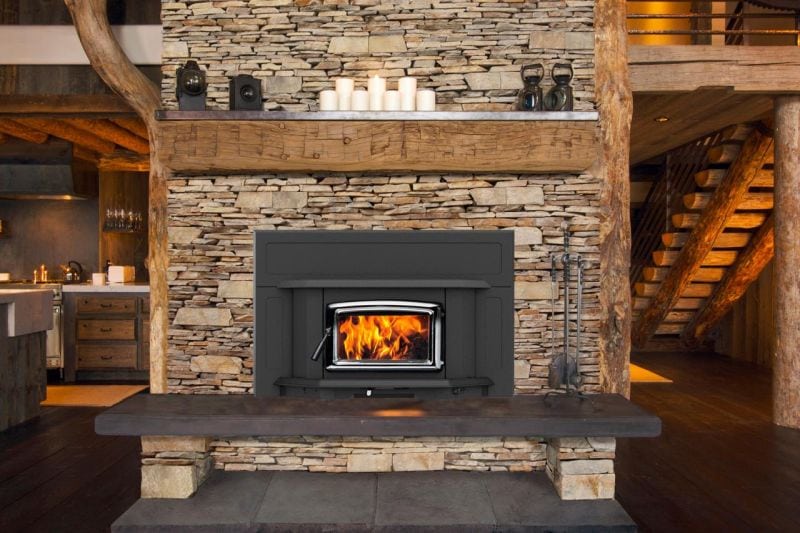 Wood is one of the trendiest fireplace materials of 2018. You can use it to burn it as well as a décor element. Install modern wood burning fireplaces, as these fireplaces make sure that the wood is burnt completely. You don't have to use much fuel i.e. wood, and have to spend much less time stoking or cleaning the fireplace. Moreover, wooden storage too has become a byword these days – along with fireplaces – which look elegant and form an integral part of the fireplace design.
Geometric fireplace
Opt for a fireplace which is not just a place to warm your toes – it can be an amazing artwork to adorn your drawing room. Geometrical fireplaces are excellent design elements which can fit snugly into any nook.Create your own gorgeous reading corner near the fireplace. Use the corner fireplace nook as your workspace which would be warm and comfy in cold weather.
Portrait fireplaces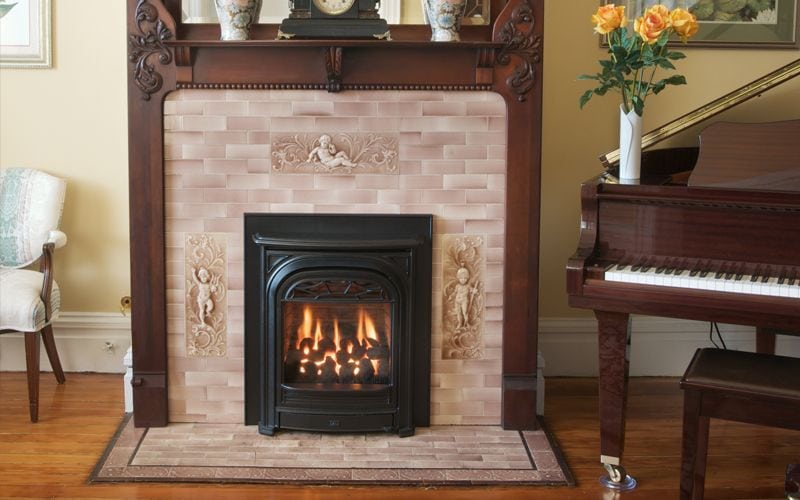 One of the emerging modern fireplace surround ideasis the enlarged portrait fireplace idea. You can view the fireplace, which makes it a compelling focal point for your home.
Color blocked fireplace
As a trend, color blocking has picked up in recent years. A color blocked fireplace allows you to refresh your interiors with just one coat of color. What's more, you can change the color when you get tired of the current one! Keeping the rest of your décor neutral with just the color blocked fireplace creates a striking effect.
Modern twist
This design is a twist on traditional fireplace design. It is one of the mostamazing fireplace designs which looks gorgeous. The shape reminds one of old world stoves which used wood as fuel. This design will suit a home which has a minimalistic design. The design is sleek, contemporary, and timeless. Your fireplace's beauty will forever add to the beauty of your home.
Curved stone
Why not try out a design which is a little different? The square and blocky fireplace design might look bland at first glance. But if you look closer, thisfireplace design ideashas many subtle details which complement the modern home. Curved stone façade softens hard edges, and gently radiates the heat of the fireplace throughout the room. The functionality and simplicity of this design will make it blend into any home.
Frameless corner gas fireplace design idea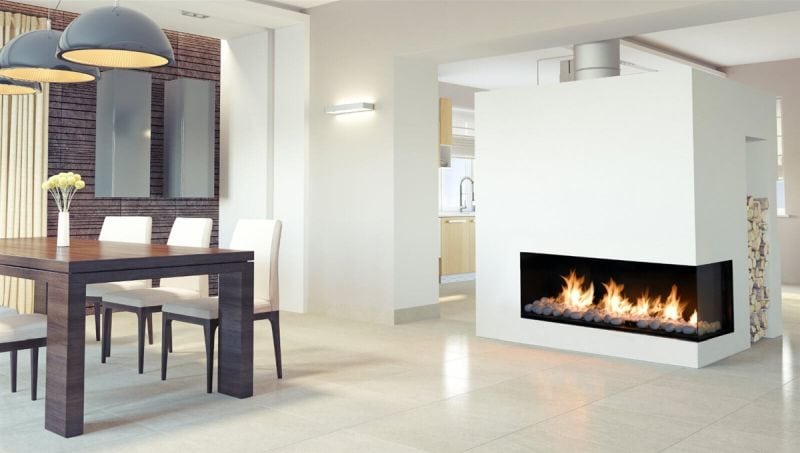 Old ideas are transformed into new and exciting fireplace ideas. Corner gas fireplace design has made a comeback, but fireplace designs 2018has seen these fireplaces without the frames. There are two perspectives available, three-sided perspectives and two-sided perspectives. Architects and interior designers are using these revamped amazing fireplace designs to create stunning ambience.Linear fireplaces and bay perspective fireplaces too are popular in 2018.
Cozy and sleek style
This fireplace design is one of the most stunning, sleek, interesting, and functional we came across. The fireplace is reminiscent of chaise lounge – and you can actually sit on it! The bench attached to the fireplace makes it the best seat in the room on a cold and snowy day. The lovely wood used to construct the fireplace gives a traditional vibe to the ultra-modern design.
Elegant and ecofriendly fireplaces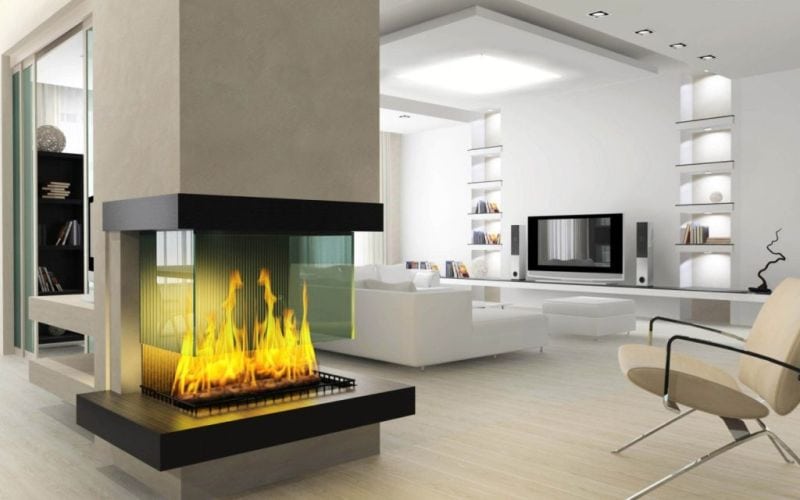 Fireplaces are no longer just somewhere you burn old logs to keep your home warm. Your home's hearth can be designed in way to look like an electrical space heater. The amazing fireplace designs like this ultra-modern design which is just a wonderful artwork. The fireplace is portable and uses bioethanol fuel, which is great news for those who live a green lifestyle.
Design your fireplace according to your personality. If you like the minimalistic look, go for an ultra-modern design. The material, color, design, size and other elements add to the aesthetics and transform a simple fireplace into an elegant masterpiece.