Chase away pesky bugs and light up your backyard with these amazing Tiki torches you can make by yourself. They can be fashioned out of things you have right at home. Bring a magical, warm fiery glow to your backyard, but be sure to keep it under your control always. All you need is any kind of non-flammable container, wick and flammable oil. Even a DIYer without much experience will be able to make a Tiki torch, so you definitely have to craft these ideas, and make your backyard look festive and enchanting.
10 DIY Tiki torch ideas 
Wine bottle Tiki torch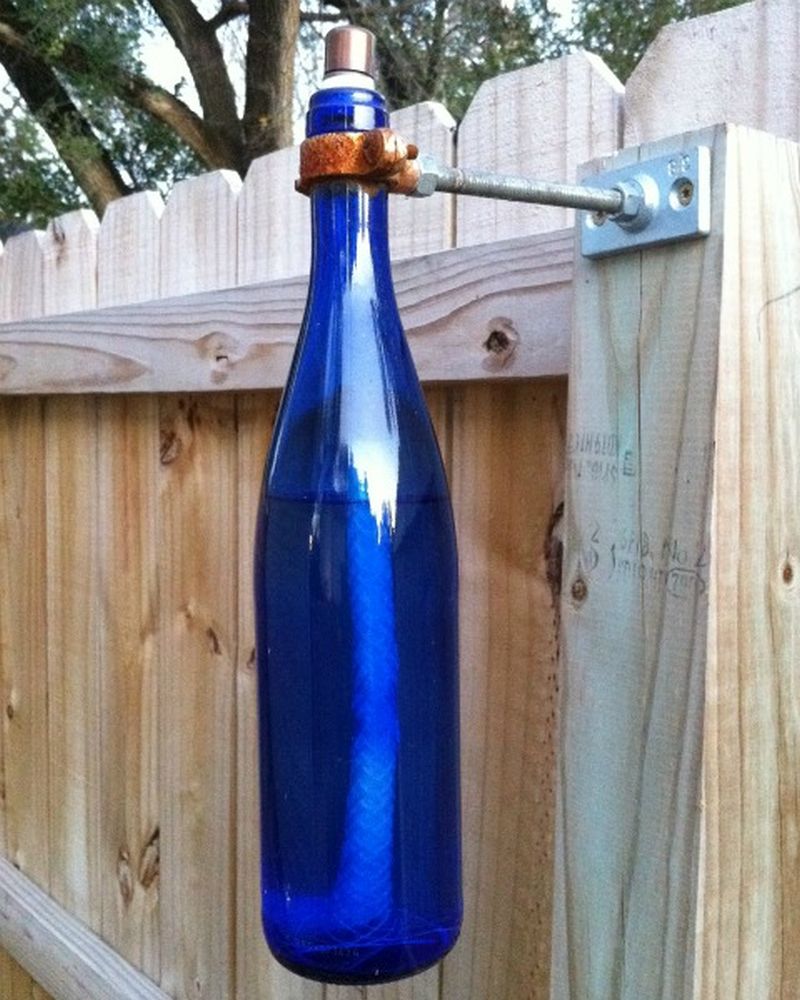 Image Source : guidepatterns.com
Tiki torches out of wine bottles look fantastic. They are stylish, gorgeous and lend a beautiful glow to your garden. You'd need beautifully shaped wine bottle/s which you have to rinse and dry completely from the inside. Fill half the bottle with torch fuel preferably citronella which will keep all insects like mosquitoes away. Attach the end of the copper coupling in the wine bottle's opening with Teflon tape, (around the bottle opening and coupling).
To make torches out of wine bottles, insert a wick and make sure that it extends right down to the fuel and leave ½ inch of wick above the opening. Attach the bottle or bottles to your fence, where they can be lovely boundary markers or keep them in a spot where they can't be knocked over (by you, kids or pets) and you can keep an eye on the flame.
Tin can Tiki torches
Another useful eco friendly Tiki torch project which will put into use any old tin cans you have in your pantry. This Tiki torch is guaranteed to wow you and everyone who views it. You will need some paint, hammer and nail. Create your own personalized torch by drilling your design in the metal can. The cans will look even more attractive if you paint them.
Copper pipe torches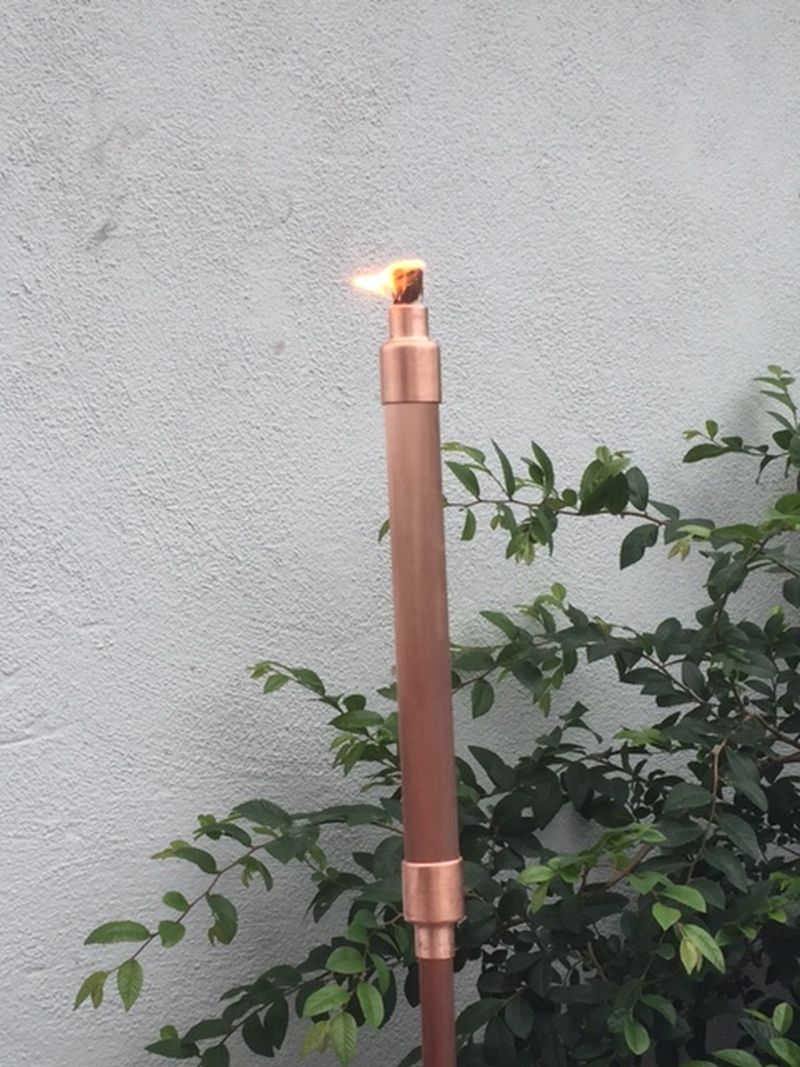 Image Source : i.imgur.com
This is one of the most simple yet gorgeous DIY Tiki torch ideas using copper pipe for the stand and the holder. It's easy to make but this DIY torch stand and Tiki torch which is very nice to look at and fit in well with any kind of landscape design, formal or informal.
Soda can torch
This is another amazing project which allows you to transform an ordinary ubiquitous object into a thing of beauty. Besides, by making Tiki torches out of soda cans, you will save a little space in the landfills. To make the stand, use a 5 ft tall bamboo stick or any strong stick you have in your backyard.
Drive the inch thick long stick into the ground. Cut 1/4th inch thick sticks to 5 inches length and glue them to the exterior of the can with the help of epoxy adhesive. Do not touch this till the glue dries in 24 hours. The sticks will hide the can and make it look more natural. Insert a wick through the opening of the can after filling the can with torch fuel. You'll be surprised at the wonderful result of your hard work.
Beer Bottle Tiki Torch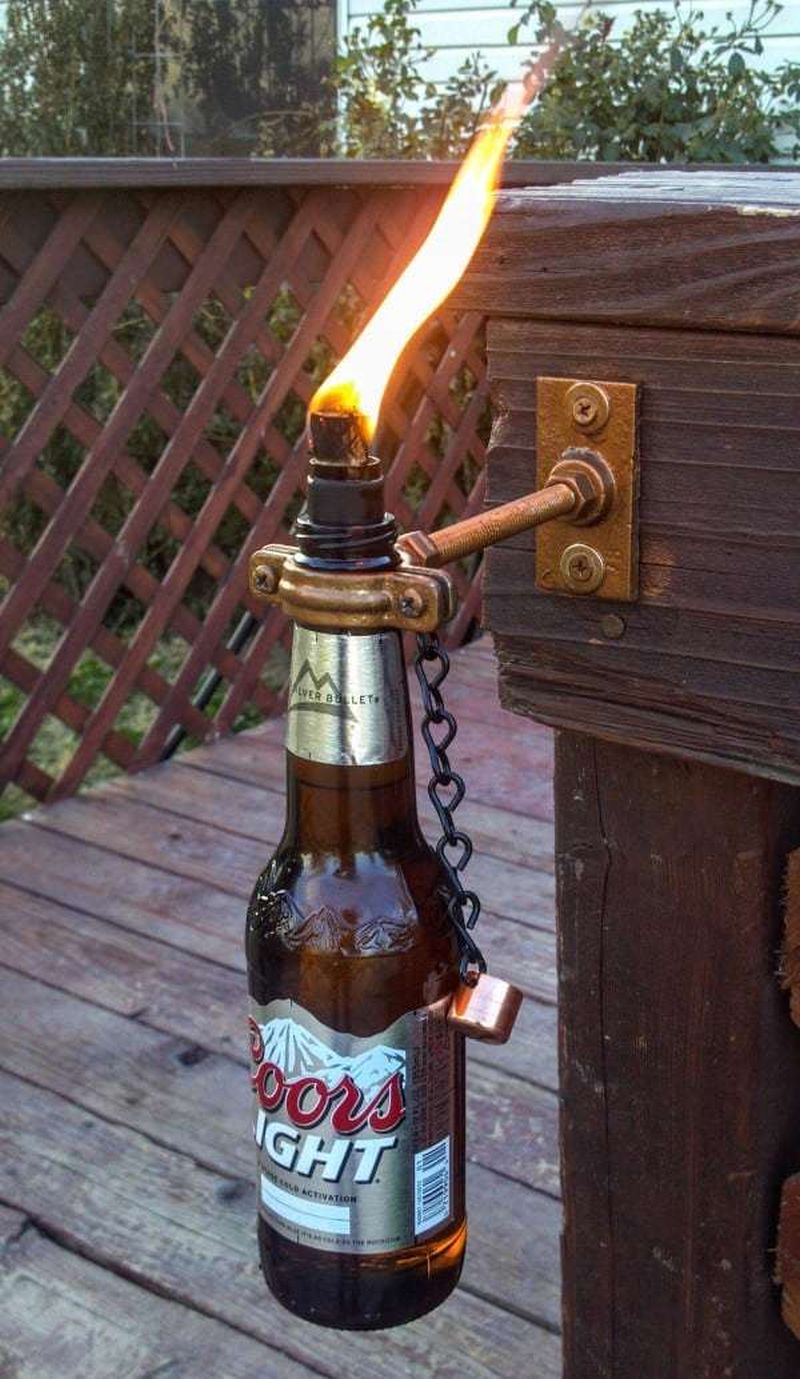 Image Source : i0.wp.com
Beer most probably is one your favorite drinks, like the rest of the world. Instead of throwing them along with the rest of your trash, put them to good use. Add a funky décor element with beer bottle Tiki torches lighting up the fun evening in your backyard. DIY Tiki torch ideas are quite a few but this beer bottle craft will bring a smile to all.
Tiki God
Make an arty Tiki torch by drawing a Tiki God mask on a poster board, and cut out the face. There are many ideas you'll find of Tiki gods so choose the one you really like. Then wrap the mask all round the enclosed torch with a DIY torch stand and tape all the ends with packing tape (clear). The flame will show through the cut out shapes and impart a beautiful glow to the garden. This Tiki torch idea is fantastic for a mystery themed party in the yard, which will show off your perfect execution. 
Light bulb Tiki torch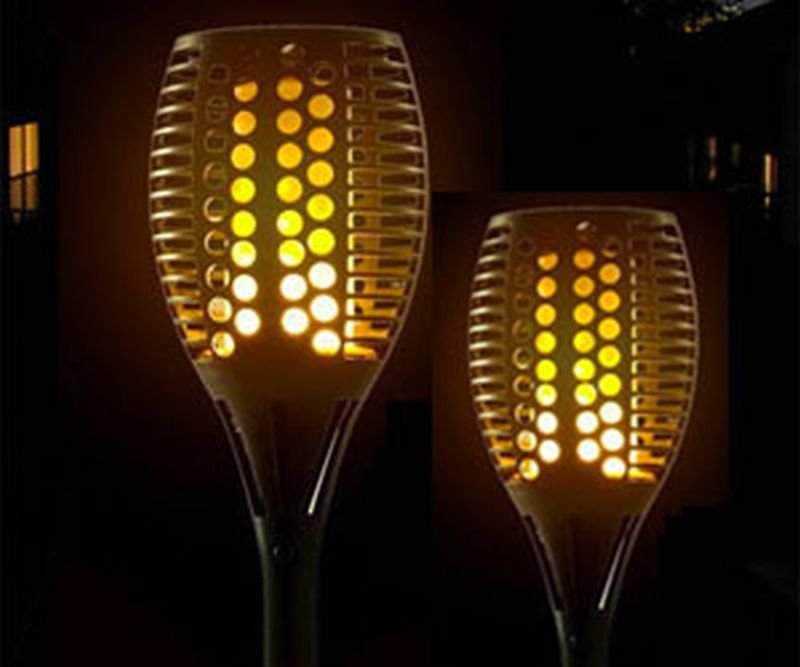 Image Source : solarlightscaping.com
You'd never think a simple bulb can be transformed into an incredible outdoor décor decorative element. It can be placed on the patio or a few of them can be lined up together by the lawn or around your sitting area. It is a very creative DIY Tiki torch ideas which is quite functional as it can chase away the mosquitoes too. Enjoy a mystical evening outside with friends lit up with the charming light of these small but elegant Tiki torches.
Tuna can Tiki torch
Recycle your tuna cans to make impressive Tiki torches. You'll require a hurricane glass, screws, metallic paint which can be bought at the nearby thrift store. Attach the tuna can to the hurricane glass and Tiki torch stand, and paint the can and stand in black or copper or gold. The tuna can Tiki torch is a cool idea for the garden which will fit in with any style of garden.
Mason jar Tiki torch
Image Source : onelittleproject.com
Mason jars' Tiki torches are excellent DIY Tiki torch ideas too. Tiki torches made with mason jars can be made in a jiffy. One of the easiest ways is to drill a hole to put the wick in through and fill the jar with Tiki torch fuel. Close the lid and make as many sturdy and pretty mason jar Tiki lamps as you want. The whole project will take only about an hour. You can craft these torches and use them to light up many hours in the evening.
Spinning torch
The spinning torch is made using simple grade school science. The effect is simply brilliant as the spinning torch spins a web of moving light, creating an enchanting effect for the garden.
Use scented oils to impart fragrance
Fill any bottle with some unrefined oil like grape seed oil or olive oil and add 20-40 drops of citronella/eucalyptus/thyme or lemon balm. These oils keep mosquitoes as well as other insects away but you can add other oils if you just want the fragrance. Close the bottle and twirl it around to mix them. Pour this scented oil over a Tiki torch and then light the torch.
Fire makes everything look magical and enchanting, and instantly creates a soothing, peaceful atmosphere. Tiki torches are an amazingly simple way to create a lovely looking garden which is wonderful to sit in.