Recipes that make the best out of the egg in your daily diet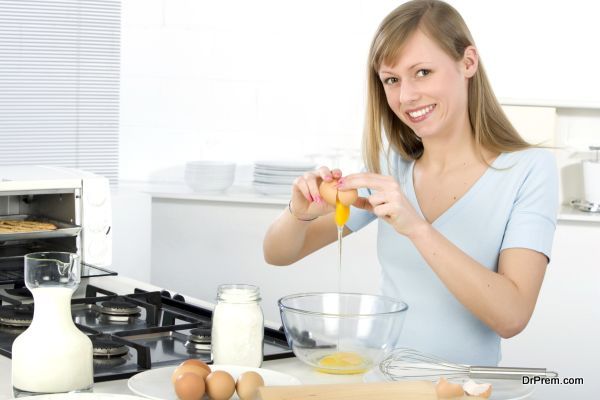 Egg is a wonder food that gives minimum calories and maximum number of nutrients. Buy eating one egg a day, one can get vital vitamins and proteins for overall fitness. One egg offers just about 70 calories and an approximate 6 grams of protein. Even people who have high cholesterol levels can eat eggs every week. If you are worried about excess cholesterol and fats, then eat only the egg whites and leave the egg yolk. Egg can be cooked and served in a great many ways. By combining it with veggies and grains you can make eggs even more nutritious and delicious. Eggs can be paired with rice, breads and noodles. It can be used for making both savory and sweet dishes.
Egg in bread roll:
Bread and eggs make a quintessential pair. Your kid might not like to eat bread and eggs in the same way every time. Wear your thinking cap and get creative in the kitchen. Scoop out the center of a bread roll and fill it with eggs. Then bake this egg in your oven for a little while. Sprinkle cheese on top and serve.
Cheese-egg-spinach sandwich:
Sandwich is a food that one can have for breakfast, lunch or even dinner. Some sandwich recipes are too elaborate and time consuming. If you want to make several batches of sandwiches in a jiffy, then mix spinach eggs and cheese and bake them together. The thick mixture has to be scooped up and put on top of bread rolls. Spinach is a super-food that offers many vital nutrients like vitamin K and calcium.
Avocado-egg bake:
Avocado is a nutritious veggie, which offers a creamy texture to any food you put it into. Remove the pit of the avocados and put the egg into it. Bake the egg while it is in the avocado pit. Top the avocado with crushed feta cheese and herbs. Serve this delicacy with whole grain bread for lunch.
Egg in a cup:
This is a recipe that you can change and enhance according to your whim. Take muffin making cups or moulds for making this tasty egg dish. Place the bacon strips around the cup or mould and then pour a whole egg in the middle. Grate some cheese on top and put the cup in the oven for baking. This is a delicious quick snack that you can cook for your children and also have a cup of goodness for yourself.
Eggs with baked potatoes:
Baked potatoes are one of the comfort foods, which return childhood memories and help us rewind. The next times you decide to let your hair down at home then make this dish topped with a sunny side up. Sprinkle small bits and pieces of fried bacons and of course dollops of Greek yogurt. You can also serve it topped with stir-fried veggies.
Egg topped burger:
No food is more appealing than an egg topped burger. Put the sunny side up egg on top of the bun and squeeze it shut with bun bread. Egg is an ideal topping for many different types of burgers. Veggies, chicken and beef burgers all taste better when you add a sunny side up.
Egg yolk ravioli:
Most of the dishes made with egg, mentioned above don't need much culinary skills but this one requires serious knowledge of cooking. Make ravioli with an egg trapped inside it so when you cut the ravioli the egg should ooze out of it.