4 Vegan Comfort Food Recipes Your Heart Will Fall In Love With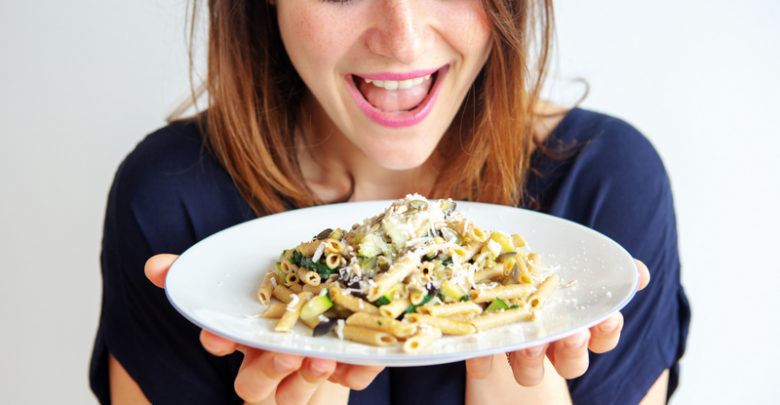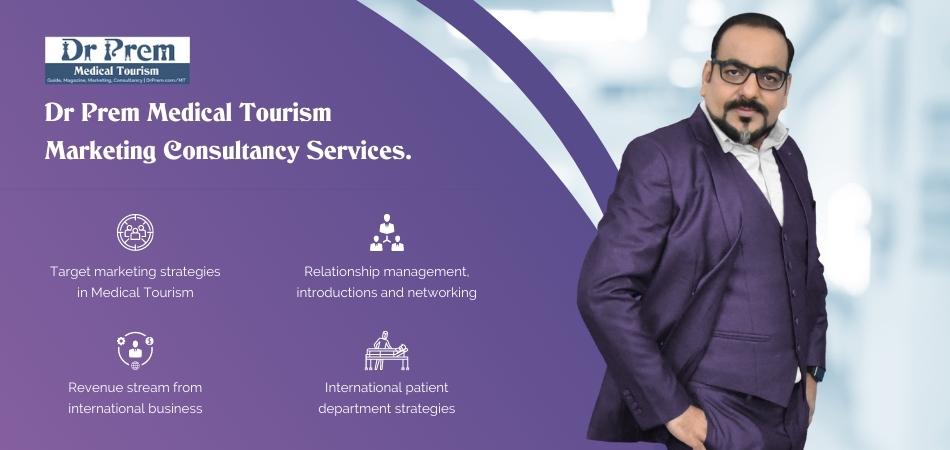 You know what a comfort food is. If you are feeling down and low, tired and exhausted – you head first to your fridge to indulge in that huge tub of chocolate ice cream. That ice cream is a comfort food. You had a terrible day at work, or had a fight with your loved one – you order a large pizza from a famous pizza house. That pizza is a comfort food. As far as legends go, comfort foods are rarely healthy or nutritious. Even if they take you back to that favorite culinary fragrance or flavor from your childhood – most comfort foods are heavily loaded with fats and carbohydrates. But as a health conscious individual, as a vegan, do you not have the right to gorge on your favorite dish? Here are 4 vegan comfort food recipes which offer you comfort without compromising on your health.
Cauliflower Rice Khichdi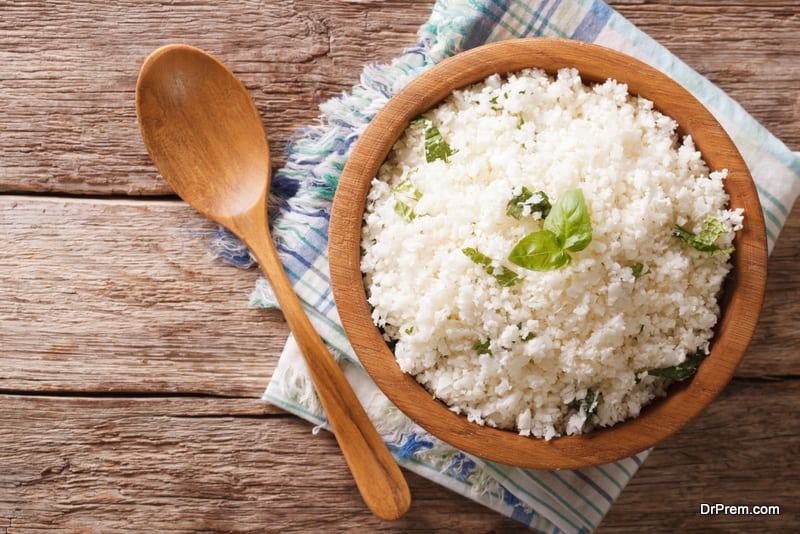 Indian cuisine has a whole range of vegan comfort food recipes to cater to you. Among the commonly loved ones is khichdi. This one is really easy to make. You just need a 6-8 hours soaked moong dal, some whole spices, juicy tomatoes, and cauliflower rice.
Soak moong dal in a skillet with cold water overnight. Drain and keep aside. Heat a pan. Add coconut or avocado oil, dry spices such as asafetida, cumin seeds, mustard seeds, grated ginger pieces, and tomatoes, mix well for a couple of minutes.
Add the soaked moong dal to the mixture and mix well. Add some water and bring to a boil. Cover with a lid and allow it to simmer for 20 minutes.
Uncover, add cauliflower rice, turmeric powder and sea salt, mix well. For a creamier texture, add coconut milk. Let it cook for a couple of minutes, and adjust the flavor as required.
Turn off the heat and serve immediately with some freshly cooked veggies if you wish. This is one of the most deliciously healthy vegan comfort food recipes that one savor as it is.
Vegan Alfredo Pasta with Garlic and White Wine
This is one of those vegan comfort food recipes which you can prepare with less than ten ingredients and just under 30 minutes.
With the crunch of garlic, the fuzz of white wine and the nutrition of Brussels sprouts – this vegan Alfredo pasta is the epitome of the perfect comfort food, packed with nourishing ingredients.
Just take some vegan, or gluten free (brown rice) pasta, white wine, loads of vegan cheese (because we all love cheese), vegan butter, halved Brussels sprouts, and some garlic cloves. Of course, salt, black pepper, almond milk and yeast are a must.
Simply marinate the Brussels sprouts with olive oil/vegan butter, salt and black pepper. Place them on a baking tray and bake in preheated oven to 400 degrees Fahrenheit for 10-15 minutes.
Boil water in a large saucepan, add pasta and salt to it. Let the pasta cook till its al dente. While it cooks, prepare the white wine sauce.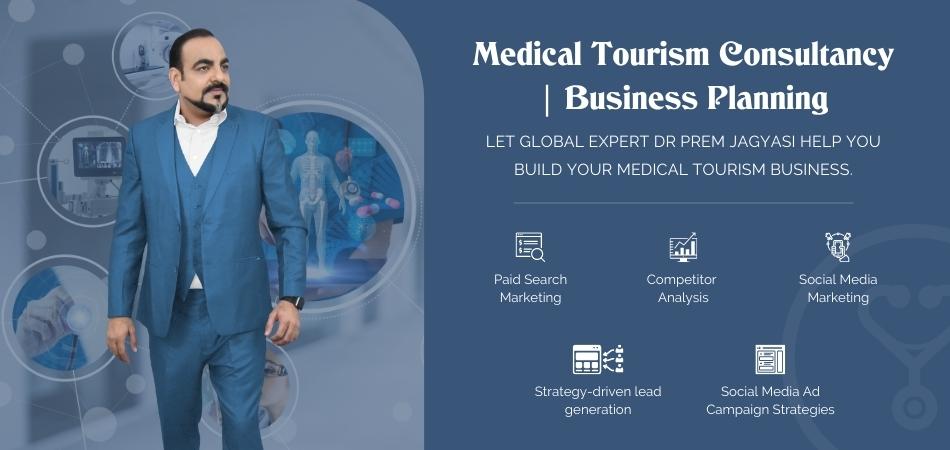 To do that, heat another saucepan. Add oil and garlic and sauté for a couple of minutes. Then add white wine to it. It might flame for a few seconds, don't worry about that. Next, stir the mixture till the wine is reduced to half its original quantity.
Add almond milk to it and whisk till all the clumps disappear. Blend it in a blender with some salt, vegan cheese and black pepper.  Once smooth and creamy, take it out.
Take out the sprouts from the oven and drain the cooked pasta. Transfer the pasta to the sauce in the saucepan, mix well. Add the sprouts on top and mix well once again.
Turn off the heat and serve hot.
Vegan Scalloped Potatoes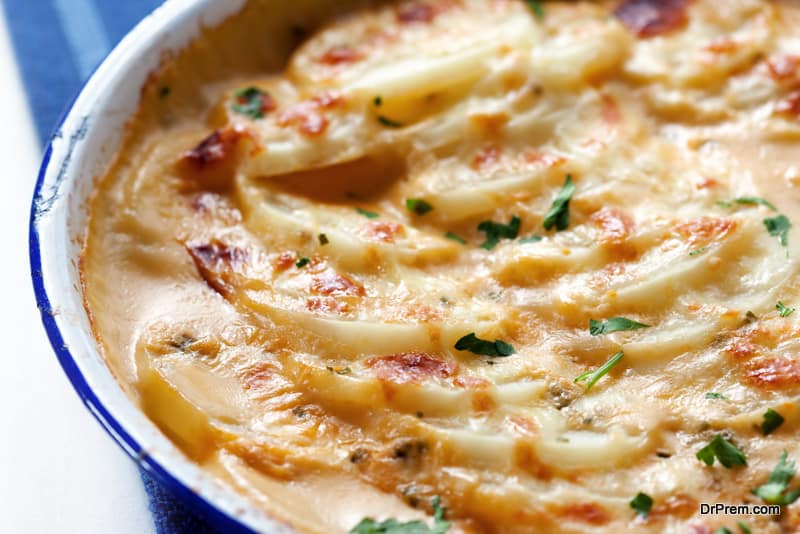 Who doesn't like potatoes? And when it is about those creamy scalloped ones, no one can resist them. One of the easiest vegan comfort foods to make, these scalloped potatoes are just the right dish for the holiday season, or for the time when you feel under the weather.
One of the most crucial ingredients of this dish is the vegan cheese sauce. To make the sauce, you need cornstarch, garlic (sautéed), almond milk, vegetable broth and some nutritional yeast.
Once you are done with the sauce, pour the heavenly liquid over the sliced potatoes. Marinate the slices with vegan cheese, salt and black pepper if you wish.
Cover with a foil, place on a baking tray and bake it in an oven preheated at 350 degrees Fahrenheit. Bake with the foil on for 20 minutes. Remove the foil and bake for the next 40-45 minutes.
Once out of the oven, set aside for at least 10 minutes. Garnish with parsley and paprika. Serve immediately.
With loads of thinly sliced Yukon gold potatoes, vegan cheese (parmesan is a good choice), and paprika as well as parsley for the seasoning touch, this is one of those vegan comfort food recipes which will fill your heart with love for more food.
Eggplant and Tomato Spiced Stew
This vegan comfort food dish, inspired by zaalouk, is seriously easy to make , and when you combine it with rice – it tastes heavenly. You can serve this dish as an entrée, a main course, or even as a side dish.
Just roast the cubed eggplant pieces until they turn golden brown. In another saucepan, add onion and garlic with some spicy paprika, and sauté until fragrant.
Stew the mixture in roasted tomatoes. Add some sweet maple syrup and harissa sauce to get the tangy flavor in the dish. Lastly, just add your chickpeas and mix well.
Simmer for a few minutes and serve immediately.
There is a whole spectrum of vegan comfort food recipes waiting for those who wish to integrate nutrition and comfort and eat to their heart's content. Be it a homemade ice cream or some fresh cheesy popcorn – we cannot live without the concept of comfort food. Try these vegan recipes and let us know how much you loved them in the comment section.
Happy eating to you!