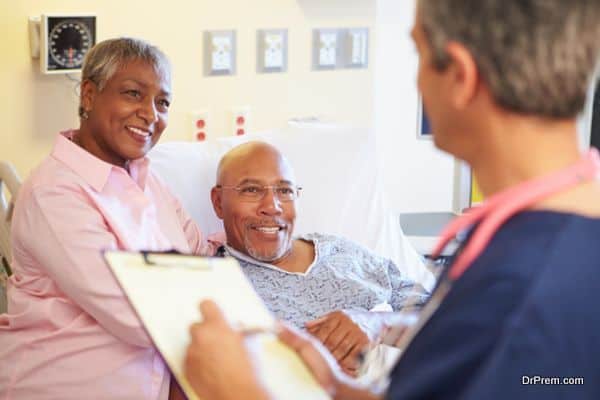 Medical tourism is slowly becoming a key sector in the tourism industry along with eco-tourism and spa tourism. Compared to other North African counterparts, Tunisia is heavily marketing to the potential patients for their quality medical services at affordable rates by hosting AMTC, a high profile B2B and B2C event under the auspices of Health and Tourism ministry . With medical services of 50 per cent less procedures than America or Europe, Tunisia is closely positioned to the west that made it a popular healthcare destination.
In fact, reports claim that over 70,000 patients hailing from Libya, Algeria and other African nations sought medical care in Tunisian hospitals and clinics in 2009. The International Medical Tourism Journal (IMTJ) reports that Medical tourism industry in Tunisia has become the country's second highest foreign currency earner and the second largest employer.
The country is also recognized as one of the top 10 MENA Wellness Tourism markets with 600,000 visitors spending annually $314 million.To make tourism a more attractive option for health and wellbeing, the country is gearing up to upgrade its assets and expertise at par with global standards.
The cost of living in Tunisia is low. The government offering tax sops to promote medical tourism business is favoring the inflow of foreign medical travelers. They get great value for money in a range of treatments especially in cosmetic and plastic surgery followed by dentistry, orthopedics, ophthalmology and cardiovascular surgery.
Thalassotherapy in Tunisia is another big draw for medical travelers. This form of therapy has reached very high standards here in a very short time only next to France in the world. Much of the credit of the popularity of thalassotherapy can be attributed to the historic Carthage spa, traditional expertise that the country can boast of.
General

Language

Literary Arabic

Time Zone

CET(UTC+1)

Dialing Code

+216

Electricity

230V, 50Hz

Major Cities

Tunis, Sfax, Sousse, Midoun

Currency

Tunisian dinar

Clothing

Cotton or other natural fibre shirts or t-shirts, teamed

with cotton trousers or ankle length shirts are good and

remember to cover your shoulders or you will be looked at!

Health Related

Mortality Rate

5.24 deaths/ 1,000 population

Life Expectancy

73 M /77 F

Patient: Physician Ratio

750:1

Hospitals JCI accredited

0

Recommended    Vaccinations

Hepatitis A, Typhoid, Hepatitis B, Rabies, Diphtheriatetanus,

Measles, Varicella, Poliomyelitis, Yellow fever

Other Infections

Lymphatic filariasis, Schistosomiasis, Tick-borne relapsing

fever, Brucellosis, HIV
Tourism Related 

Population

10,777,500

Reliability of Police Services

24/140

Global Competitiveness

4.65/7

Physician Density

74/140

Tourism Competitiveness

4.4/7

Hospital Beds

83/140

GDP/Capita

$9,774

Quality of Air Transport Infrastructure

29/140

Safety and Security 

4.4/7

International  Air  Transport  Network

40/140

Health and Hygiene

5.9/7

Quality of Roads

39/140

Air Transport Infrastructure

3.2/7

Hotel Rooms

21/140

Tourism Infrastructure

3.8/7

Tourism Openness

30/140

Cultural Infrastructure

2.3/7

Attitude  of  Population  Towards Foreign Visitors

20/140

Visa Requirements

16/140
The smallest country in North Africa, Tunisia is widely known as the land of colors and contrasts. Officially, the Republic of Tunisia, the Maghreb country shares its boundaries with Libya to the southeast, Algeria to the west and the Mediterranean Sea to the north and east. The spices and scents of Tunisia always welcome its visitors to enjoy its natural beauty and traditionally rich culture. With impressive modern infrastructure, great accommodations, connectivity and information, Tunisia has been among the future center of tourist attractions. 
Location
As discussed above, Tunisia is situated between Algeria and Libya in North Africa. The main attractions that act as magnets for tourists in Tunisia are the golden sandy beaches, vibrant sunshine, the Atlantic Ocean and the Nile Delta. Most of the part of this country lies in the Sahara desert, which is around 40 percent of Tunisia and is semi-arid. It lies on the shores of the Mediterranean Sea and along Atlas Mountain Range. Its north-south extent further plays a vital role in endowing the country with great environmental diversity. Visitors would sure love to explore Sahel, the world's best area for olive cultivation and the Steppes. 
People
Most of the people in Tunisia seriously follow the religion of Islam. The nature of people is very friendly and lively, which can be seen during their festive celebrations. The people enjoy sharing and educating visitors about their customs and beliefs. The population of Tunisia comprises people of mainly Arab, Berber, and Turkish descent. Most Tunisians simply identify themselves as Arabs. However, some practice the Maliki School of Islam of Arab origin, while others practice the Hanafi School of Turkish descent. 
Events 
Being on the crossroad of diverse cultures, Tunisia's cultural legacy comes to the fore through a wide calendar of festivals and celebrations. Tunisians show tremendous adaptability in terms of combining their deeply rooted customs with the events of international importance. The Techno music festival held in Gammarth substantiates it fully. 
Celebrated in Douz, the Sahara International Festival aka the Camel Festival owes its inspiration to the Saharan Bedouin culture. Tunisians, Libyans, Algerians and Egyptians congregate at the event to display their crafts, dance, music, apart from demoing their camel and horse riding skills. While in Tunisia, you cannot afford to miss the Carthage International Festival of Theater, Music and Dance. The festival attracts several artists from Americas, Europe, Asia and Africa. 
Next, the Roman amphitheater of El Jem celebrates the El Jem Symphony Music Festival. Here, you could have your chance to listen amazing melodies created by the Italian Chamber orchestras, the Hungarian Symphony Orchestra and the Vienna State Opera. These festivals are celebrated not only by the citizens but also by the tourists visiting this destination.  
Weather
With mainly dry summers and mild winters, the climate of Tunisia falls under the category of Mediterranean. The tourists pour in mostly in the month of March to May. The summer is quite popular to attract visitors to enjoy the vibrant landscapes, beaches, and festivals as well.
Healthcare System
The healthcare system in Tunisia consists of public and private sector, which has enabled it to cover the majority of its citizens. The Ministry of Public Health operates the public sector, which is responsible for basic primary care and preventive services. 
The private sector's health facilities are comprised of an outpatient network of general or specialized medicine, paramedical treatment and hospitalization facilities. The private health care sector represents 12 per cent of the total capacity in beds and 70 per cent of the top range medical equipment in the country. 
Quality of Healthcare
With Tunisia's new reputation as a popular medical destination, the government invests heavily to improve and maintain quality standards in all medical facilities catering to foreign patients. Tunisia has also focused on improving the management process to make its training staff better. The modernization of the billing system further allows the mobilization of additional resources.
Tunisia currently has 80 private clinics with an accommodation capacity of 2500 beds. Most of these clinics have all the latest technologies available. Physicians and other healthcare providers, trained in Europe or America, offer their services in clinics and hospitals to meet the highest standards. 
Note: Content of this site is protected by smart website software. Do not copy content. This is copyright material of DrPrem.com. drpc2511.