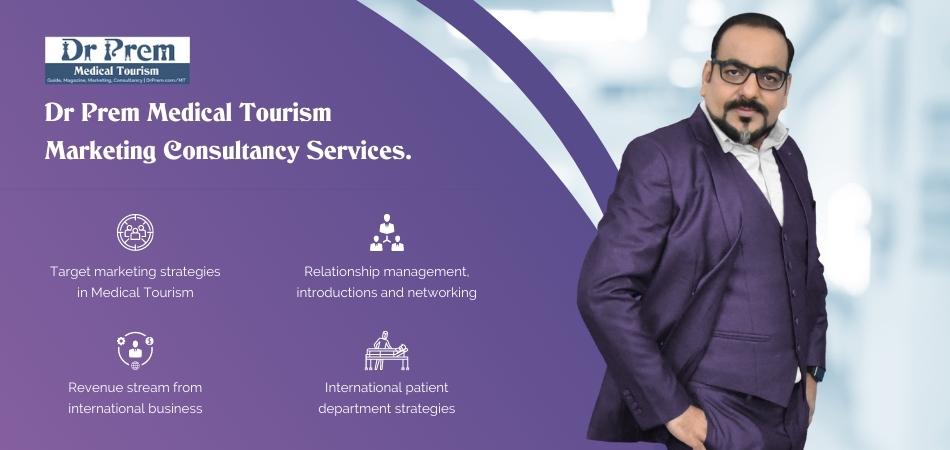 Dr. Prem Jagyasi caught up with Mr. Emin Cakmak, a great personality in global medical tourism and also one of the top guests in the IHTF for an extensive interview. Mr. Emin Cakmak has been instrumental in establishing the Turkish Healthcare Travel Council (THTC) in 2005 with active national support. His trailblazing efforts led to the foundation of the Global Healthcare Travel Council (GHTC) in 2013 with 12 other countries.  Today, GHTC stands as a robust body of global medical tourism with the key objective "Global Healthcare for All".
IHTF'2019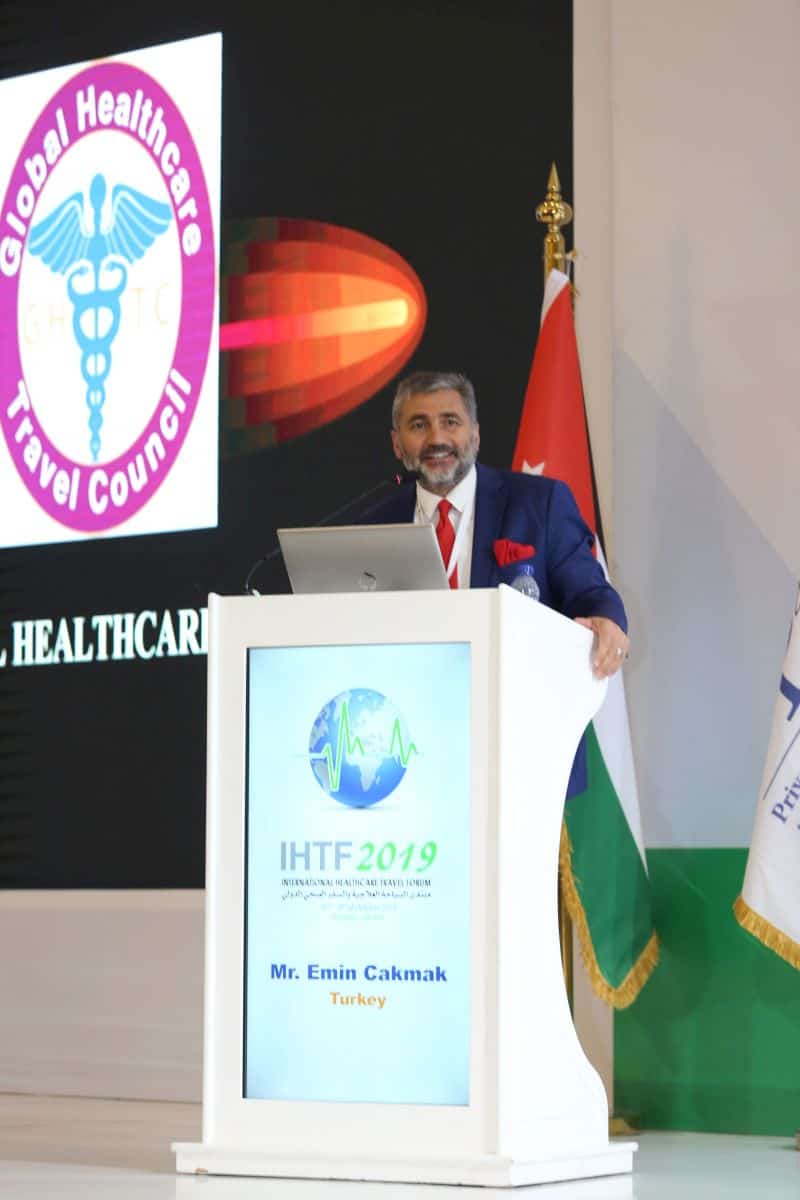 Private Hospitals Association (PHA) of Jordan under the royal patronage of his majesty King Abdullah II Ibn Al Hussein and partnership of GHTC (Global Healthcare Travel Council) successfully hosted another edition of International Healthcare Travel Forum (IHTF) in Amman from 26th-28th October'19. Jordan is one of the 12 founding countries of GHTC. Recognized as one of the mega-events in global medical tourism, the forum witnessed an august gathering of 650 participants from 42 countries.
PHA has been doing a commendable job in developing Jordan's medical tourism growth. The objective of this forum is to bring together private and public sectors from all over the world to explore ways of providing safe, reliable, professional and advanced healthcare services to global citizens. This year's forum saw a unique 'Amman Declaration' that includes H8, recognition to all eight segments of healthcare travel to offer a bouquet of services related to healthcare travel.
Healthcare travel in Turkey in the global scenario: Mr. Emin Cakmak's viewpoint
Turkey has set an example in global medical tourism. It has created a successful model by facilitating active coordination from the public and private sectors, and the man behind this is Mr. Emin Cakmak.
A great person to talk to, Mr. Cakmak shared his insights on the current global medical tourism scenario and how government and private support has helped Turkey emerge as the choicest destination for foreign patients.
Dr Prem: Turkey's perception of healthcare travel is bit different. Why is that?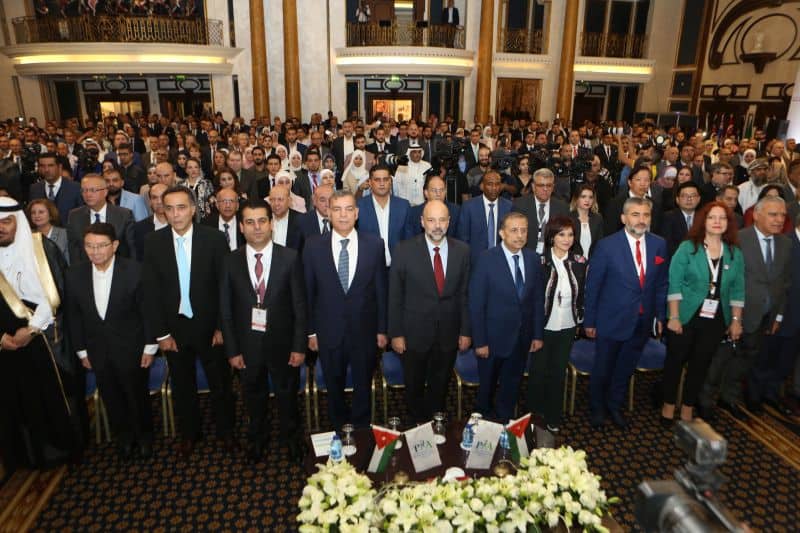 Emin Cakmak: Healthcare travel, I feel, is beyond medical tourism which is mostly limited to availing treatments and surgeries in specific clinics/hospitals. Turkey's vision in healthcare travel is broader. It includes other forms of healthcare like spa treatments, thermal spring therapies and rehabilitation support.
Any procedure or treatment related to health is covered under the umbrella of healthcare travel. If somebody goes for a vacation to get some relaxation and health-enhancing activities, we will consider him/her as a healthcare traveler.
So what are the major areas in Turkey's healthcare travel offerings?
Turkey's healthcare travel is divided into eight segments. It covers medical tourism, dental tourism, spa and thermal tourism, wellness, retirement tourism, sports tourism, culinary tourism and accessible tourism that is, tourism for all. This segmentation has a specific benefit. You get a more detailed view of the industry plus you can bring more customers under your cover.
Why do you feel THTC is unique when compared with other similar associations?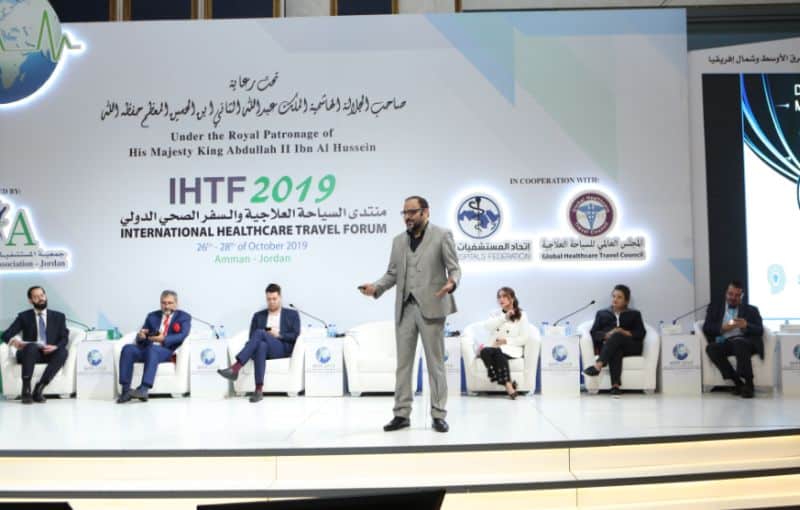 The main feature that sets us apart is that THTC is fully dedicated to healthcare travel in broader aspects. While other associations are focused only on medical tourism relating to some medical support, THTC covers a broader part as I have mentioned.  THTC has members from different categories of healthcare travel. Normally, medical tourism falls under the Ministry of Health while other categories come under the purview of the Ministry of Tourism.
But we decided to combine them. An agreement is signed between two ministries where thermal spas have been included in medical tourism. So in THTC what we do, we gather data from all categories and bring them under a single entity. This makes us holistically focused on healthcare travel. All stakeholders can reap benefits by servicing a larger customer segment.
What is the objective of forming GHTC?
Global Healthcare services for all. This has been our motto. There should be specific ways to do this so that it serves global citizens. So we gather accurate data and statistics from member countries and create regulations for global medical travelers. This accurate data collection is important to understand where medical travelers are going and what are they looking for. Based on these, suitable products and services can be created.
Since the creation of GHTC six years ago, we have conducted many workshops in different countries to create an international code of conduct to be followed by other member countries. We aimed to establish an international standard of patients' rights and ethics. Turkey is one of the countries to have implemented this first.
How do you view the development of healthcare travel in Turkey?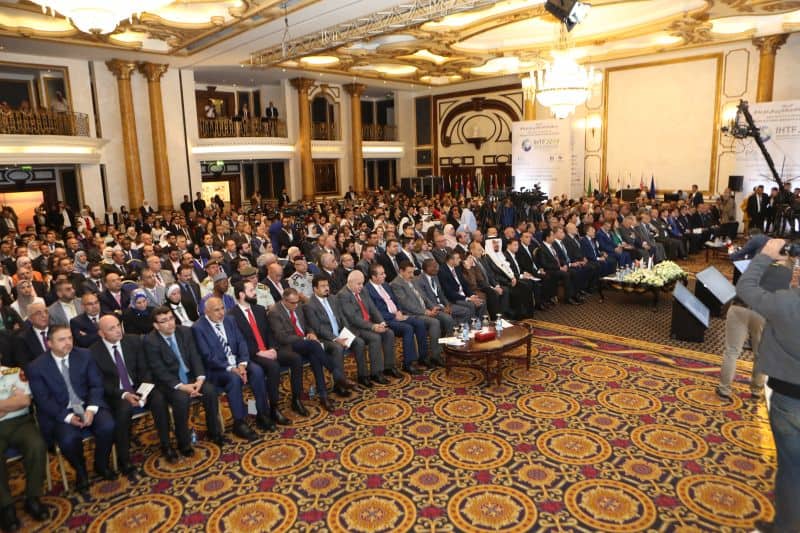 It has been stupendous. We have faced crises but that did not retard the progress in healthcare travel.  Hospitals in Turkey served 765,000 patients from 144 countries in 2017. Last year, we received 890,000 health travelers. So you can see the rise. Eighteen cities of Turkey are serving healthcare travelers. We are getting travelers from the MENA region, Russia, CIS countries, the UK, Ireland and Germany. There are lots of patients from Syria.
Today, we have 2000 private clinics and hospitals with an approximate bed capacity of 100,000. There are 700 thermal resorts with 60,000-bed capacity. Turkey has turned out as one of the favored destinations of Retirement Tourism next to Spain, Portugal, Italy and other EU nations.  There are 500,000 beds in 5-star resorts for a long stay of retirees.
All facilities are not allowed to treat international patients. International patients are mostly treated in 61 JCI accredited hospitals and institutions here. We have one of the largest numbers of JCI accredited institutions in the world. Over 15,000 physicians working here are trained in the US. So you see, in all respects, the growth of healthcare travel in Turkey has been pretty remarkable.
What has been the government's role till date in this robust growth of health tourism?
It has been fantastic. We received government support in every aspect of healthcare travel. It has been a significant part of the 2023 vision plan. There are specific goals in this sector that the Turkish government looks to achieve by 2023. First, let us have a look at the healthcare reforms. The private hospitals are opened to the public and are covered by social security insurance.
Second, look at the investment. Turkey has invested heavily since the last 20 years of about $50 billion. That is simply superb. I have a free hand in spending. A budget is there but huge enough to promote Turkey's healthcare travel abroad.
The investors are also getting various tax sops and incentives. 50% of the income tax is free in medical tourism. Free land allocation opportunities are there. We are giving equal rights to foreign investors. Great PPP modeled hospitals are also coming up. Leading healthcare institutions have also started investing in other countries.
So you feel PPP projects are important in health tourism growth?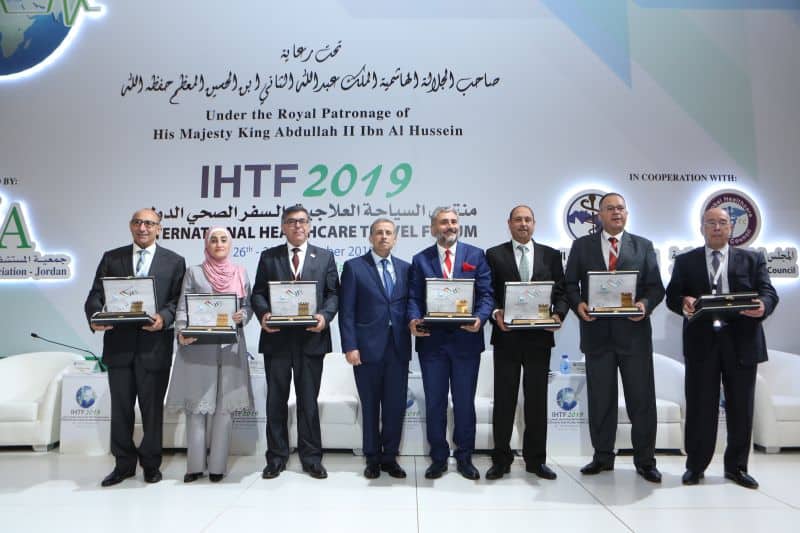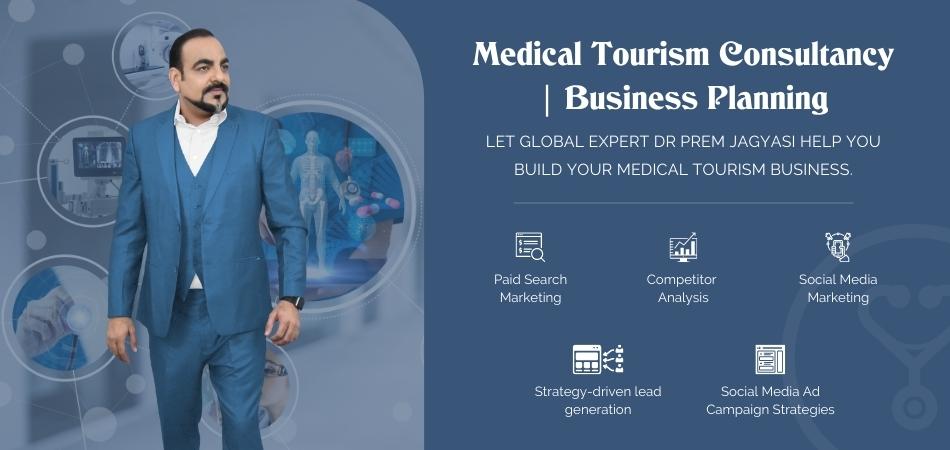 No doubt about it. The public-private partnership is essential to support a sustainable growth. Plus, it is a win-win situation for both. The upcoming 22 hospital projects with a bed capacity of 20,000 are based on the PPP model.  One is the Ankara Bilkent Integrated Health Campus.  Other such projects are Adana, Gaziantep, Elazig Integrated health campuses and Yozgat Education and Research Hospital. We are keeping high hopes on PPP projects.
Great! You mentioned about tax incentives. Any more such initiatives?
Let me give you a picture. At the start, the Turkish Ministry of Tourism invited the healthcare sector to promote themselves in prominent tourism fairs and exhibitions worldwide. Since 2012, a special incentive support program exists to promote medical tourism. For example, there is a 50-70% cost reimbursement for fairs and exhibitions.
What according to you makes Turkey so attractive for international patients looking for beyond the border medical treatments? Is it the low cost and less waiting time?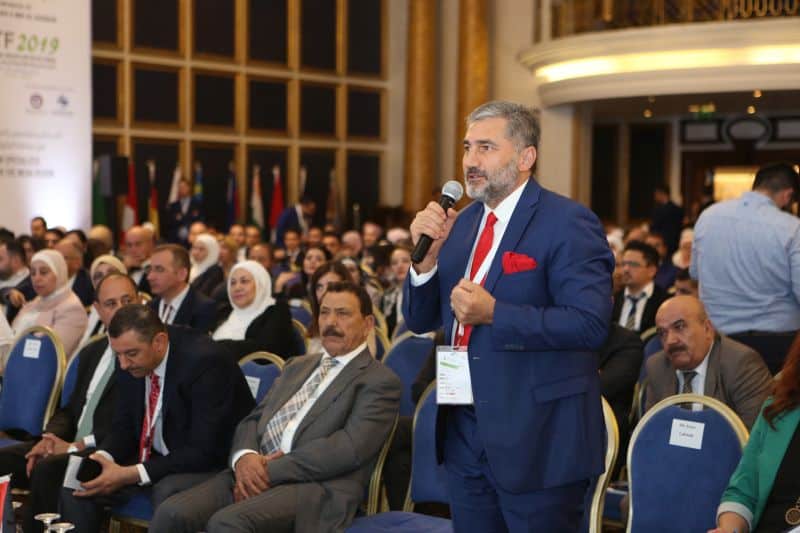 Well, the cost and waiting period are important in health tourism we all know. But I feel that is not all.  In Turkey, we pay more attention to the quality aspect. You will be surprised to know that 32% of patients visit Turkey for oncology services. Aesthetic procedures make up a very small fraction of health tourism earnings. These are low-cost and quick procedures.
But our focus is on providing quality service to complex and critical services like oncology and organ transplantation. Because these treatments demand a much higher level of expertise and longer stay for patients. Turkey has become one of the recognized destinations for excellent oncology services. Thanks again to great investments.
So are you focusing on accreditation?
Sure. The economic benefits are secondary in priority. Accreditation helps in lifting standards, build confidence and reliability in foreign patients' minds. All hospitals are under quality and standard accreditation of the Turkish Ministry of Health. The ministry has also established a special directorate department to control rules and regulations and monitor pricing in medical tourism. The prices can vary according to the institution ranking. But these are regularly checked by the ministry.
You know…ambiguity in pricing can create negative impressions. We do not want that. Apart from JCI accreditation, we have Ministry of Health Medical Tourism Accreditation and THTC accreditation. Hospitals, clinics and other treatment centers included in the THTC list are accredited by the ministry.
Out of 2000 hospitals, only 375 are eligible to treat foreign patients.  Each hospital or facility must hire full-time language experts who can speak and understand the language of foreign patients visiting the facilities.
Are new and advanced treatments and medicines available in Turkey compared to other countries? What is your take on this?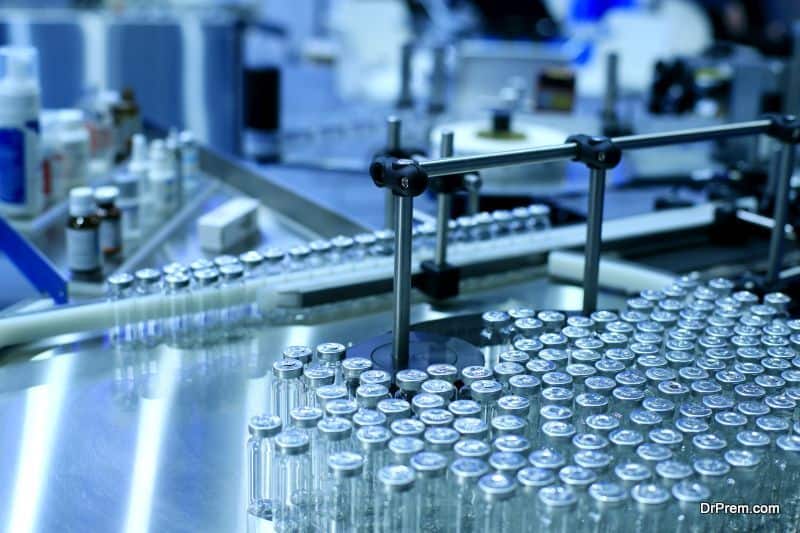 Today, whatever FDA approved treatments and medicines are available in the US and UK, are available in Turkey. This was not the situation some 15 years ago. Many leading pharmaceutical brands have set up manufacturing units here. We are producing advanced medicines domestically. Say, for example, Akdeniz University in Antalya. It has a facility that internally produces personalized medicine for oncology with specialized robots and other advanced tools. The medicine can be produced within just 45 minutes before the injection.
Do you feel that you have been successful in creating brand Turkey?
Thanks for the question (smiles). Yes, we have invested enough into it and will continue to do so. Branding is very important from the view of healthcare travel.  Government funding is a big strength no doubt. We have been promoting ourselves extensively in all digital platforms and social media. Advertisements are sent out on every channel.
Every year, we participate in 12 global medical tourism events. About 35-40 regional events and workshops are conducted. Tours for facilitators, doctors and media persons are organized regularly. In the last 14 years, we have organized 500 events and workshops in over 165 countries.
The HESTOUREX – health, sports, and alternative tourism summit is another big event that is held under the patronage of the president. I am the chairman of the advisory board. Last year, we invited 165 countries, 5017 buyers and journalists, looking forward to a much bigger gathering next year in April.
I don't know if you have heard of TurQuality. It is our nation's brand-building concept of bringing "Turkey" and "Quality" together. It is a sort of accreditation that not only will help beneficiary companies and organizations to elevate themselves to international standards but also create awareness of internationally accepted values and standards.  Our healthcare travel will also come under this brand recognition of TurQuality.
Nowadays, much has been talked about patient experience in global medical tourism. What notable steps you have taken to improve it? How easy is for the foreign patients to access your services?
Turkey has some positional benefits. It is at the crossroads of Europe and Asia. Just a few hours of flight and you are right here. But before taking a flight, patients need adequate information before they can decide on something. Our objective is to make Turkey healthcare easily accessible. The extensive THTC website  (https://thtdc.org/) powered by Map2Heal is serving the patients' purposes in a great way.
This is the first touch point where any patient can get easy information quickly. We have made sure it is user-friendly and does not create confusion. We have commissioned well-trained engineers and invested heavily $3 million in data processing. It took 3 years to come up with an all-purpose web portal.
We have successfully created a cloud system of 165 offices covering 91 countries all over the world. They are working on behalf of the THTC council covering major markets like the US, Canada, Japan, and Australia. Map2Heal integrated with THTC is available in 25 languages.
Patients can contact over the phone, online chat and other modes of communication whichever is convenient for them. They can upload their information for quick attention and post their healthcare requests. The requests are quickly forwarded to the relevant hospitals and facilities for assessment and treatment suggestions or guidelines whatever is required.
For convenient and affordable medical travel, we have roped in Turkish Airlines. Turkish airlines today connect with 350 cities worldwide. Medical travelers can avail 50% great discounts up to $1000 in airfare if they are flying here for some kind of treatment. Some documentation is required to avail the discount but that is not at all a big issue. All related information and support are available on the THTC website.
This is fantastic…
Visa support is an important issue in today's healthcare travel. Tell me something about your visa services for foreign patients.
I would like to give a few inputs. Since 2010, e-Visa services are available with support from MoFA. If anybody has a valid Schengen, UK or US visa, it would hardly take 3 minutes to get e-visa online. There is some more. The MoFA has also introduced S1 Health Visa, especially for health travelers. In 24 hours, we can provide this visa online through an application with the THTC council.
How do you foresee the growth of this sector in Turkey in near future? The country has set specific goals. How near are you to it?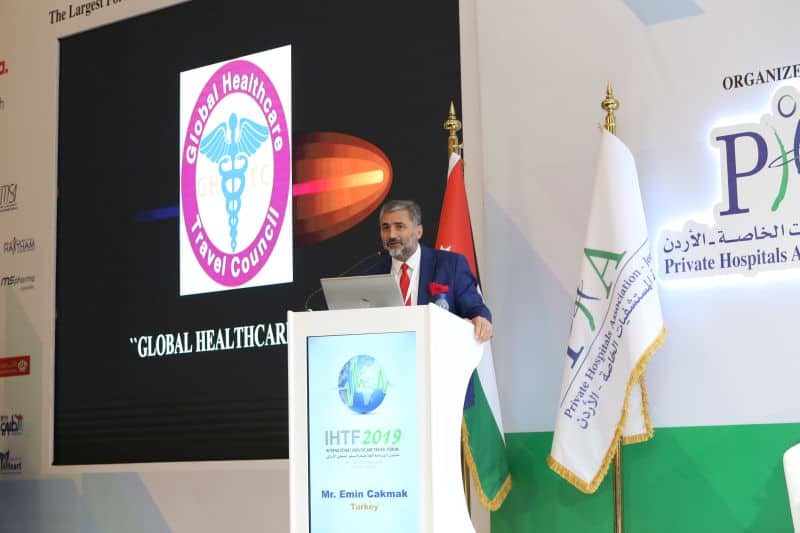 The future growth prospect is very bright. There is no doubt about it. Our goal is to reach $20 billion in revenue earnings by 2023. In 2017, Turkey's health tourism generated $7.2 billion in revenue. See, 22 more PPP city hospital projects will be in full operation within the next few years. This will help to serve more patients and generate more revenue.
Our capacity will be enhanced by several times. We will not only serve domestic citizens better but also help in solving healthcare crisis of African and CIS countries. Our talent pool and expertise is another great support. We export our domestic talent to build their expertise in global medicine so that they can apply innovative treatments back into their home country.
Great accomplishments for the Turkey's health tourism indeed! Thanks for giving your valuable time. Wish that you reach more such milestones.