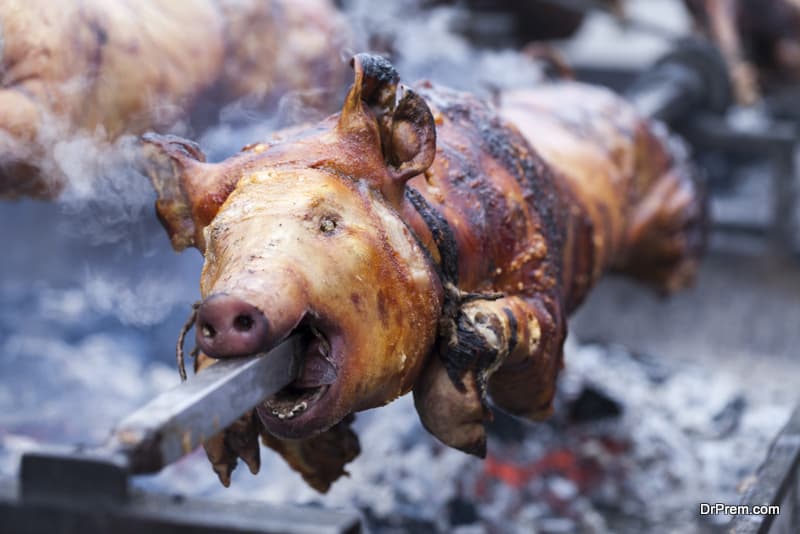 Christmas is fun. Christmas is joy. And Christmas is heaven for those who love food. This is probably the only night in the whole year where you can be with all your loved ones, under one roof, enjoying delicious dinner. How much more heavenly can it get? But, treating your taste buds with only turkey and ham can get quite repetitive and boring after a while. So, for Christmas this year, try some unique Christmas dishes around the world and celebrate the festival of love and faith a little more specially.
The Spanish Christmas Cake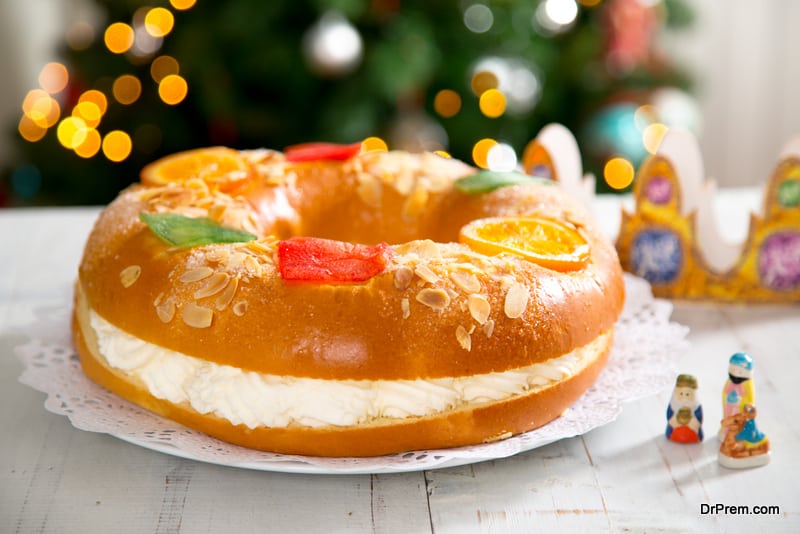 So here is the thing. The Spanish celebrate January 6 as King's Day, to honor the famous arrival of the renowned Three Wise Men. To celebrate this day, they bake a special Christmas cake known as Roscon de Reyes. The cake is decorated with crushed almonds, almond cream, and candied fruits, along with a lot of powdered sugar.
The twist, however, is that there's usually a figurine of infant Jesus inside these cakes. And legend goes that the person who finds the figurine will have a lucky year ahead. So, if you want a break from traditional Christmas food, then baking one of these sweet Spanish cakes isn't a bad idea.
The Portuguese Bolo Rei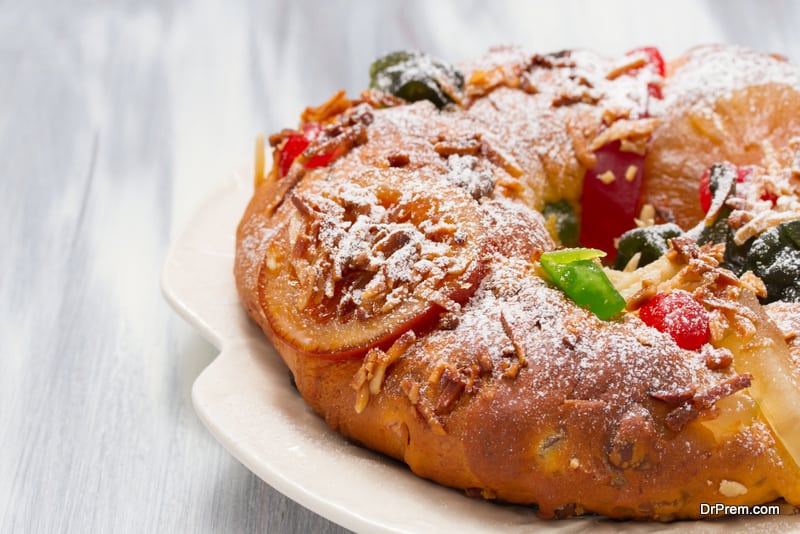 If you have a sweet tooth, you are in for a treat this Christmas! Pamper your taste buds with the Portuguese Bolo Rei, literally and figuratively translating to 'The King of Cakes'. Named in honor of the Magi, this cake's base is a white and fluffy. But topped with fruit gaud in the crystallized form and some sumptuous nuts, the magic begins as the cake melts in your mouth.
And if you are an adventurous foodie, add a bit of variety to the Christmas main course by baking the Bolo Reiescangalhado, dripping with chilacayote and cinnamon jam. This dish will surely be remembered by your guests as one of the most unique Christmas dishes around the world.
The German Pfefferkuchenhaus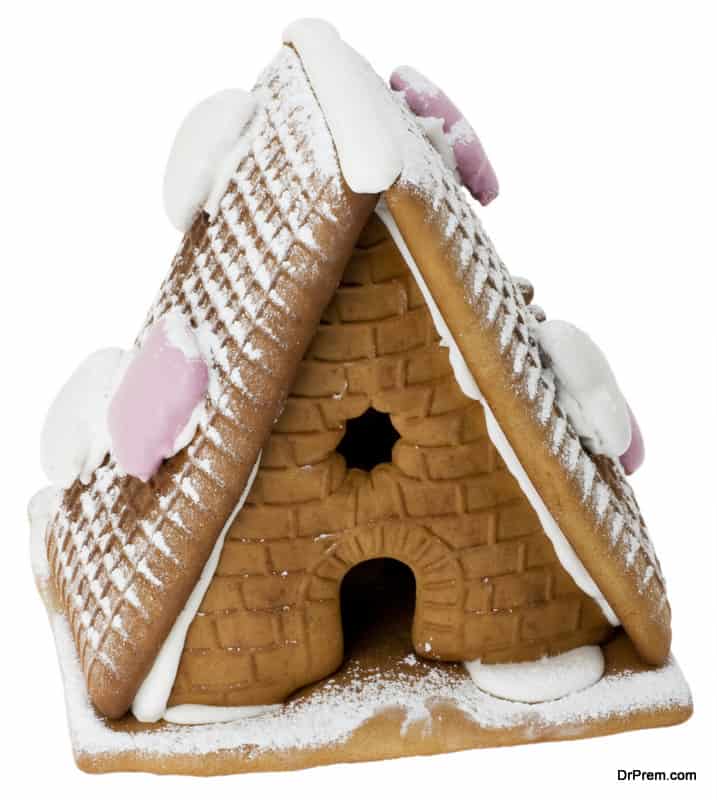 Simply put, this one is a magnanimous gingerbread house. Filled with candies, icing sugar, and various kinds of confectioneries, this is one of the most children-friendly Christmas food recipes. If your child or your guests' kids love a gingerbread, go big or go home with this dish. Not only will the kids love this surprise, but they will also remember your Christmas feast for years to come.
But if you are tight on budget or cannot afford to cook this giant sweet delicacy, go for the famous Grunkohl (kale) stew. There are many variants of this German traditional Christmas food as there are old grandmothers in Germany. But one of the most commonly consumed main course is a kale stew in which roost goat and red cabbage dumplings are first slathered, then served.
Another famous, yet one of the most unique Christmas dishes around the world is ein Knacker. This is just a smoked sausage. So, even if you run out of ideas, creativity, or energy for the culinary part of this year's Christmas, fret not. Just throw in a smoked sausage and forget about the rest.
The Norwegian Smalahove is certainly one of the most unique Christmas dishes around the world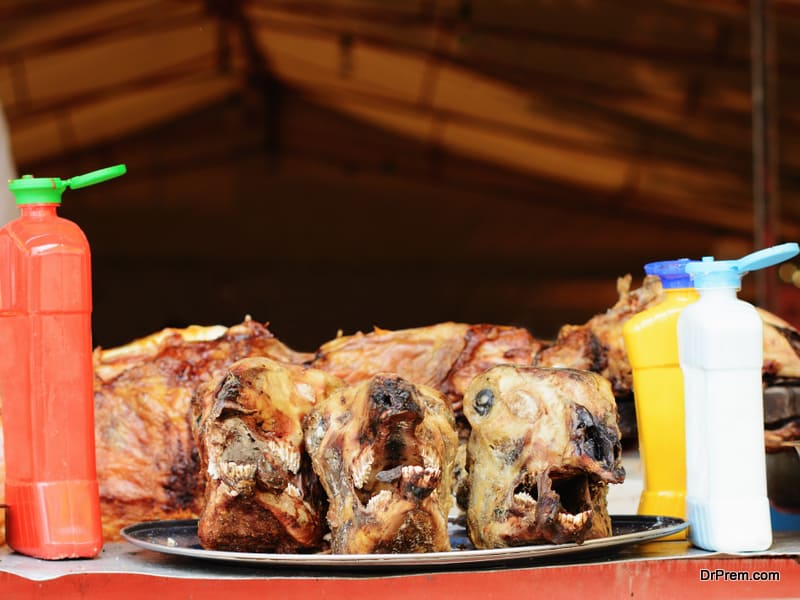 The Norwegian Smalahove is not for the faint-hearted foodie. But if you are someone who wants to try something completely out of the box this Christmas, this dish is the right answer for you. Smalahove is a sheep's head that is steamed. Gourmet chefs suggest that while enjoying this dish, you must aim for the eyes and ears first, since here's where all the fat is stored. The brain, they say, should first be either boiled or fried, and then consumed. This is definitely one of the strangest Christmas food recipes. But, if you are daring enough to try it, then who's to judge you?
And if you are like the rest of the population who frown at such recipes, don't worry. Norway has other culinary ideas to offer. Pinnekjott, a dish that consists of fried lamb ribs, is cooked over birch branches' fire. And if you are looking for less stranger options still, then go for a dessert called Multekrem. It's a simple sweet dish made of cloudberries and whipped cream. It will surely save the less brave ones at the dinner table the horrors of blank eyeballs staring back at them.
Puerto Rican Lechon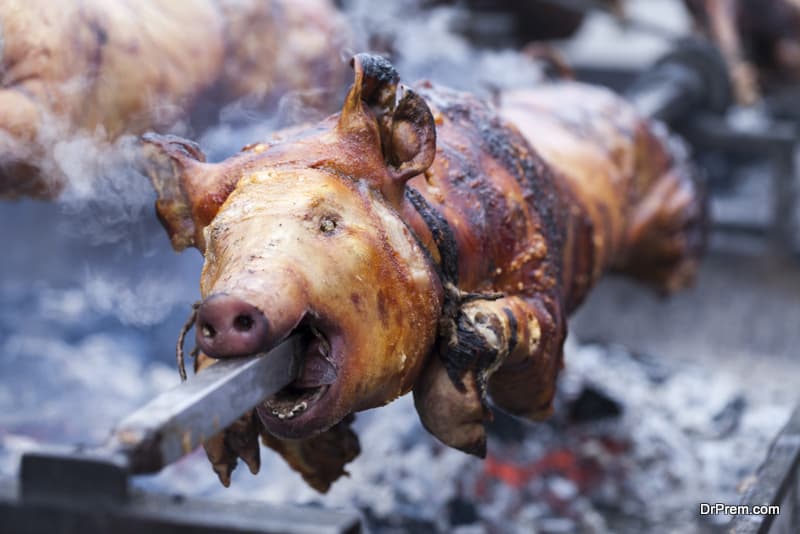 This Puerto Rican national dish is much more difficult to cook than your classic Turkey. Why? Because this is a giant pig. This dish gets cooked in an outdoor pit, and at least a couple of people always need to keep an eye on it as it slowly roasts to perfection. Although this dish consumes more time and demands more attention than Turkey does, Lechon is a culinary Christmas twist worth your time and patience.
With a Puerto Rican menu on the table, you can actually add a twist to classic Christmas dish. Take the eggnog, for example. Instead of the usual eggnog, you can introduce this delicious drink with a combination of coconut milk, a generous amount of rum and some condensed milk.
For a light hearted drink, you can always take some inspiration from La Danza, a champagne made from orange liqueur, passion fruit, lime juice, and strawberry juice. Turn the dinner table around this Christmas and treat your loved ones to this delightful festive twist.
Greenland's Mattak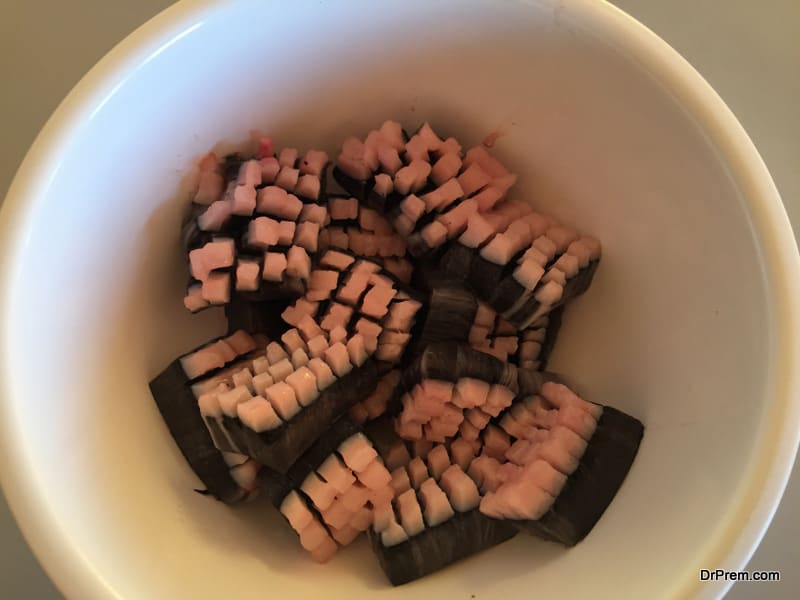 Greenland's Christmas dinner is not only break away from the traditional Christmas food that you consume, but also a break away from the traditional customs and gender roles. During the Christmas dinner, the men serve the dinner to women. But what do they serve? They serve blubbers of whale tied up in the whale skin. This dish is tough to chew, and even the most experienced chewers of it in Greenland sometimes struggle to finish what's on their plate.
However, if you want to make one of the most unique Christmas dishes around the world, but want to go easy on your palate, try kiviak. All you have to do is bury the baby auks deep inside the soil some months before Christmas Eve, and once you think that they are rotting, dig them up, cook them and enjoy with your loved ones.
And if you are still wary of cooking one of these weird, strange dishes, just embrace the tradition where men serve food to women on Christmas. That will be enough.