The 21st century belongs to the digital space. Pictures and videos are now helping us feel more and more closer to something or someone far, far away from us. If you miss someone, now you can simply ask the person to send you a snapchat – and voila! – you will feel as if the person is sitting right next to you. And if this wasn't enough, these pictures become a source of inspiration and hope too. As we wrap 2018, here are 5 amazing photos of humanity, captured just to let you know that humanity still exists, and how!
A man donates his shoes to a homeless Rio de Janeiro girl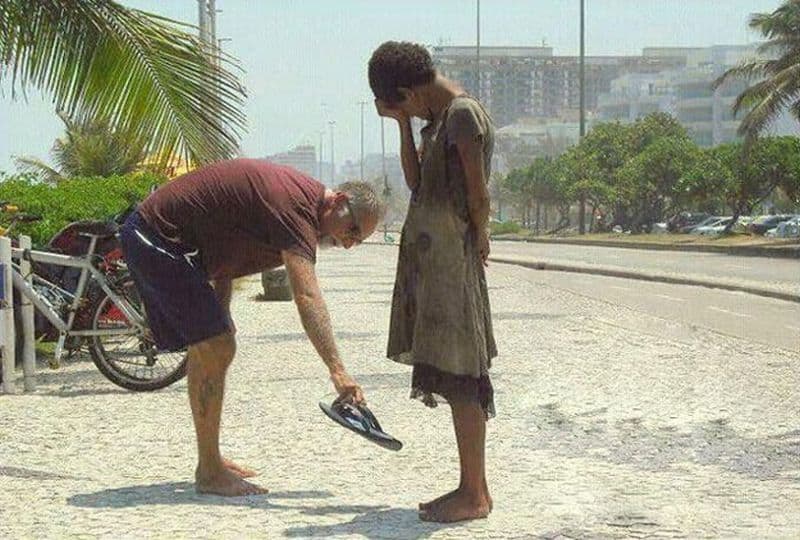 Image Source : i.imgur.com
Humanity's essence lies in little acts of kindness. You might not be able to do big things for people in need. But, small contributions, one at a time, can go a longer way than you can probably imagine. Just like in this photo.
A man sees a homeless girl in Rio de Janeiro. Dusty clothes, tear-filled eyes, and bare feet – this doesn't paint a good picture in the eyes of a man who is probably more humane than most of the human beings out there. He doesn't pity the girl's state and walk away, all the while complaining about the useless policies of the developing country's government. Rather, he becomes, at once, aware of his privilege, goes near the girl, takes off his slippers and gives them away to her.
This photo, one of the best photos of humanity, clicked around 2012, is a perfect evidence on what humanity can teach you. Look closely, and you will see the humility in the man's eyes and his posture. Look closely, and you will see how the girl sheds tears of overwhelming gratitude and happiness. This photo, even in 2018, is proof that humanity still exists.
80 students shave their heads to support their bald schoolmate fighting cancer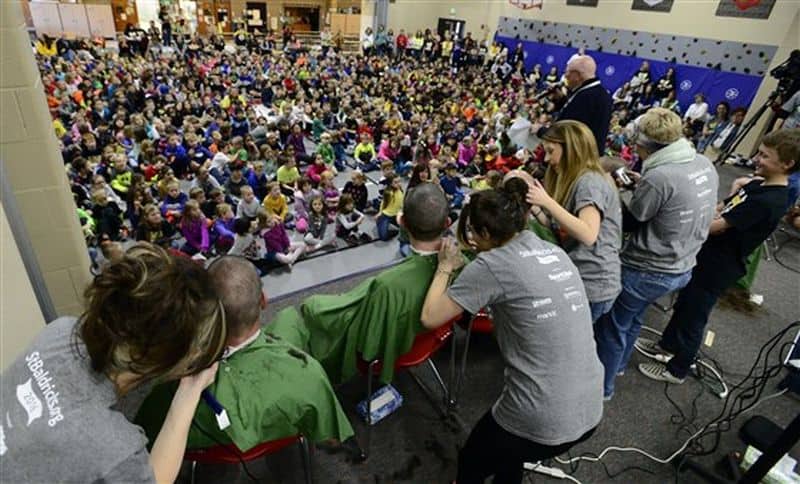 Image Source : media3.s-nbcnews.com
In 2016, as Marlee Pack got ready to return to her school in Colorado after a tough fight against cancer, she knew she might be the only bald child in her class. Her best friend, Cameron McLaughlin decided to support Marlee by shaving off her head too.
On 16th March 2016, Marlee's school organized an event ("Be Bold, Be Brave, Go Bald) for students, teachers and non-staff members who can either donate a part of their hair to charity or get their heads shaved to raise funds for cancer research. A total of 80 students, 2 principals, 3 teacher's and a student's mom turned up and went ahead with head shaving.
In a world where being different is looked at negatively by people, Marlee Pack's schoolmates, friends, teachers, and even principals extended a hand towards Marlee – encouraging her to step into a circle of inclusivity and not feel secluded pr isolated. This photo, one of the most striking images of humanity is a testimony to the fact that there are still humans around us who care.
The infinite love between James and Lauretta Burke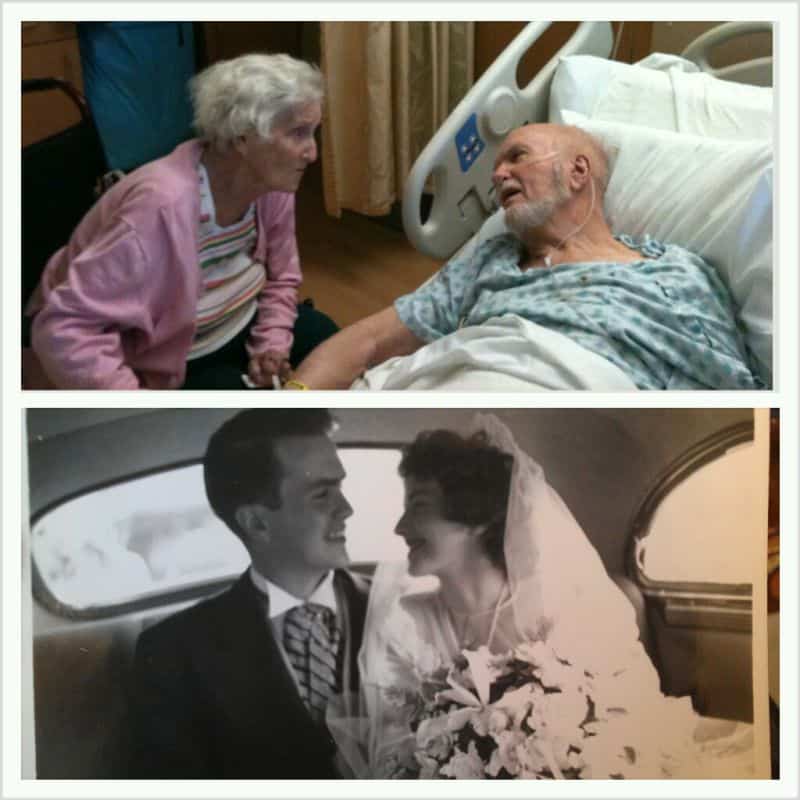 Image Source : i.imgur.com
This is a photo of James and Lauretta Burke, and their deep, everlasting love that transgressed all boundaries of age and disease.
James first met Lauretta through his neighbor in 1945. As James returned to his hometown in Illinois after the end of the Second World War, he saw Lauretta, and fell in love with her. He proposed, she agreed, and by the time this photo, one of the most viral inspirational photos, was making rounds on the internet, James and Lauretta Burke were already married for 64 years.
In the 2000s, Lauretta was diagnosed with Alzheimer's, and soon she began to forget important dates in her life. A few years later, James, who himself had a surgery to get a pacemaker implanted in his heart, began making rounds around the hospital.
However, it was the love – captured in one of the best images of humanity – between the two that couldn't keep James away from his wife. He continued to care for her. In his final moments, he created a will for Lauretta, thereby ordering that she receives the best treatment for her condition.
Even in his last breath, he wanted to be around his wife and in his final moments, all he cared about was for his wife's well-being. Such is love.
A school boy gives water to the thirsty homeless man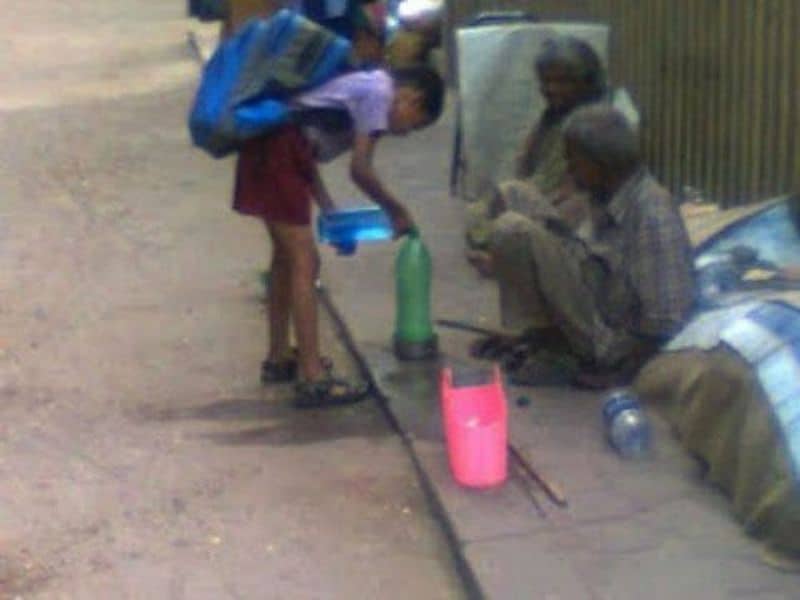 Image Source :  assets.blog.slice.ca
They say that water is life. In this light, what the schoolboy in one of the most heart-touching acts of kindness, needs to be acknowledged, applauded, and applied in day-to-life. Upon seeing a homeless man on the streets without a drop of water in the bottle in front of him, this school boy promptly went there, and poured some water from his own water bottle into the homeless man's bottle.
Water, food, clothes, and shelter – these are things people often take for granted. Sometimes, one many not realize the abundance of these basic needs in life unless one sees someone without an ounce or shred of it. The young school boy realized his privilege, and chose to give back what he has acquired effortlessly.
This small, but significant act, stored in one of the most signature photos of humanity, goes a long way in establishing that fact that humanity still breathes amongst us. This simple, yet powerful photograph shows how even a little contribution can be like a breath of life to someone in need.
A runner helps a fallen competitor cross finish line
Image Source : a.espncdn.com
While Meghan Vogel herself claims that what she did wasn't "a powerful act of kindness", viewers of that eight-lap race, and one of the most viral inspirational photos, certainly disagree. During a race, Vogel, who was running quite behind her other competitors, witnessed Arden McMath, wobble and fall to the racing tracks. Vogel, who could have (and should have) surpassed her, stopped and lifted McMath from the ground. She then helped the latter reach the finish line. Not only that, Vogel also ensured that McMath finishes the race ahead of her.
While Vogel may believe that what she did was nothing extraordinary or out of the way, the audience at the race, along with thousands of viewers at home, beg to differ. Meghan Vogel's acts of kindness lie in the fact that, more than winning, what mattered for the runner was looking at the competitor as a teammate and not as competition.
In a day and age where there is a rat race everywhere, Meghan Vogel's act of human spirit and kindness shows that humanity should always emerge as the winner, no matter what the race is about.
These photos of humanity don't just restore our faith in humanity, but also inspire us to do something kinder and better, every single day. Look for the right inspiration for yourself amongst these brilliant photos of humanity, and practice small acts of kindness every now and then.