Being a mother means being tied up almost all the time, and hardly getting time for oneself. Mothers often give up their own ambitions and desires to ensure their availability for their kids and other family members. They often overlook their own self and forget to pay even slightest of attention to their looks and beauty. However, there is no need to be stuck in this pattern, and shower yourself with attention to look chic all the time. Manage all the responsibilities along with sparing some time for yourself. Well if you are someone, who does not want to be just a mom but a chic mom then read on for some tips and ideas to make the best of your time.
Wear what suits your body type
Many a times, we tend to fall for outfits our favorite celebrity, or the woman living next door. Without thinking much as to how would we look in that dress, we buy it and wear it. This is the biggest mistake one can make, and this is what leads to wardrobe blunders. So, make sure you do not wear something that looks good on other women but choose clothes that look good on you, suit your body type. No matter how expensive dress you buy, unless it does not suit your body type, you would not look good in it.
Know your comfort
One more thing that comes next to your body type is your comfort. Unless you feel comfortable wearing a dress, you cannot look good. If you are uncomfortable wearing something, you would never be able to carry off that dress well. Suppose you wear trousers and all the time you keep checking its fitting, you wear a top and you continuously feel that the inner wear is peeping out, or you keep pulling the top, all these are the signs that show you are not comfortable in whatever you have worn. Whenever you try clothes at the showroom, make sure you check its fitting right.
Refurbish your wardrobe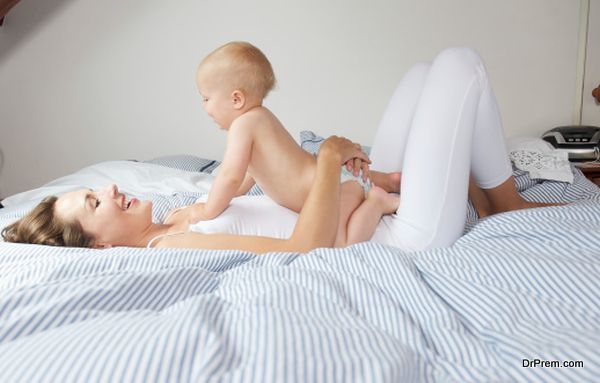 The body of some women change after delivery, so it is not essential that you look good in your pre-delivery clothing. You need to start experiment with new forms and new styles of clothing. You need not refurbish your wardrobe only because of the change in your body but otherwise also change is good.
It is always better to keep adding new styles and fashion to your wardrobe such as add long coats, shrugs, jackets, scarves, or anything else that tickles your fancy. If you have not managed to lose a good deal of weight after delivery, you can wear tunics that look elegant and chic. You can also continue wearing your maternity jeans but with a style, as in add cool belts.
Accessorize yourself
Accessories help us to make even the dull and boring outfits and appearance to be highly attractive and stylish. The quantity and the extent of accessories depend upon your individual taste and the demand of an occasion. If you think the top you are planning to wear is dull then wear a chunky neckpiece over it, and adorn your ears with an eye catching ear cuff or a dangler.
Hairstyle
Spare some time out at least once a week to oil your hair and then wash. Consult a professional hair stylist and get the hang of a hairstyle that makes you look younger and beautiful.
Summary
Usually moms ignore themselves for their children and family but some of them understand the importance of maintaining themselves and put in efforts to be the chic moms.