There are a lot of things that we have to look into on a daily basis which can take up a lot of time. Home automation systems have been designed to help make certain chores very easy for us. These systems not only perform various tasks but also send us the necessary notifications and alerts which help us to know what is happening in the house even when we are not around.
Security systems with various smart features
There are various smart security products in the market which come with different types of features. These features are based on the kind of model you choose and your need. Even the technology present in these devices differ based on design and features associated with the particular model that you choose. Let us have a look at some of the home automation systems designed for security benefits.
In some home security systems you can put a monitor in your bedroom which is attached to the door bell; this will let you know who is standing in front of the door even while you are in the bedroom.
In another type of door bell, the security camera that is located at the front door will not just rotate on its own, however it will also pause the movie or TV for you so that you can attend to the guest. If someone comes during the night time, the brightness of the patio lights will increase to 75% from 25%.
You will also receive a notification or text when someone is at the door and you are not home. The lights can be programmed in such a manner that the minute the front door opens, they start flashing to let you know. In case there is a break in or a breach in the security, all the lights in the house will turn on automatically and the system will automatically lock the front door and windows. These are special features that come with the high end and high tech products.
If you are out of town, you also have a special scene mode in a few models which is called as Mockupancy. In this mode the lights are automatically turned on. This makes it look/feel like there is someone at home. You also have the benefit of creating temporary codes for your guests to come in even when you are not at home. Every time the door opens, you will get a notification of who has opened the door with a snapshot of their face. You also have a live feed option that lets you see who it is and what is happening while you are not home.
Another good thing about the security devices is that you do not have to worry if you have not locked the front door. Even if you do not close the garage properly, these systems can be customized with a special setting that automatically locks them for you after a certain amount of time. If you are working in the garage, you can use the motion sensor to ensure that the door is open.
Notifications and Everyday Alerts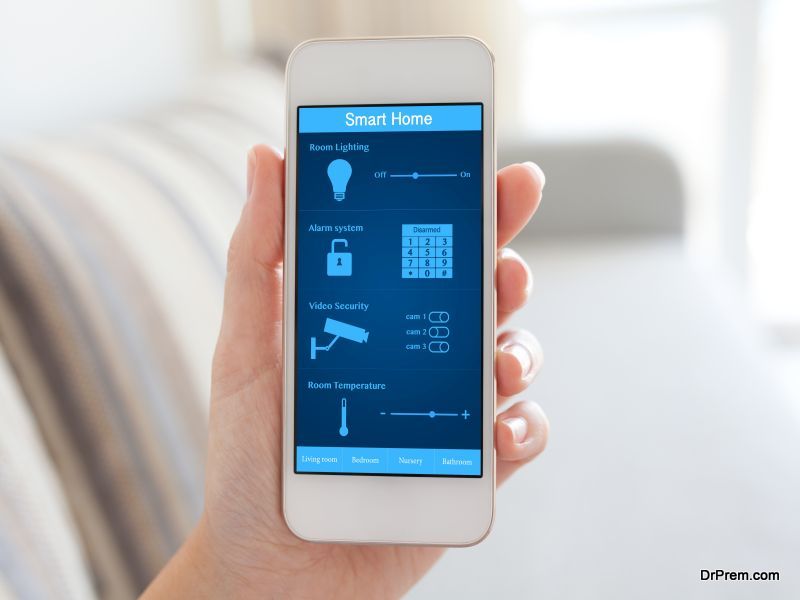 There are times when we do not remember to check if the mailbox is full or not. Well you do have a solution for this also. There are smart mailboxes that come with a card access which notifies you when you have a new mail in your mailbox. These mailboxes come with the specially designed app that can be installed on your Smartphone.
You can also receive notification on various problematic events in the house. This includes pipe or gas leak, a short circuit etc this can help prevent any mishap or problems as well as lets you know about it immediately.
For those who have a smart oven in their kitchen, you can receive the necessary notifications about the present temperature of the oven. It also lets you know if the preheating timer is done, or if the food is baked perfectly or not etc. The same system that is installed in your kitchen will also remind you to take out the trash by sending you an alert on your Smartphone.
If you are on constant medication, it is necessary that it has to be taken on time. You can receive alerts when it is time for your meds so that you do not miss out on a dose. You also have the smart pill box that lights up when it is time for your medication. The advanced versions even show you how much medication is left so that you can refill it on time.