Are you plagued by falling hair? It's one of the most upsetting things that can happen and seems to have no cure. In winter, hair care becomes tougher as the ruthlessly dry weather leads to brittle hair and dry scalp problems, including dandruff. Instead of using synthetic products, use these effective remedies you can concoct at home, as well as some simple dos and don'ts. Do not let hair problems get you down, but try these natural ways of treating winter hair problems, and all your winter hair problems will be gone in no time at all.
Natural ways of treating winter hair problems
One of the ways how to reduce hair fall caused by winter dryness is to avoid tying your hair very tight. Brittle hair tends to break easily so you should comb your hair gently as well. Eat healthy with foods loaded with plenty of nutrients, vitamins and minerals to control hair fall. Consume enough wholegrains, nuts, vegetables and fruits every day as lack of a nutritious diet also causes hair fall which might seem quite perplexing. Check out these remedies for hair loss during winter:
Dandruff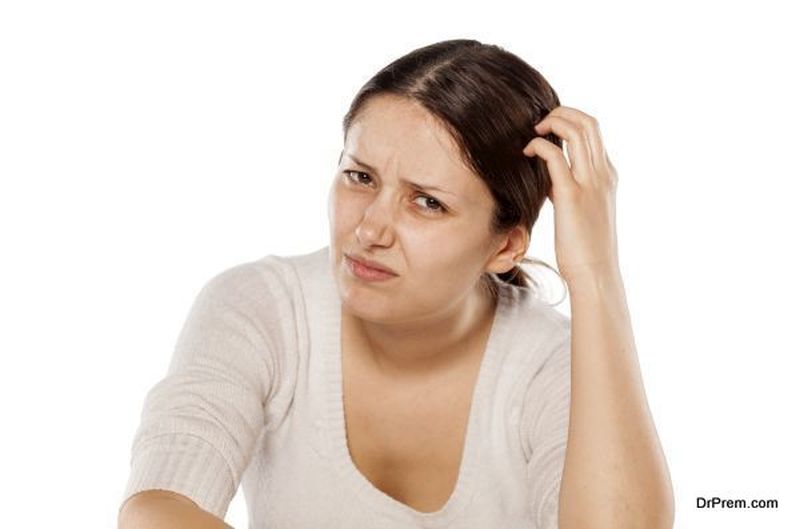 The most common winter hair problem is dandruff. The white tiny powder which shows up on black and other dark colors, and which leads to a lot of embarrassment sometimes. It causes unbearable itching as well as flaking. Dandruff can be due to many reasons, but it seems to aggravate in the winter. Some unfailing home remedies for dandruff are:
Remedy-1: Castor oil, tea tree oil and water
Mix castor oil 3 tablespoons, tea tree oil 2 drops with one tablespoon lukewarm water. Rub this mixture of oils and water gently into your scalp using the fingertips. Keep it on for about one hour then wash it off using mild shampoo. Apply a conditioner to get a silky smooth feel. Apply the mix once a week to get dandruff free hair.
Remedy-2: Hot coconut/almond oil
You can get this done in a salon and enjoy a wonderful hot oil massage, while protecting your hair. Or warm some coconut or olive oil and apply on your scalp as well as hair. Leave it on overnight or 1-2 hours before washing off with herbal shampoo. This remedy is easy and convenient as well as one of the best natural ways of treating winter hair problems.
Split ends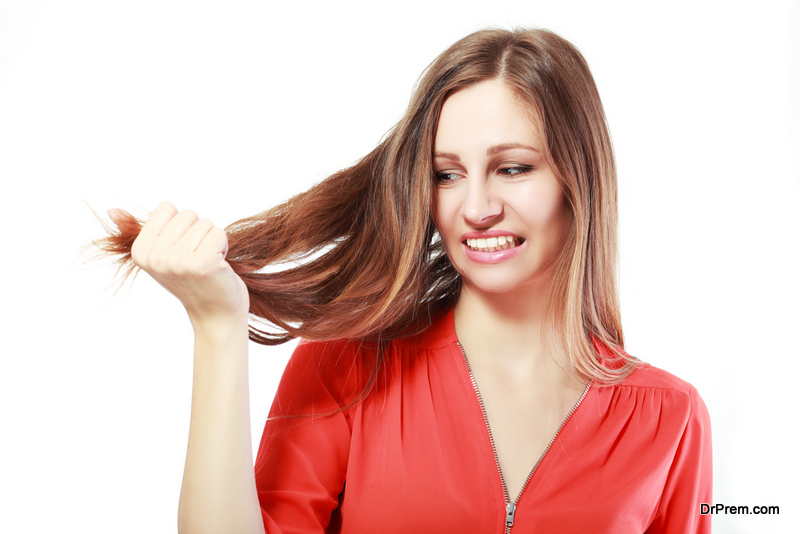 Hiding split ends is not easy and they look really ugly and tacky. Cold and harsh winds suck moisture from hair and cause the ends of your hair to split. You can't keep trimming your hair all the time, so here's a great naturally effective remedy you can try for your split ends.
Remedy: Desi ghee, sweet almond oil hair pack
Desi ghee (clarified butter) 2 tablespoons, and 2 teaspoons of sweet almonds' oil.
After warming the ghee, add the almond oil to it and massage this on your hair, especially the ends. Wash off next day for best results to get lustrous ends without any split ends – amazingly effective natural ways of treating winter hair problems like split ends.
Rough hair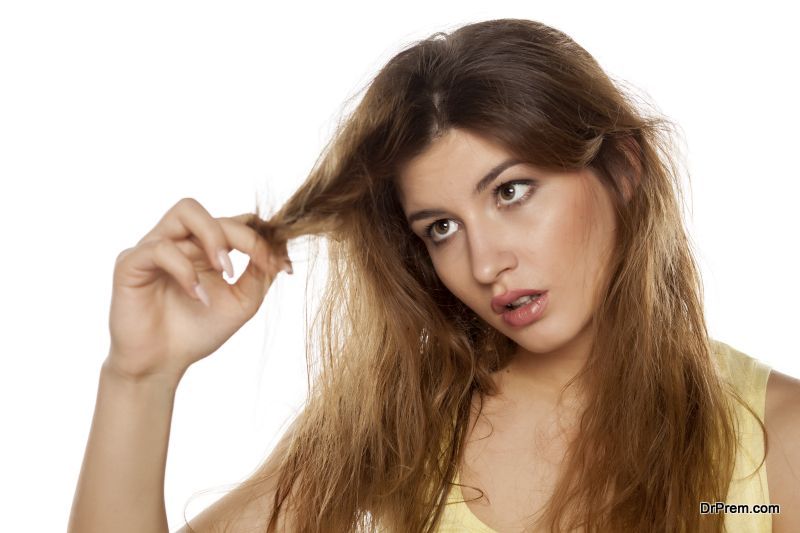 Dry winter days chill you to the bone and create many hair problems like rough hair. Try as you might, maintaining your lovely locks in winter is a problem. To make your hair look fantastic in winter, use this extremely effective hair mask you can make at home with ingredients you have in your pantry.
Remedy: Egg yolk, honey, lemon juice and coconut oil hair mask
Mix 1 yolk of the egg, 1 tablespoon honey, 2 teaspoons lemon juice and 2 teaspoons coconut oil. Whip all the ingredients together to form a smooth paste. Rub this on your hair and leave for about 30 minutes. Best if you can put in on your hair for one hour though. Rinse off the pack with your favorite shampoo and follow this with a conditioner. This amazing hair mask will make your hair soft and silky. Continue to apply this mask every week once only, and feel your hair getting a healthy bounce and sheen.
Itching scalp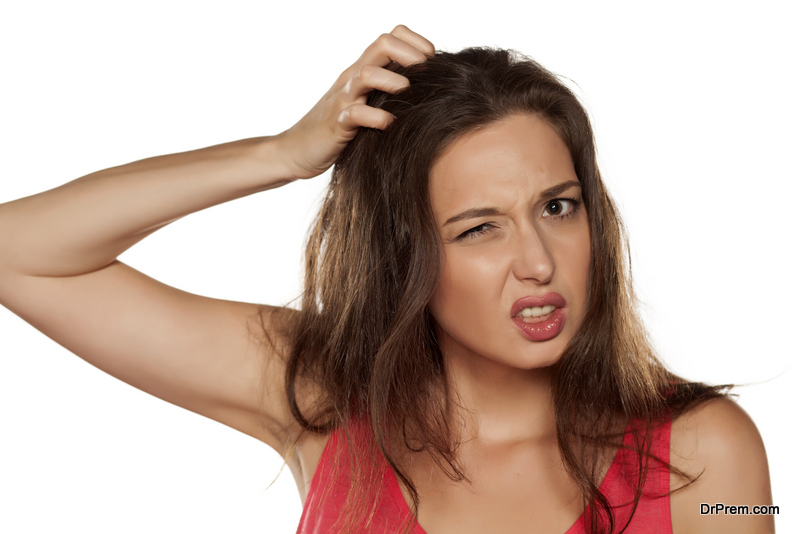 An itchy scalp is one of the most common winter hair problems as the scalp loses moisture. In winter we tend to ignore our normal hair care routine too, as it so cold. But this remedy will make you feel warm and cozy and you'd love this natural ways of treating winter hair problems definitely.
Remedy: Sesame oil/avocado oil, neem oil and olive oil
Mix 2 teaspoons each of avocado oil or sesame oil and olive oil with 3 neem oil drops. Massage them into your scalp thoroughly and steam your hair with a hot towel for about 5 minutes. Leave it on for about an hour or you can leave it on your hair for the whole night. Wash off in the morning. Applying this on your hair once every week will result in healthy hair and scalp.
Hair loss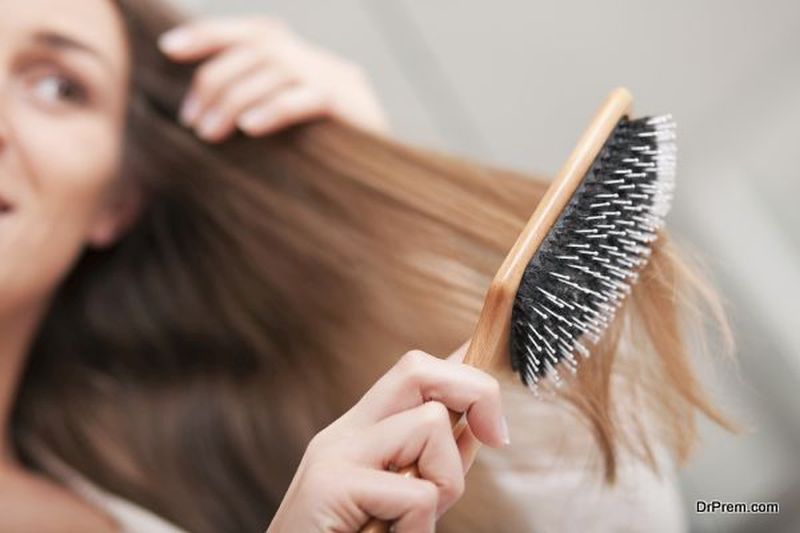 Hair loss can be due to genetic reasons or other medical problems. In winter, whatever the reason, hair loss is much more common. Loss of hair due to the winter season can be reversed with some TLC. Use this natural ways of treating winter hair problems to cure your hair loss problem.
Remedy: Garlic cloves and amla oil pack
Mix amla oil (5 tablespoons) and 2 cloves of peeled, chopped garlic. First, heat the amla oil in a pan, and then add the garlic and heat this for on the lowest flame for about 5 minutes. After 5 minutes, remove from heat and allow it to cool. Strain this oil and apply on the hair and scalp. Massage it in gently. Massaging has other benefits too, such as boosting your scalp's circulation. Leave the oil on your hair for about an hour and wash off with lukewarm shampoo. This pack is truly marvelous and will stop winter hair loss in no time.
Your hair needs more care during the winter than any other season. The lack of moisture in the atmosphere makes your scalp and hair dry which gives rise to a host of hair problems. But if you regularly spend about an hour once or twice a week applying any one or two of these hair remedies, you'll have enviable lustrous hair this winter.