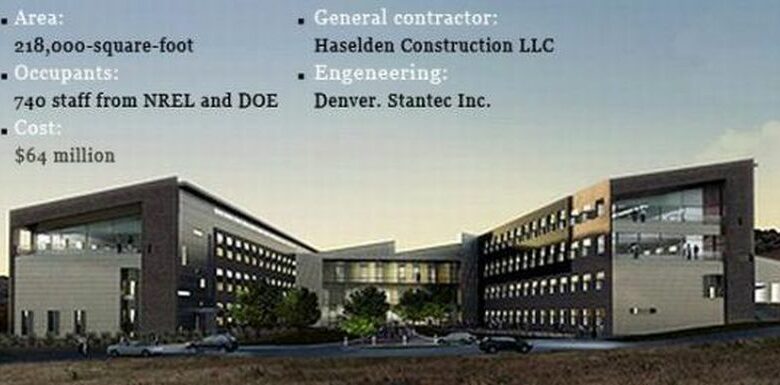 National Renewable Energy Lab, based in Golden, is about all set to get a new sustainable green office building. It will house a staff of 740 employees of NREL and the Department of energy. NREL is the federal government's primary research facility for renewable energy and energy efficiency, and is part of the energy department.

The Building
The green building will:
• Incorporate the concepts of safe design into the planning, design, construction, and operation of the facility

• Meet the Platinum certification as defined by the US Green Buildings Council Leadership in Energy and Environmental Design (LEED) Green Building Rating System
• Meet the requirements of the workforce of today and future
• Provide the lowest attainable energy use per square foot
• Provide an architectural image that is consistent with the site and NREL's identity.
Funding
NREL is receiving funding from the stimulus funds from the U.S. Department of Energy. It will be granted $193 million for construction projects and wind-energy research.
The funding is to be split for two purposes, the first share going to National Renewable Energy Lab to pay for construction of new buildings and improvements at the Golden campus and the second share going for wind energy research.
Benefits
• Once completed, this research facility will dramatically expand NREL's capacity for renewable energy research. The facility will be equipped with the latest technologies to reduce energy consumption, a model for future buildings across America.
• It will reduce America's dependence on fossil-fuel based energy sources.
• It will be a boon for the state economy. The federal grant will help add between 200 and 300 jobs this year.
• It will also help in advancing President Obama's clean energy agenda.
The so called "greenest office building in the world" is due to be completed by 2010.
Photo Credit: NREL