Was it not enough that most clothes are incapable of hiding your baby bump or make your skin comfortable within, that now, most professional pregnant women have to dress for work while remaining presentable even with their bulging bellies? When you are in the second or third trimester of your pregnancy, even bending down and tying your shoelaces are a big no-no. The mere idea of dressing up formally for an important meeting seems like a nightmare at this time. But, fashion always comes with a solution for everyone. Here is how you can dress for work during pregnancy while retaining comfort as well.
Go for the classic suit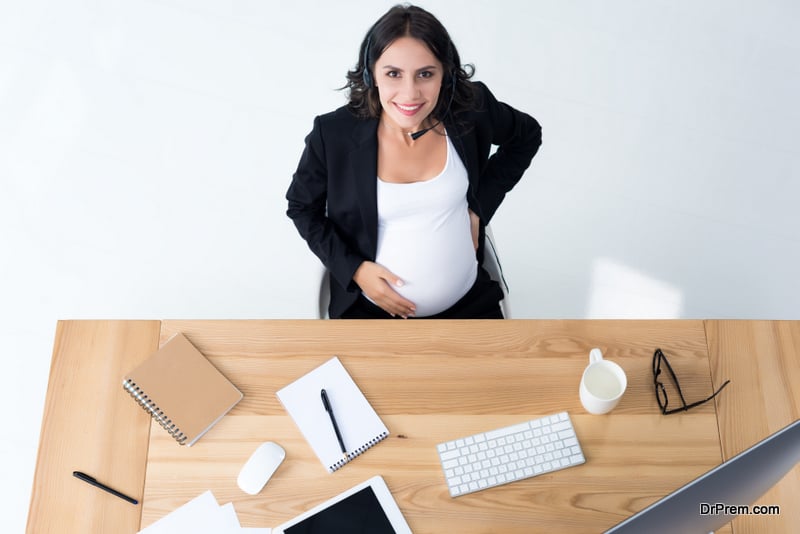 It is not for nothing that the classic suit is adored by most professional people out there. A basic suit flatters every body type. Plus, you get the maximum use out of a single outfit. You can buy one suit and wear it at least twice a week.
Keep the tone of your outfit neutral. Maybe a black suit over a grey shirt and brown pants will do the magic for you. Go for narrow pants, a knee-length skirt or a cotton shirt. Keep it as light and breezy as possible, but don't forget the suit at the end of the day.
Suits are pricey. But they are an investment worth spending on. In the long run during your pregnancy, you will see how your suit can not only help you create a presence at work, but also transfer people's attention from your belly to your words and personality.
Black pants will do the trick
A pair of pants are one of the best blessings that fashion has bestowed upon us. And when it comes to the question of how to dress for work during pregnancy, black pants are seriously a boon.
You can go for the kind of pants that you feel comfortable in. Choose your cuts and wear them with confidence. Also, don't just settle with one pair of pants. Go for two or three, in case there is an emergency meeting at work and the one you already wore yesterday is in wash.
Black pants, or any neutral-shade pant, look great with anything on top – be it a blazer, a suit, a blouse or a turtleneck t-shirt. So, the next time you have to dress for work during pregnancy, you do not have to crib about putting much effort.
Don't forget the simple skirt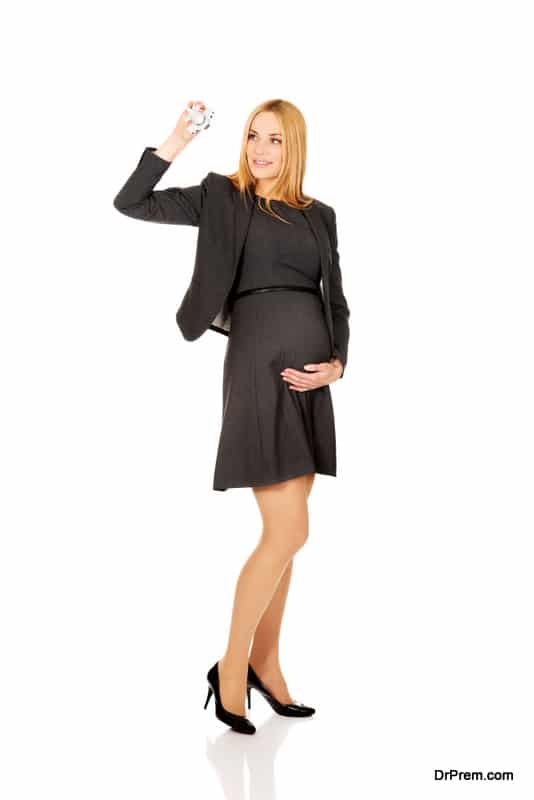 A straight, knee length skirt is a magical professional outfit. They look great, even on pregnant bodies – and let us not forget about just how comfortable they are to the skin.
Pair up your neutral-shaded skirt for a jacket or a blazer to complete your professional look. And if you wish, you can also opt for the pastel shades here – they will add a vibrant touch to your professional personality, while allowing you to have fun during the pregnant stages.
Also, imagine a pastel shade skirt with a black sweater or a white lightweight shirt on top – you will seriously mark your strong presence in the room just as you walk in!
Be wise with your necklines
Sometimes, when you dress for work during pregnancy, you are not only trying to look for that comfortable yet professional outfit, you are also looking for something that draws others' attention away from your bulging baby belly and make them pay attention to your words.
When this is your aim, opt for some varied necklines. A blouse with a unique, customized neckline or sleeves will just work wonders for you. Go for V-necks, halter necks or cowl necklines for the desired effect.
A sweetheart neckline with butterfly sleeves will not only allow you to splash your style at work, but also divert that unwanted attention.
Your necklines will definitely amp up your outfit while also retaining the comfort factor of the same. So choose these wisely.
Choose the right accessories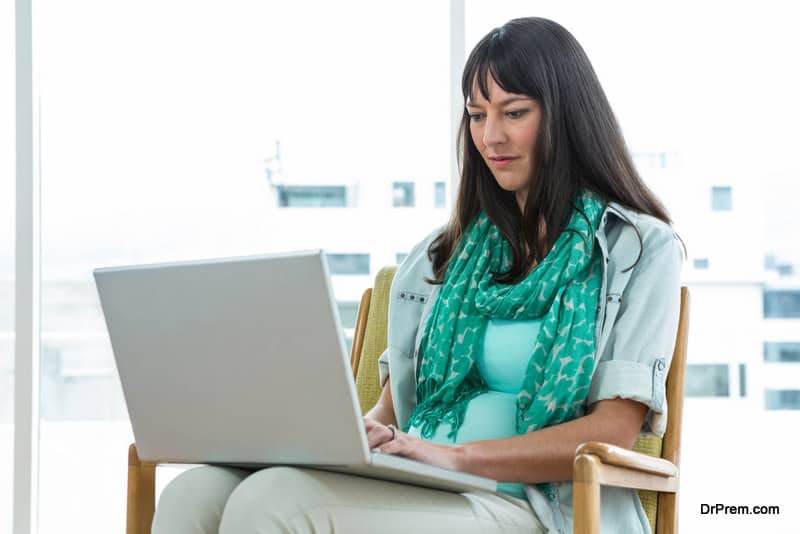 Yes, when you dress for work during pregnancy, most choices you are left with are basic. But who said that you have to settle with the basics? With the right accessories, you can transform your outfit from a zero to a hero.
Just add a stylish or classy scarf, a small pair of earrings, a statement necklace, or that beautiful brooch to your formal dress – and see the small things work wonders.
Keep the accessories simple, but no need to compromise on the class of your jewellery or clothing. A pashmina shawl looks simple, but boasts of a classic vibe. Diamond studs are simply astonishing. And a small handbag will complete your outfit like nothing else.
Go comfy on the shoes
Yes, most professional women would want to opt for high heels when they dress for work during pregnancy. But high heels are your baby's enemy. During pregnancy, you must ditch the high heels and choose the comfortable options instead when it comes to footwear.
This is one of the hardest transitions to make, as most women are accustomed to wearing those stilettos to work. But, here is what you need to do. Go for the sandals whose heels do not exceed more than 2 inches.
And if you are, just like the majority of pregnant women out there, suffer from leg sores and back pains, ensure that you include some orthopedic inserts in your shoes to help you with the aches.
Tailor your work wear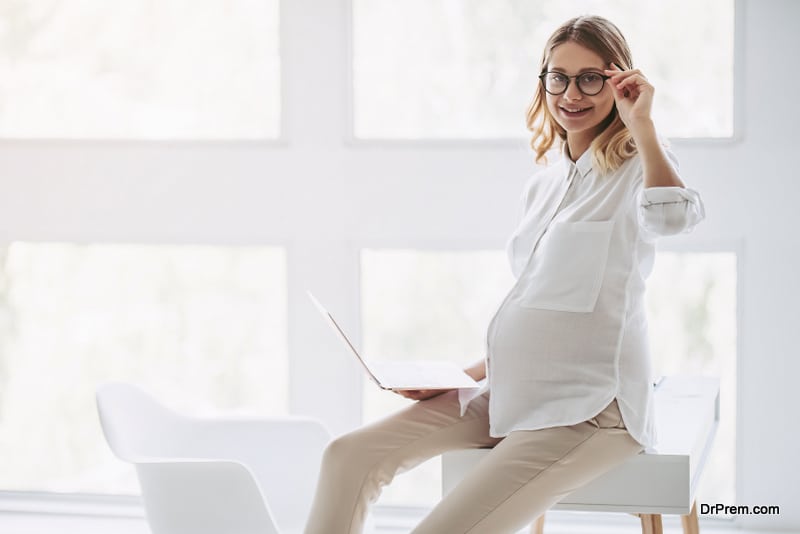 More often than not, you will have to struggle a bit to find that perfect fit of a shirt for the next meeting when you are pregnant. Fret not, you can say goodbye to all that uncomfortable adjusting of your shirt around your chest and abdomen by just switching the readymade ones with the tailor-made ones.
Once you go for the custom-made outfits for work, you can easily wear the best shirt to your office and not even have to struggle around with its measurement.
When you have to dress for work during pregnancy, there is no need to stress about it. Just follow the above-mentioned tips and ace that next meeting, or cruise smoothly through the next day at work.