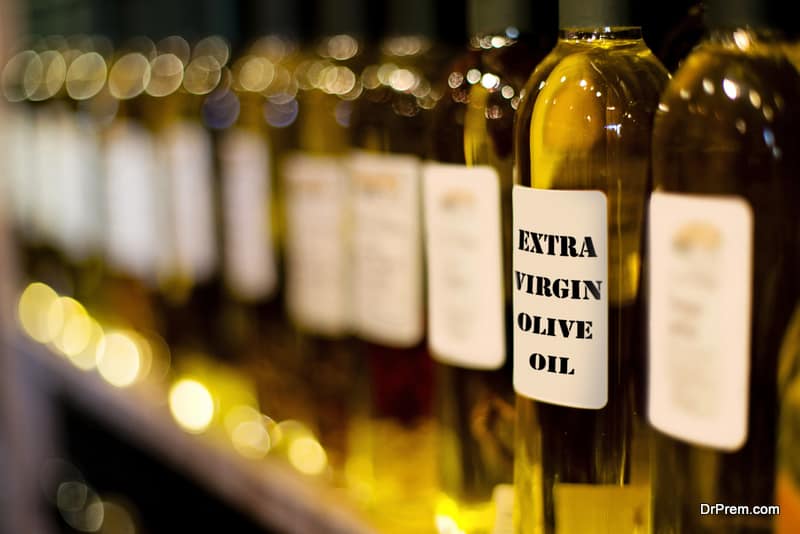 In a world of fake products it is quite a task to find one that is original. However when it comes to your health there can be no compromises. Olive oil is among the healthier oil variants that are available in the market. Recommended by doctors worldwide it is among the best oil variants you can give to your body which will help in keeping the heart healthy among other things. But to ensure that the olive oil you are using is quite a task with so many counterfeit products doing the rounds in the markets. So in this article we come to your rescue and we will tell you all that you need to know about buying pure olive oil.
Some things to remember while picking pure olive oil
The confusion regarding Italian olive oil:


A large section of the consumers have a tendency to blindly trust the Italian olive oil. It is widely regarded as among the most authentic variants of olive oil and is usually on a shopper's list. But it is important to note in this regard that this Italian olive oil too can come in adulterated forms. So as a buyer you must be on a constant vigil even while buying the Italian olive oils.

Buy the extra virgin oil while picking your olive oil:

The fake brands have a tendency of marketing their products by various names. For instance many companies will claim that they are selling light olive oil or mild olive oil. Do not be swayed by such advertising. Always make sure that you pick the extra virgin olive oil if you intend to get pure olive oil.

Check the harvest dates alongside the name of the mills:


This is one of easiest ways to spot the fake products and stay away from them. The harvest dates or the dates of when the oil has been pressed are such data that you can never avoid. Make sure that you also catch a quick glance at the name of the mill that has manufactured your product. The free fatty acid levels too are a clear marker of the quality of your olive oil. For instance the in case of the most ideal ones the levels would not exceed 0.2%.

Pay less attention to the manufacturing dates and expiry dates:

This may come across as a shocking revelation for many of you but is indeed true. The dates of best before can be sitting still or long periods of time and it could be one of the easiest ways to mislead you from buying pure olive oil. Instead of going for the dates, there are some other things that need more of your attention in this regard.

Go for the ones made in Australia or Chile:

These countries have set a benchmark when it comes to the selling of the most authentic olive oils in the market. The safeguards and checks their products pass through are indeed remarkable. So if you are picking one of those olive oil brands that claim to have been made in Australia or Chile you can buy them without second thoughts. Pure olive oil can be seldom identified easier.

The crucial Third party Certification seal:

While opting for a purity test of your olive oil this is one of the first things you should do. The third party certification is something every genuine product would possess and as a buyer you must be aware of such certification tags. One such very popular certification tag is by European Union's Protected Designation of Origin (PDO). These tags you can trust blindly and go for the product in case it has one.

A high price with a fancy packaging guarantees no authenticity:

One of the surest forms of judging an original product is the way it has been packed. Did you think so too? Well you have been wrong the whole time. In fact if the statistics are any indication then the most fake brands get away with fancy packaging of their products. Do not fall prey to such marketing gimmicks. Also a high price is not necessarily a sure way to know if the quality is equally high in the standard charts. Instead of such trivial details go by the ones we told you about for a better purchase of pure olive oil.

Your senses won't lie:

One of the easiest ways of determining if the brand you are picking is original is actually by picking and using it once. While a lot of the technical things can prove to be ambiguous, there is no such scope when it comes to your sensory data. If you are using a cheaper or less refined version of olive oil it will reflect in bad taste and lack of flavours in your food. So put the necessary faith in your sensory organs to be the last judge in this regard.

Some fake brands you possibly buy all the time:


These are fairly popular and are readily available in the local departmental stores. So such fake brands are misleading under the garb of fancy packets and well lit stores. Some of the prominent such brands in the markets are as follows:
Santa Sabina
Sasso
Star
Coricelli
These and many more like them are doing the rounds with low grade oil. This will not only be a bad buy but will also be a harmful addition to your health. The above mentioned tips however should be enough to not opt for any such products.
Final words
These tips will come in handy with so many fake brands doing the rounds. Ensure the absolute best when it comes to your health and undertake this purity test to make sure that the best is what you get. Even though it might seem difficult initially there are some clear ways to spot the flawed products and we sincerely hope that this article will be of significant help in this regard.