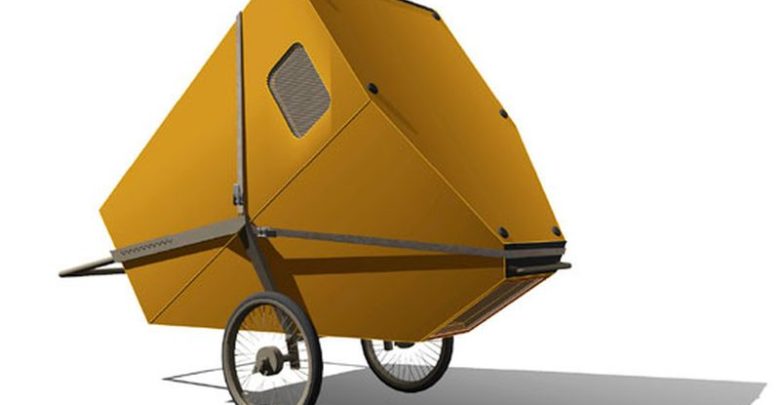 When we switched on the television on March 12, 2011, we were horrified by the rage of nature that was let loose on Japan. In similar disasters, we pause for some time to sympathize with the victims and thank God for saving us and not victimizing us. It was then we realized the pathos of the homeless and this is a very small endeavor to extend help towards those who have to cope up with the tragedy of losing everything. Here is our list of 15 portable homeless shelters for those who are at the mercy of nature.
1. Home Dome: The brainchild of a child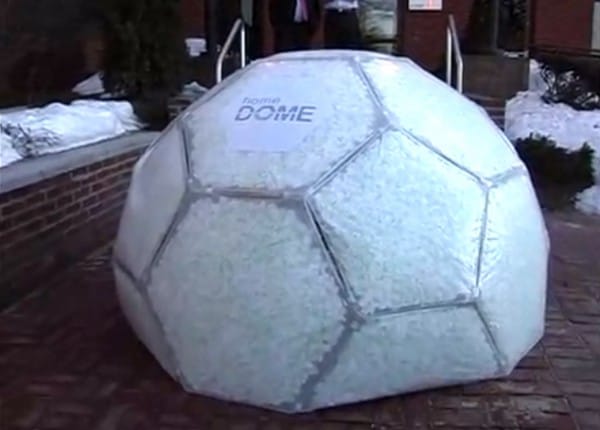 This is an extremely innovative idea presented by Max Wallack, a twelve-year-old boy. He made the shelter using plastic sheets, wires, and Styrofoam packing material. The wires provided a framework whereas the plastic sheets served as a canopy. Styrofoam or packing peanuts were entrapped in between two sheets of plastic.
2. Sanctuary: A recycled one from the lot of homeless shelters
This design was created by Barometrik. This shelter is lightweight and very compact because it is made up of DuPont Tyvek. This shelter was created with potato starch-based polymer and wireframes which make it absolutely biodegradable and recyclable.
3. Metaplate: One of the best homeless shelters for the long run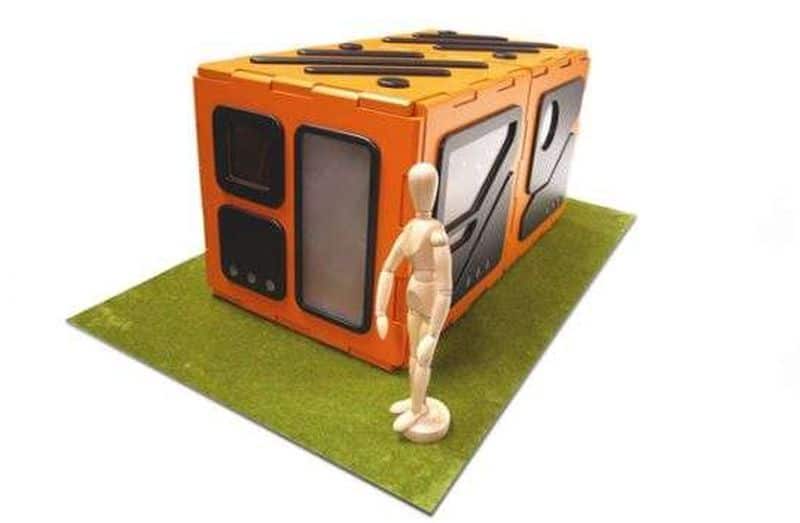 Kelvin Yong designed the Metaplate to provide shelter to the disaster victims. It can be utilized for both short term and long term use. Basic necessities for living such as plumbing, drainage can also be accommodated into this.
4. All in one Mobile Home: The name says it all
This mobile home is made of biodegradable materials. It contains a cot that can be folded in or out as per requirement. It also contains a secret compartment where one can hide their valuable and private belongings.
5. Lifelink: One of the most spacious homeless shelters
This shelter is very spacious as it provides a height of seven feet and a depth of nine feet. At its widest, it measures eight feet and at the narrowest also it comes up to five feet. It is unique in the sense it can be linked with another and gives a sense of security as a family can stay with their loved and dear ones.
6. Shrimp: A unique architectural masterpiece
The Shrimp acquired its intriguing name because of its structure, which resembles the tail portion of a shrimp, where designers have arranged the segments in descending order to give rise to a tapering end. Each unit can accommodate four people and one can fit it into one-fourth of a shipping container.
7. ESiS: One of the most functional homeless shelters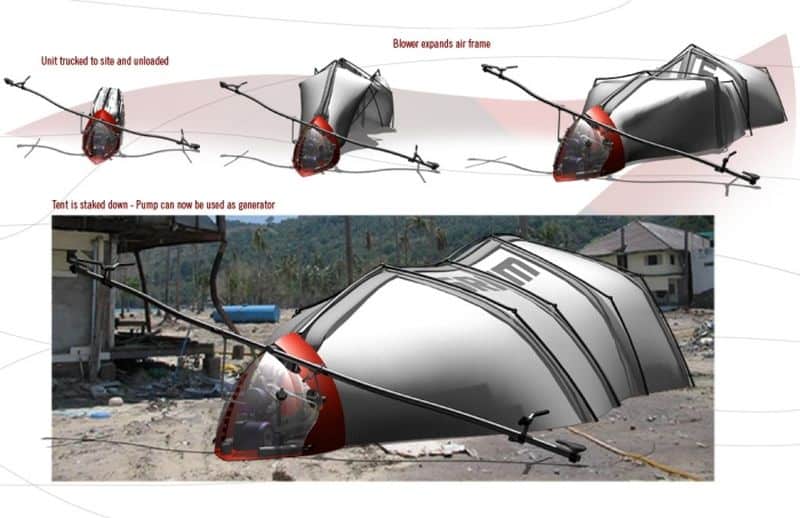 ESiS provides a functional shelter for people in need of instant shelter. Utilizing human power, resources like clean water, shelter, food, and energy can be arranged for. This shelter was the brainchild of Charlie Pyott.
8. Flat Pac Emergency Shelter: Easy-to-make homeless shelter
This shelter comes in a flat casing where recycled polyester and aluminum frames are the main components of the shelter. Two persons can easily assemble it without using any tools. One can also zip it together and compose it into a single unit which accommodates numerous people. This can give rise to a community.
9. ZO_loft Wheelly: A homeless shelter on wheels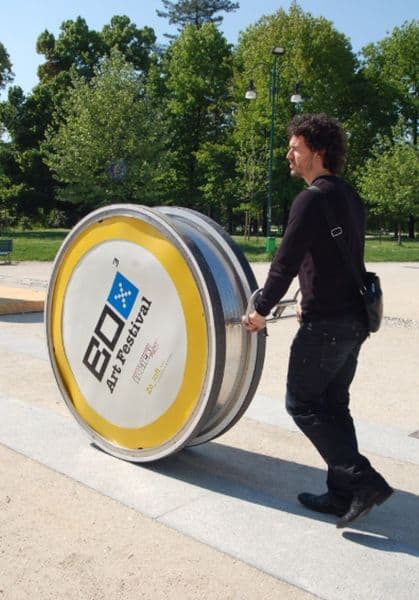 Everybody knows things can be carried best when they have wheels. The Italian group Zo_loft designed a shelter in such a way that one can pack it into a wheel and easily roll from one place to another.
10. Emergency Response Studio: An eco-friendly homeless shelter
Paul Villinski desired to make a portable home in a trailer. It packs in a wind turbine and solar panel on the roof which one can use to generate power.
11. Cocoon Emergency Shelter: Inspired by nature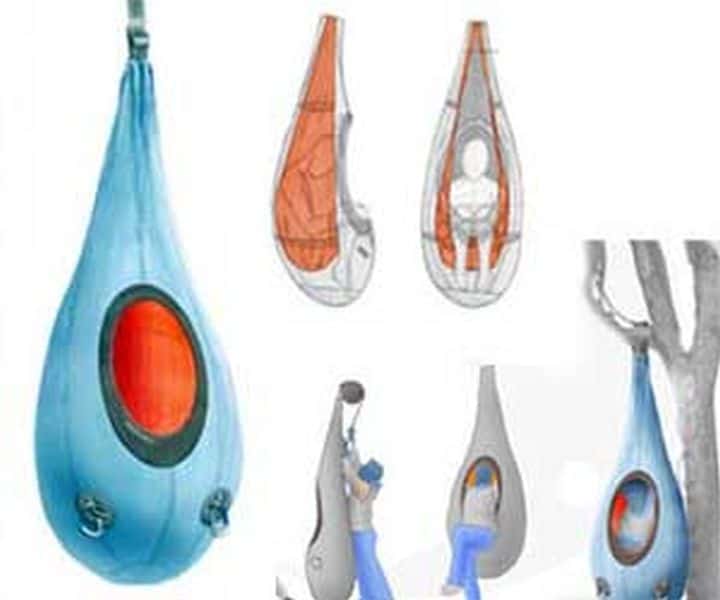 Designers have designed the Cocoon emergency shelter to help a person survive in extreme conditions. In times of dire need, one can hang it from a tree or rock and the person can climb inside and close the cocoon from inside to protect oneself. It mimics the architecture of a cocoon, which a caterpillar builds.
12. Butterfly Structure: A light, yet durable home for the homeless
A butterfly roof provides light, ventilation and is also waterproof. This is also portable and durable.
13. Kahuta Transitional Housing: A home for the nomads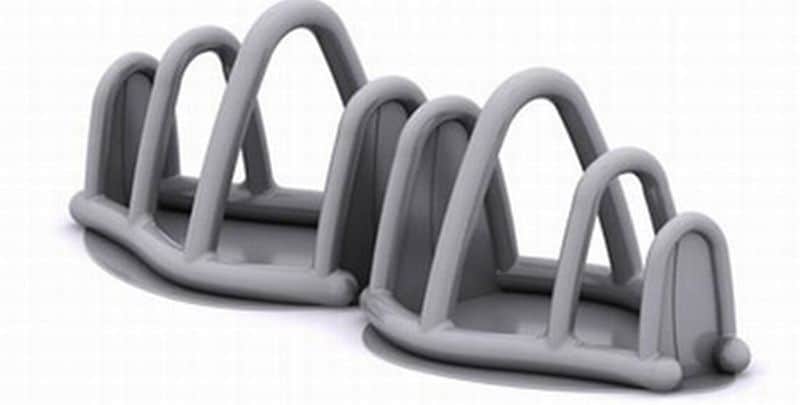 Alexandre Moget designed this specifically mimicking the lifestyle of nomadic tribes. The material of construction is double thick felt which provides thermal insulation.
14. Lightweight Emergency Shelter: Recycling at its best
This shelter contains a mesh of recycled polyester and aluminum framework.
15. Room Room: Always on the move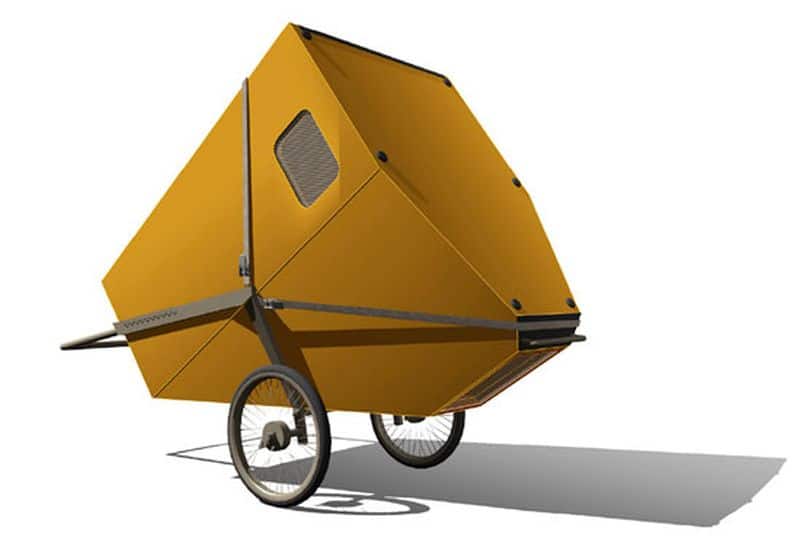 Encore Heureux and G studio were the masterminds behind the conceptualization. Apart from its usual characteristics – portable, durable, environment-friendly and biodegradable, one can attach it to a bike and pull it easily.
Before you go…
If you have noticed, a lot of the above-mentioned homeless shelters are made using recycled materials. Or else, designers have designed them from waste – and they gave these homes the lightness and durability in the course of doing so. At the same time, one can design these homeless shelters quickly, with little use of tools and time. In these days, one cannot wait for months, or even years, to create a home for themselves or for those in need. Here are 7 prefabricated homes, which take little time to design and last long.
Seven sleek and versatile prefabricated homes
Prefabricated homes are boon for cities that lack space. These homes are modern and sleek. Prefabricated homes spare the inhabitants the hassle of waiting for on-site constructions of buildings to finish. Also, real estate in many cities of the world is frightfully expensive. Prefabricated homes are an affordable solution for those who can't buy a property in such cities. In that, prefabs reveal the best scenario in modern architecture. They are very easy to procure and are also ultraportable. They are truly versatile and incredible mobile dwellings that represent the best face of prefabricated architecture. Take a look at 7 prefabricated dwellings:
1. Off-the-Grid Modular Steel house
Michael Jantzen, a green architect reformed the standard pastoral steel buildings into a modular modern wonder which one can configure the way they wish to. It is energy independent and contains recycled feasible steel, which one routinely uses in the field of agriculture. This concept is inexpensive and is also sustainable for people residing in rural areas. Homestead House explores the probable use of a profitably and easily available steel of high strength. It is a conceptual design for substitute housing. Moreover, it is low in cost which makes it affordable.
2. Recycled cargo container made into a portable home
The disadvantages of the wear cargo container trounced as designers transformed it into a small home having a restroom, dining space and a kitchen. The design of the newer version is much more complex. In addition, it includes a living room and a bedroom. It provides more space and privacy. Moreover, it has a funky look. One can paint the outside of the containers in any way to suit the needs of the buyers. It makes for an easily customizable product.
3. Soe Ker Tie Hias

There is the misconception, at times, that living in a prefabricated home means giving up space. The Soe Ker Tie Hias houses are spacious and took only seven days to complete. Designers made only a few major structural elements off-site, and then they put them together to balance the weight properly.
4. Modern Wood Drop and Glass House
A new idea of creating a steel enclosure is very pleasing but there is scope to make the drop houses more striking. One can dismantle them into a loads-container in a small unit for transportation. Once you put them together they will turn into an amazing living room with a pleasant design which makes you feel the same as buildings made on-site. The numerous windows make the house airy and comfortable.
5. Rooftop Prefab Living with the LoftCube
Werner Aisslinger designed Loftcubes for rooftops. Loftcubes are space-conserving. A major drawback of a Loftcube is that inhabitants of the building on which it is located can not access the rooftop or terrace. The dwelling is so compact, that the whole house can be transported with the help of a crane. If you can afford it, the house can be transported with a helicopter too. It provides many living rooms partitioned by panels, which offers a compact living space. The numerous windows of a Loftcube give a lofty view of the outside world from the top of the building.
6. Adex Eco-friendly house
The metal clad prefabricated box houses are cheaper and have avant-garde exteriors. They are normally thin and tall. Though they cover a small area, they can accommodate several rooms. The houses have wood clad interior, together with attic spaces. The dwellings have built-in beds. These houses are eco-friendly and make for the perfect design to make greenhouses too.
7. Prefabricated house on wheels
Imagine living in a house on wheels without sacrificing your comforts. These are very modern since great architectural minds have designed them. The houses are prefabs and designers have built these for specific locations. But architects have built from the basic ideas that could help us design portable buildings in the future. The simple metal structures and wood makes the house highly ventilated with many glasses and high ceilings.