Arab Health Capitalises on Continuing Growth in Healthcare Sector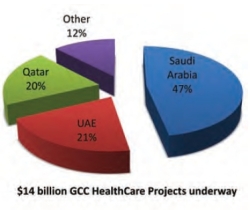 A report on the region's largest healthcare exhibition which opens today
The burgeoning demand for healthcare across the Gulf and wider Middle East has resulted in this year's Arab Health Exhibition and Congress, which runs from January 25-28, being the largest edition to date. The four-day marketing and education event – the region's most important forum for the healthcare industry – is capitalising on a market that is seeing around US$ 14 billion worth of healthcare-related projects currently underway in the Gulf. Saudi Arabia alone is spending more than US$ 6.6 billion on a total of 83 projects, with the UAE and Qatar spending US$2.9 billion andUS$ 2.8 billion respectively. A report by Ithmar Capital and Dow Jones Private Equity has revealed that the Gulf Co-operation Council countries (GCC) need 138,965 hospital beds, 140,334 physicians and 227,079 nurses by 2050 to maintain current healthcare levels. The UAE has said that it will need 15,698 new beds and physicians, along with 31,396 additional nurses, in part driven by an increase in population and extended health insurance provisions for both nationals and expatriates.
"In spite of significant project delays in other non-infrastructure sectors, the pipeline of healthcare projects in the region remains remarkably robust, particularly for Saudi Arabia and the United Arab Emirates,"
revealed Simon Page, Director of the Life Science Division of Arab Health organisers, IIR Middle East.
Established over 30 years ago, the Arab Health Exhibition and Congress is the flagship event of IIR Middle East's Life Science Division and the region's premier event for the healthcare sector, which is estimated to be worth close to $80 billion per year. The Middle East remains one of the fastest growing regions for the industry, with Arab Health hitting capacity exhibition space at its venue, the Dubai International Exhibition and Convention Centre, last year. The recent opening of new hall facilities has provided an additional 20,000 square metres of hall space, allowing exhibitors who were denied floor space last year to be able to participate in 2010. "We are expecting Arab Health to grow by over 20% as the regioncontinues to develop a modern healthcare system," said Page.
This year's Arab Health will reflect the current trends within the sector, which is progressively adopting a more proactive approach in line with the western model. Regional governments are choosing to tackle the cause of ill health through preventative medicine and early screening, rather than by merely treating disease. An important component of this approach is education, with health promotion now taking a more prominent role in schools and social activities across the region. Children and parents alike are being taught about the importance of making healthy choices and the harmful effects that a sedentary lifestyle can have on their wellbeing. IIR is working closely with local authorities to facilitate this approach and have recently signed a Memorandum of Understanding with the Dubai Health Authority to formalise their ongoing strategic partnership and streamline their objectives for the future of the emirate's healthcare services.
In addition to working in conjunction with authorities to educate the local populace, IIR, through the Congress component of Arab Health, is also playing a fundamental part in the ongoing professional development of the region's health carers. The commitment to raising standards in regional healthcare delivery has meant that hospitals, clinics and healthcare service providers need to ensure that their employees are keeping their medical accreditation up-to-date. In order to renew their medical practicing licenses, medical professionals practicing in the UAE need to maintain an annual quota of Continuing Medical Education (CME) credits.
IIR Middle East is collaborating with the U.S.-based Cleveland Clinic, a not-for-profit multi-specialty academic medical centre that integrates clinical and hospital care with research and education, to expand on medical education activities. Seventeen of the 20 conferences at this year's Arab Health provide the opportunity for healthcare professionals to earn CME credits in subjects that include anaesthesia, medical imaging and diagnosis, cardiovascular diseases, orthopaedics, surgery, laboratory medicine, urology, paediatrics; gastroenterology and hepatology, sleep disorders, quality management in healthcare, molecular imaging and nuclear medicine. Additional non-CME conferences include Leaders in Healthcare, the Healthcare Insurance Forum and the Healthcare Management Forum.
"By ensuring that our conferences are accredited and our speakers are leading experts in their fields, IIR Middle East is committed to providing the best possible medical education available in the region," said Page. "Our partnership with Cleveland Clinic sets an unprecedented standard and we continue our work as an international provider of specialist information and services for medical communities in the region," he added.