A Comprehensive Medical Tourism Guide is Launched to Eliminate Risk Factors in Medical Travel by Industry Expert Dr Prem Jagyasi – Yahoo, Marketwire, Reuter, MSN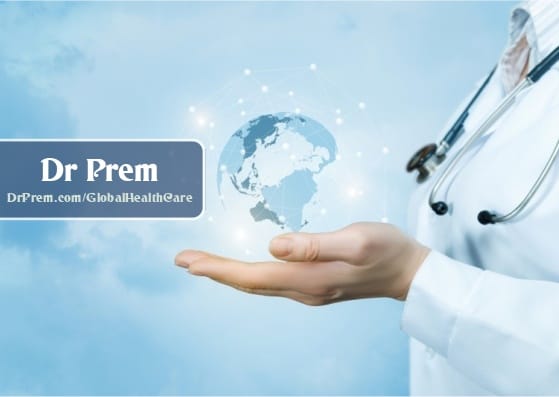 <![CDATA[
More and more individuals dissatisfied with their healthcare system are seeking alternate options and travelling across borders to seek medical care. This phenomenon makes up the industry known as 'medical tourism' which is a burgeoning sector of the global healthcare industry.
Since medical travel involves several intricacies, patients could be vulnerable to certain risk factors leading to complications which would give consumers a negative impression of the industry. Dr. Prem Jagyasi, a leading medical tourism expert and global healthcare consultant has launched a comprehensive guidebook on medical travel that aims to educate individuals on the importance of planning and preparing for medical tourism in order to eliminate the complications typically reported in news stories.
"It is important for patients to remember that travelling across borders to access healthcare won't put you at risk, rather the lack of meticulous planning and preparation before a medical journey will" comments Dr. Prem.
The recent medical tourism research conducted by him revealed that 59% of industry experts agreed that accessing reliable information is a major challenge for the industry. Due to the large amount of unregulated information available online as well as in print, many consumers remain uninformed, misinformed and confused about this alternative treatment option. Due to the lack of honest information on this industry, Dr. Prem Jagyasi, felt it was necessary to release an accurate guidebook to educate patients and provide them with a trustworthy reference they can utilize.
The material included in the guidebook is dedicated to providing valuable, unbiased information and advice to medical consumers interested in learning about medical travel. The book also works as a reference guide for expert and international healthcare providers keen to learn on providing high quality services in medical tourism.
Dr Prem's Guidebook – Medical Tourism
This guidebook is an excellent resource for patients to utilize before they travel as it lists all the essential preparation steps to ensure a safe and successful medical journey. "Patients need to organize all the post-operative arrangements before they travel, appropriately budget for medical tourism and pack the essential items they would require during the trip." added Dr Prem, who is also a leading consultant of the medical tourism industry. The guidebook also highlights essential information about the top 50 Medical Tourism Destinations in the world.
Dr. Prem advises "Even though the process of accessing care in a foreign location might seem very simple, patients should be aware of the challenges and issues associated with the industry prior to making any medical travel plans." The decision to avail medical services abroad is a crucial aspect on whether or not your journey will be successful. "The decision should be based on personalized and individual factors, rather than basing a decision on hearing about the success stories of medical tourism" further advised the author of the Medical Tourism Guidebook.
The second part of the guidebook entitled 'Deciding for Medical Tourism' includes essential individualized factors to consider that truly determine whether medical tourism will be the right decision for you. Questions such as 'Do I have the means to travel abroad' or 'Do I have enough time and resources to thoroughly plan for this journey' can help eliminate those that are travelling abroad for the wrong reasons, minimizing the risks and complications commonly seen in medical tourism.
The essence of the guidebook comes from Part Three entitled "Planning and Preparing for Medical Tourism". In this section, Dr. Prem highlights the twenty essential preparation tips he feels all medical tourists should engage in prior to their travels. These tips include understanding your healthcare needs and selecting the right destination, facility & physician to seek a treatment from abroad. Additionally, there are dedicated chapters on appropriate arrangements for pre-operative & post operative, travel & tourism preparations, budgeting for medical tourism and understanding of cultural, legal and ethical issues abroad. To further assist medical tourists in this important journey, the last part of the guidebook provides essential tools and check-lists to facilitate the preparation stage of your journey.
Aside from the crucial section on preparation and planning for medical tourism which all potential travellers should read, Part Four documents 50 of the top medical tourism destinations around the world. Dr. Prem Jagyasi says, "Picking the right healthcare destination is an essential factor that determines the success of your medical journey. The risk of picking the wrong country can be eliminated via thorough research on that region before a medical tourist travels." The destinations are presented with the necessary tourism and healthcare information any medical traveller would need prior to making their decision.
Dr. Prem Jagyasi summarizes his guidebook in a nutshell, "I have devised a rule—I call it Dr Prem's Medical Tourism Rule—assume less, reassure more and plan meticulously. The entire book is based on this rule; I have attempted to provide answers to all the possible queries a medical tourist might have, provided guidelines for you to reassure yourself, and checklists and graphs that will help you plan meticulously. Simply put, these are all the factors necessary in ensuring you a safe and successful medical journey."
The Medical Tourism Guidebook is part of Dr Prem's Guidebook Series; the digital book version of the guidebook is available for a free preview for a limited time at www.DrPrem.com. Remaining guidebooks are available free online at www.DrPrem.com. Dr Prem has also launched video guide channel to provide education to people looking for a visual guide.
– Dr Prem's Guidebook – Medical Tourism (Comprehensive)
– Dr Prem's Guidebook – Top Medical Tourism Destinations
– Dr Prem's Guidebook – Common Medical Tourism Procedures
– Dr Prem's Guidebook – Global Healthcare
– Dr Prem's Guidebook – Social Media Marketing in Healthcare
– Dr Prem's Guidebook – Hospital Quality, Safety & Patient Rights
– Dr Prem's Guidebook – Wellness Tourism
– Dr Prem's Guidebook – Healthcare Marketing (coming soon)
– Dr Prem's Guidebook – Corporate Social Responsibility (coming soon)
The paperback version of guidebook is available from leading online stores
Amazon – http://www.amazon.com/Dr-Prems-Guidebook-Medical-Tourism/dp/1460953878
CreateSpace eStore – https://www.createspace.com/3552350
About the Author – Dr Prem Jagyasi
A successful entrepreneur, healthcare leader and experienced strategic professional, Dr Prem Jagyasi is a renowned Chartered Management, Healthcare Marketing and Medical Tourism Consultant. Providing high-profile consultancy services to Government authorities and private healthcare organizations, Dr. Prem Jagyasi is a notable leading medical tourism consultant in the world. Currently, Dr Prem Jagyasi is MD & CEO of ExHealth, a Dubai HealthCare City based firm engaged in offering multi-dimensional healthcare solutions in the international domain. He is also founder of Global Healthcare Network, a social networking site dedicated for healthcare professionals.
On the social front, he has initiated several healthcare projects such as Family Health Festival, No Tobacco Campaign, Summer Health Festival, Ahlan Ramadan and Diabetes Events. Visit www.DrPrem.com to know more about Dr Prem Jagyasi and his work.
To view the video included with this release, please visit the following link: http://www.youtube.com/watch?v=nHzDN2xWjRc
For more information, please contact
Dr Prem Jagyasi
www.DrPrem.com/Contact
www.DrPrem.com
Newslinks:
]]>