Dos and don'ts while on religious tourism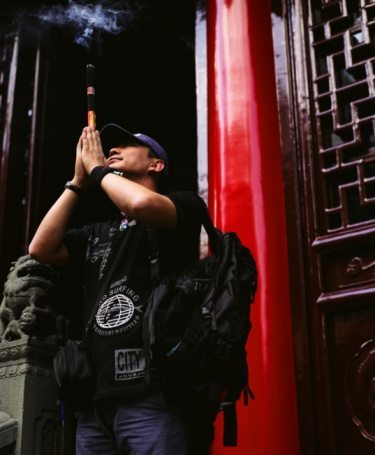 There is an array of what to do and what not to do in case of religious tourism. The basic idea is not to express or engage in any act that would be a show of disrespect to the religious site you visit.
Acts of piety and showing your regard for the religious site is always welcome. Needless to say when you are entering a temple or a mosque or similar places of worship for that matter just ensure you take your shoes off and entrust their custody with some approved custodian. While on religious tourism, one should be culturally sensitive to other religions. Their acts should not amount to religious offence.
Pork is banned in Muslim religion as is beef according to Hindu faith. Utmost care should be taken not go for pork consumption in a Muslim religious site. Same prudence must be exercised for refraining from beef intake in and around a Hindu temple.
Photography is a taboo for taking shots of temples and sacred monuments in many cases. Respect should be shown to the custom. One should refrain from hitting his camera shutter as soon as he finds himself facing one. At least he should watch and learn what the crowd around him is doing or abide by the regulations of the worship premises.
A religious site invites a large gathering. A sea of humanity including tourists, vendors, pilgrims and holy men does not complete the picture, but rogues, thugs and cheats camouflage behind this apparently harmless congregation. Be careful with your expensive belongings and never expose them so as to invite a theft.
Prudence must be exercised against the possibility of a terrorist strike. They usually target huge gatherings. If the terrorists' motive is fed on religious fanaticism, there is no other target as good and vulnerable. Suspicious baggage and packages must be reported to the concerned authority without the slightest delay.
Leather belts, leather jackets, leather camera cases and anything made out of leather is not allowed inside a few Hindu temples. Rules must be respected to avoid local resentment.
One must be cautious enough with the sacred 'Prasad' offered from temples for consumption. It is usually a mix of fruits, sugar, jaggery, sacred river water and sweets. It is a part of the Hindu ritual, but the hygiene of this sacred food is open to question. You got to use your judgment before munching them down.
There will be genuine as well as fake guides promising you to show you the gates of heaven. Religion has generated stiff competition among touts. Men claim to show you the truest path to heaven. They compete fiercely with each other to do you good. You should be cautious and stay clear from these fake god men else you may land up in trouble losing money and time.
Sacred mementos vended at religious sites would be good collection objects. However, magical attributes associated with in context of healing dreadful diseases is a stupid ploy to deceive the customer. They don't merit exorbitant prices and one should be advised against such a deal.
Long queues are a specific feature in visits to temples and places of worship. You should follow the queue and never force your way past the crowd to get the glimpse of the deity. Certain gestures amount to exhibition of respect to a deity and some may be acts of sacrilege. You may inadvertently strike a pose, which you do not know may be a show of disrespect to the place of worship. Educate yourself about the customs in vogue so as not to invite local resentment by your apparently civilized manners. What is good for you may be not as good when you are in an alien society with religion being a sensitive issue.
Guide to history of religious tourism, its essential components, why it matters and best practices
Key Drivers of Religious Tourism
Activities while on religious tourism
Travel and tourism arrangements in religious tourism
Preparations for religious tourism
Importance of planning in religious tourism
How to get more information on religious tourism
Things to do post religious tourism
Budgeting in religious tourism
Guide to top destinations for religious tourism and precautions and preventions that you need to follow
Countries promoting religious tourism
Best sites of religious tourism in the world