Endurance is not just the ability to bear a hard thing, but to turn it into glory.
-William Barclay
[William Barclay was a Scottish author, radio and television presenter, Church of Scotland, minister and Professor of Divinity and Biblical Criticism at the University of Glasgow.]
Endurance is a strong word. It not only defines survival through hard-ships but it shows the depth of power of the one who survived through it. William Barclay says that turning the hardship into glory is true endurance.
In any critical situation, the pressure can be external, internal or both. When the pressure is internal, it can be various emotions troubling you or maybe some kind of worry or fear that takes over.
External pressure is when you have to deal with physical difficulties and your stamina to surmount that, starts falling apart.
It is very natural for human beings to react in a negative manner in any adverse situation, it will be odd not to feel the pain; but the important aspect is not giving up in such a circumstance. The one who is able to cope up with both the internal as well as external pressure is a real survivor; he's the one who actually endures.
The brave example of Maricel S. Apatan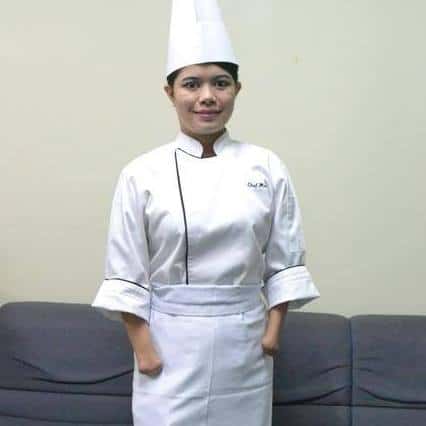 Image Source : scontent.fslv1-2.fna.fbcdn.net/
27 year old, Maricel S. Apatan is a living example of such endurance.  This pastry chef at Edsa Shangri-La Manila, is seen delicately segmenting fruits like strawberries and grapes, piping on cream fillings and very gracefully finishing up her beautiful cakes but with her wrists. Yes, with her wrists because she does not have hands. Having no hands did not stop her from holding a substantial position in a 5 star hotel.
On 25th of September, 2000, Maricel had gone with her uncle to pull water. She was 11 years old back then.  On their way back, they were attacked by four men with sharp knives. To her astonishment, it was her neighbors who attacked them. They made her uncle face down towards the ground.
Maricel was terrified and started pleading them saying "Kuya, 'wag po, 'wag n'yo akong tagain! Maawa po kayo saakin!" ("Don't kill me! Have mercy on me!) The men cruelly ignored her cry and stabbed the sharp knife on her neck.
Maricel fell unconscious. Just as she was regaining her consciousness, she could still see the feet of those men; she pretended to be dead so that they would just leave her and go. When they went away, Maricel quickly started running towards her house. As she ran, she realized that the men had slashed off her hands too. A trail of tears rolled down her eyes as she was running but she did not stop.
The misery was internal as well as external. She was shocked to find her neighbors attacking her and she was slashed on her neck and her hands were chopped off.
On her way back Maricel lost consciousness, fell down, became conscious and ran again; this happened several times before she could finally reach home. As she was about to reach, her mother panicked as she saw her daughter covered in blood and immediately got a blanket, covered her and lifted her to take her to the hospital immediately.
The distance between her house and the hospital was 12 kilometers which took them 4 hours to reach. When the doctors saw Maricel's condition, they thought she will not survive but they proceeded with a 5 hour long operation which stabilized Marciel's condition. The cut on her neck extended to her back which required 25 stitches. She no longer had hands.
This brutal situation can make a person give up on life. In Maricel's case, their hardships did not end here.
They could not pay their hospital bill of P50, 000 because they were poor. In addition to that, when they reached home, they found out that their house was burned down by some attackers.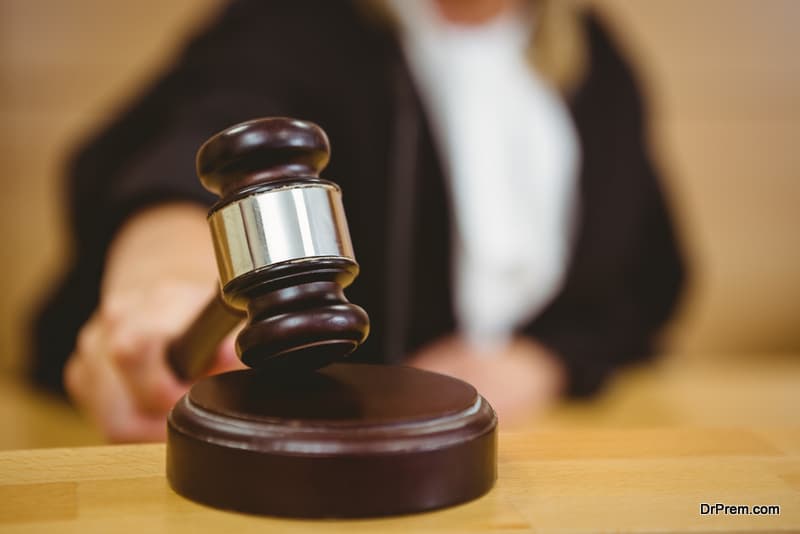 A kind distant relative, Archbishop AntonioLedesma came to their rescue. He not only paid for their hospital bills but also helped to drag the convicts to the court; the convicts were sentenced to prison.
Maricel still had to fight another battle, she had no hands. "I was totally dependent on my mother," she said as she recalled her struggling days. When she resumed her school, her classmates would tease her to tears. This went on for 4 years till Archbishop AntonioLedesma again lend his hand by arranging for Maricel's stay at The House with no steps, Australia's leading disability service providers. She eventually came in terms with her disability, learned to do the chores with it. She even learnt to write.
Even though at a point Maricel had almost given up, she did not lose hope. She survived the tough times because she had faith that things will become better. With the support of her parents and the kind distant relative, she saw a ray of hope and starter walking towards it.
In 2008, she graduated from Lourdes College in Hotel and Restaurant Management. "I have reallyenjoyed cooking since I was seven years old," said Maricel who performed really well despite being the only disabled student in the course. She did not shy away because of her disability; instead she took part in competitions like cake decorating.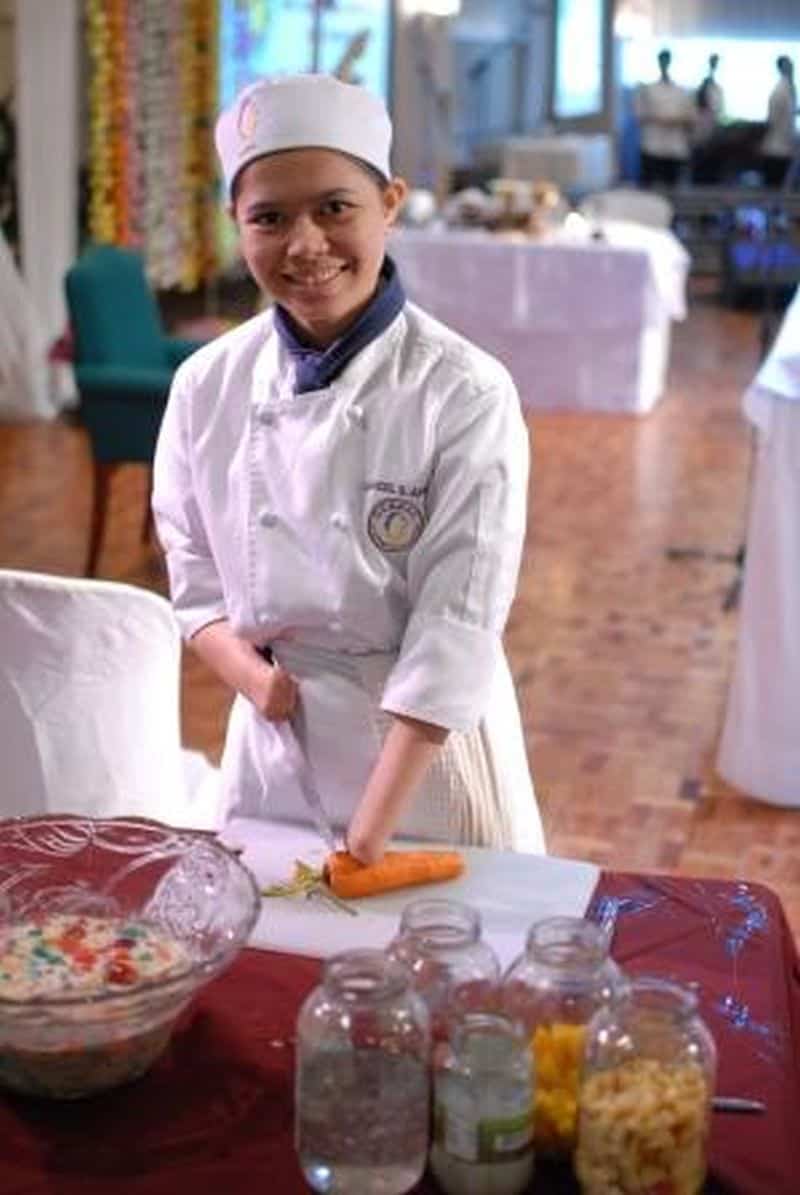 Image Source : irp-cdn.multiscreensite.com/
This young woman has even won a gold medal for Arts and crafts.
She had made a career choice of becoming a chef, keeping in mind her keen liking for cooking. She completed her education of culinary arts/baking and pastry from 2010 -2012, at the Global Culinary and Hospitality Academy.
It's very common for disabled people to gain attention in different ways, even Maricel did but she did not shy away from it. She wanted people with disabilities to believe that it is possible to live a normal life for them as well.
"Trusting in God, I became more determined to strive to have a normal life. I believed I had an important mission in life because I survived the attack," one of her missions being, inspiring others, which she definitely could. Ronelyn Calumpiano, a 21 year old boy who had Cerebral palsy watched on TV once and saw the amount of confidence she had in her. This made him take admission in the House with no steps with a career plan IT already in mind.
She got hired by Edsa Shangri-La Hotel when they saw her on TV, for their hotel's Care For People project.
Maricel's parents are now taking care of the family farm in Mindanao and her three siblings live in Manila; Maricel pays the rent for their apartment.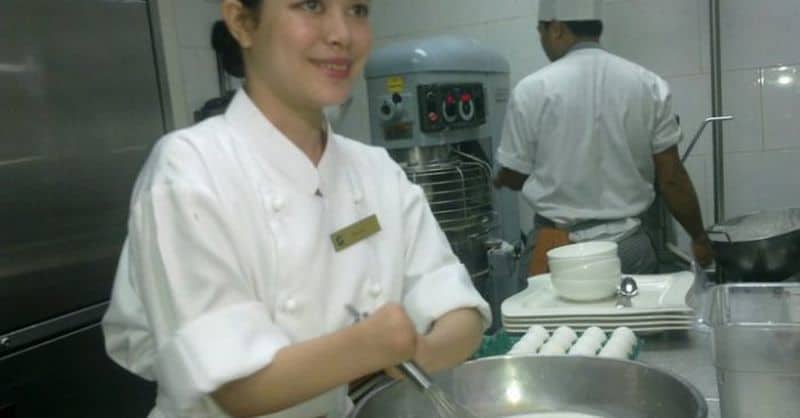 Image Source : mb.dkn.tv
Maricel tightly holds the knife between her waist and her wrist to cut vegetables. One of her fellow chefs, Aljamil Borja said "She asks for assistance only if she needs to move a hot kettle or large saucepan from the stove, or open slippery bottle caps."
It's extremely inspiring to know Maricel's story. Hands being a very important part in every small thing we do, it is evidently difficult to survive without them. But instead of blaming God for taking away her hands, Marciel chose to learn various ways to work brilliantly even while not having them and also fought the internal struggle very persistently. She is a perfect example of faith and endurance.