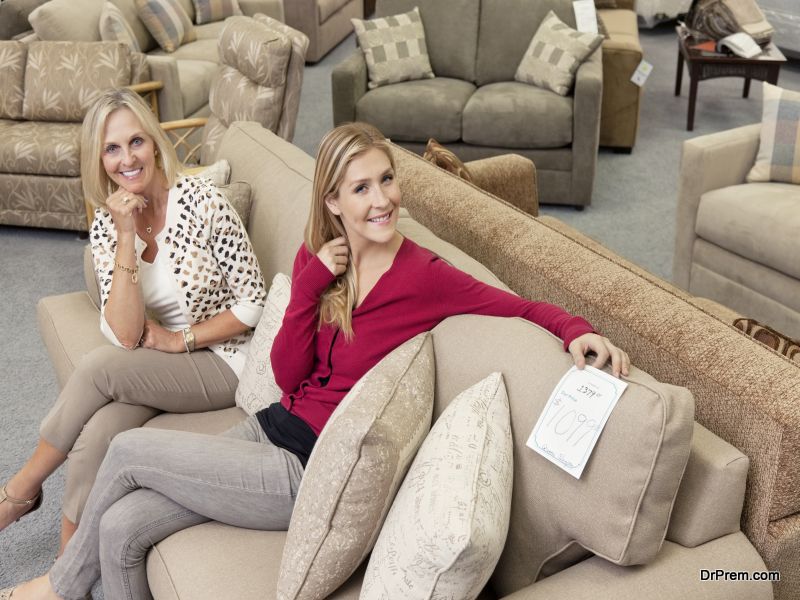 Eco-friendly furniture items are made with environment friendly materials and contain no harmful chemicals, toxic metals or emission causing compounds. But all furniture proclaimed to be eco-friendly may not have the desired benchmark of environment friendliness. Here, you need to be a little cautious while investing your money. Check out for the following if you are looking for home décor pieces which are eco-friendly in the truest sense.
Choose heirloom furniture:
Undoubtedly, these top the list in terms of durability and sustainability. If you inherit some out of sheer luck or come across one or two such pieces in selected showrooms, do not hesitate to bring them home. These pieces may not be trendy and sometimes may come with a high price tag. But considering the objective of environment friendliness, these are one of the best choices.
Check the certification and content:
Imparting due importance in consumer's awareness, many reputed sellers are getting their products duly certified from the concerned authority while declaring these as eco-friendly. Trendy furniture pieces like cushioned sofas, chairs and beds made of varied quality of foams or leathers are now carrying the labels of due certifications implying their environment friendliness.
Specifications of contents, like the usage of recycled materials or approved plastics and polyesters are labeled on the furniture ensuring the permissible usage of such contents which are considered to be eco-friendly.
Buy second hand furniture pieces:
Considering the immense future benefits of re-using furniture pieces, you need to come out of the mindset to 'always get 1st hand things'. Buying used furniture means that you are not consuming additional natural resources to satisfy your requirement.
You are preventing another cycle of landfill and are helping in maintaining greener community environment. Most importantly, buying used furniture puts less strain on your pocket. Now-a-days, retail shops are doing great business selling second hand furniture pieces that often come in mind boggling designs as per the trend.
Opt for sustainable wood furniture:
If you have a fascination for wood décor pieces for your home, always opt for those made from sustainable wood which is duly certified. These are long lasting and enhance the resale value. You gain both in terms of health and investment. Sustainable wood is specially harvested from certified tree farms and are not the byproducts of relentless deforestation that is causing severe environmental destruction.
Stress more on needs and less on wants:
Too many are always not too good neither for your pocket or health. Choose the minimal size of the furniture that would absolutely fit your requirement. Decorate the indoors with those pieces only that would be of regular use. Mere addition of unnecessary furniture pieces does not always enhance the interior décor.
Select furniture made of recyclable materials: 
Using this type of furniture has a big advantage asthese help keeping items out of landfills. The materials used to build these furniture pieces can be recycled for further use in different purposes without causing any harm to the environment.
Use bamboo products:
Furniture made from bamboo gives a different look to your home. Bamboo is widely available and grows fast. Especially the dining tables and chairs, relaxing chairs and small center tables made from bamboo add aesthetic value in interior decoration. These may need not-too-frequent periodic maintenance but are reasonably long lasting giving the due return on your investment. But you should check the adhesive used for fixing the parts that may contain some toxic chemicals.
Look for furniture containing organic products:
Elegant looking trendy sofas are very attractive for modern day buyers as these pieces are good enough to elevate the owner's status. But the seats and cushions and often the covers consume huge quantities of cotton and synthetic materials which do not fall within the permissible range of 'eco-friendly'. Check whether these contain organically grown cotton that lessens the environmental damage.
Educate yourself:
This should be the first step that you need to think of seriously before setting out to buy eco-friendly furniture.  Gather a thorough knowledge of green materials and due certifications and their future implications before selecting the right piece for your home. Checking the authenticity of declarations made by the seller is important before handing out the money.
Buying eco-friendly furniture is a good move towards maintaining a sustainable environment but you should check few things while buying such pieces to make sure of its eco-friendliness.