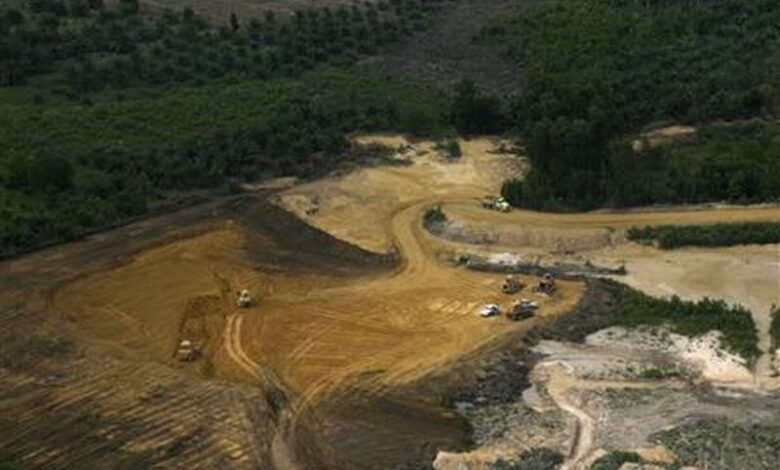 Indonesia is home to 60 percent of the world's threatened peatlands, but its marshes are being destroyed at an unprecedented pace because of massive conversion into pulp wood and palm oil plantations to feed global demand for biofuel. Now it hopes to push carbon-credits for peatlands conservation.
Peatlands constitute one of the largest carbon stores on earth and play a significant role in the regulation of greenhouse gas emissions and global climate change. Peat is created by dead plant matter compressed over time in wet conditions preventing decay. Peat can hold about 30 times as much carbon as in forests above ground. The world's peatlands are estimated to contain 2 trillion tonnes of sequestered carbon.
Peat can burn under low moisture conditions. Once ignited by the presence of a heat source (e.g. a wildfire penetrating the subsurface), it smoulders. These smouldering fires can burn undetected for very long periods of time (months, years and even centuries) propagating in a creeping fashion through the underground peat layer.
Indonesia has also lost a huge chunk of peat under a project to convert about 1 million hectares of peat swamp forests into rice fields in the mid 90s, dubbed the Mega Rice Project. The project was a total waste since the acidic soil found underneath was unsuitable for rice farming.
Now, as the world battles global warming, Indonesia's peatlands are being seen as a hot speculation venture, as keeping its vast peatlands intact could be a huge opportunity for companies seeking to trade off business-related carbon emissions for emissions reductions achieved elsewhere.

Wahjudi Wardojo, director general for forestry research at Indonesia's Forestry Ministry is quoted to have said:
In order for Indonesia to properly preserve its peatlands, the world has to provide incentives, because we know that peat absorbs carbon more than anything else in the world,
We think the current scheme has to be reviewed. The carbon market should be allowed to finance restoration of degraded land and reforestation of any kind, because there should be incentives for any effort to reduce carbon emission.
Peatlands are home to many rare and specialised organisms that are found nowhere else. Destroying them would mean not only destroying wildlife habitats, but also the natural barriers in case of environmental disasters such as tsunamis and further giving an impetus to global warming. This fragile ecosystem needs much protection.

Source: Reuters