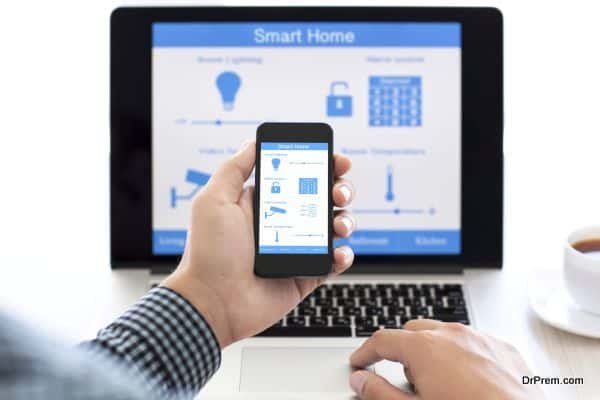 Home automation industry started off as something that helps turning dumb homes into smarter homes. However, it was only later that its eco-friendly agenda got the required recognition and support. Initially home automation used to be an exclusive thing because it was expensive. Today technological advancement has brought a reduction in the cost of many home automation systems but there is one more thing that has made it so popular amongst people, i.e. its green benefits.
Even if some installations cost you much initially, in the long run they benefit you a lot. They bring down energy consumption at your home, and eliminate energy waste, thus, saving you money and making your home a green place. Following are the ways how you can minimize your carbon footprint with home automation:
Invest on dimmable lights
You think you have done your bit by installing CLF and LED lights at your home because they are energy efficient. However, you can further enhance their energy efficiency by dimming them. Keep them bright when you actually require bright light, and the other times dim them to save electricity.
Set timer in the outside lights
Many people forget to pay attention on the outside lights, such as the patio, porch, or garden lights. They switch on early in the evening and continue illuminating unnecessarily till late in the morning. Sheer wastage it is, and you can easily stop this sort of wastage taking place at your home with a simple step. Install smart lights that are energy efficient, and that have a timer installed in them. Set both the morning and evening timings, so that no electricity wastage takes place.
Indoor lighting
Many people rarely pay any attention to electricity wastage at home, as they fail to realize its impact not only on them but the environment as well. Sitting in one room with all lights on, then moving to another without turning off the lights, cooling and heating appliances, and televisions. Kindly stop this kind of reckless behaviour and behave like civilized people do.
You can install smart motion sensors in your home that detect motion and accordingly switch on or off the lights and other electrical appliances. If the sensors do not detect any sort of movement or presence in the room, they turn off the lights and other appliances, saving electricity that is precious.
Remote access enhances the green factor
Home automation systems enable its users remote access, which means they can view their home well and get to know of every small happening in and around their house. Suppose you leave for office and after reaching you realize that you have left the patio light on, or the thermostat on. Office is far away from your home so you cannot come back, and there is no other feasible alternative you can rely upon.
Now what do you do, wait for evening, you get back home and then turn off the appliance. This power wastage would not have happened if yours were a smart home. A smart home ensures no power wastage takes place because in such a case, you can give command to the lights or the thermostat top switch off through your Smartphone even if you are miles away.
Showers and flush
Smart showers and flush systems are designed to save water. They just do not allow unnecessary water wastage as they keep reminding the users that they are exceeding the normal limit and they must stop flowing water. Some systems even stop supplying water is the user does not stop it even after the warning signals.
Minimizing carbon footprint is the need of the hour and we all must understand our individual responsibilities. Home automation systems enable their users to do their own bit to conserve energy and indulge in environmentally friendly behaviour.