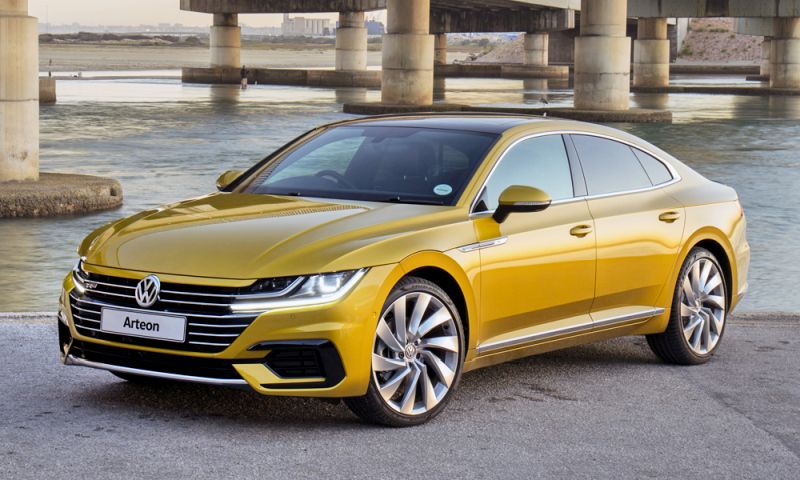 Sports utility vehicles and pickup trucks account for maximum share in auto market sales. SUVs are hot-blooded and powerful while pickup trucks is stylish and rugged. Sedans and coupes are also coming up with new designs and features. What about the luxury car segment? Fewer people are able to afford a true luxury car but it has the real life. We see the front of top magazines, famous celebrity posing, walls from a youngster's room and it is simple to guess that everybody is fascinated by them. Sales figures are low but still, there are plenty of them.
In 2019, we are going to see some redesigned version of already famous sedans, SUVs worth waiting for and many debut models. Here is a list of the best luxury cars to buy in 2019 that are coming way.
Audi A6

Image Source : audimediacenter-a.akamaihd.net
Audi will release a redesigned version of the mid-sized luxury sedan, A6 in 2019. The car will have a 3.0-liter V6 engine to produce 340 horsepower and a maximum torque of 369 lb.-ft. This engine has an alternate belt dependent starter and a Li-ion battery to gain charge from regenerated braking. Audi's Quatrro all-wheel system drives it by taking engine's power from a 7-speed S-Tronic automated manual transmission. It features suspension damping system and progressive steering to provide comfort and superior handling.Wider and longer than the current version, it will have a reworked cabin with new seats and more space. Entertainment and other functions are controlled by dual smartphone like displays replacing the traditional console. This display will be completely customizable and will also accept voice commands.
Price : $58,900 (42,69,072 INR)

Bentley Continental GT

Image Source : bentleymotors.com
The sporty coupe from Bentley will come completely redesigned from front to rear. Powered by 6.0-liter 626 hp W12 engine and 8-speed automatic transmission, the sports vehicle races to 60 mph (96 km/h) within 3.6 seconds. Electronic suspension is included for an easy and comfortable drive. Leather seats and handcrafted wooden interiors give it a rich interior. Apart from these amazing basic features, there are a number of customization that a user can dream of.
Price : $214,600 (1,55,54,208 INR)

Lamborghini Urus

Image Source : lamborghini.com
The Italian brand is all set to join the crossover craze. Urus has a 4.0L twin-turbo V8 engine, 8-speed automatic gearbox and all-wheel drive system. With these powerful mechanics, the four-seater can produce 641 horsepower, 627 lb-ft of torque and can reach 0 to 60 mph in a flying 3.5 seconds.
The stylish vehicle has all the bits and bytes to succeed in the competitive market of luxury cars. This refined and powerful car has a high estimated price but that's fine, everyone needs the raging bull badge.
Estimated price: $200, 00 (1,44,96,000 INR)

BMW 8 series

Image Source : pictures.topspeed.com
Initially introduced in the 90s, BMW is going to relaunch the 8 series with a 4.4-liter turbocharged engine capable to produce 523 horsepower and torque of 553 lb.-ft. Refereed as M850i x drive, it has 8-speed automatic transmission powered by the all-wheel-drive system. M850i has 20-inch standard wheels combined with an electronically controlled rear and front suspension. Various drive modes are available including Economy Pro, Comfort Sport and Sport + in order to offer extra efficiency.
Inside the cabin, it has dual display – 12.3 inches and10.25 inches that is used for entertainment and car control respectively. New leather seats give it an elegant look while Harman Kardon stereo system working with 16 speakers makes it ideal for music lovers. Bowers & Wilkins audio system is available as an optional upgrade. Leather covered steering wheel with multiple controls, and shift paddles are other useful features.
There are many other attributes to count, few considerable ones are 360-degree image view, cruise control and parking assist are the others. It has a safety feature that can warn you if any cyclist or pedestrian comes to the point of collision.
Price : $112,895 (81,82,629 INR) including $995 (72, 117 INR) destination charges
Volkswagen Arteon

Image Source : carmag.co.za
The four-door coupe looks more like a sports vehicle. Arteon boasts four-cylinder turbocharged 2-liter engine and 8-speed automatic transmission to raise a power of 268 hp. Long wheelbase, cruise control, spacious interior, and four-wheel drive are the other considerable features. It has standard safety features and an optional hands-free trunk release.
Estimated Price: $35, 000 (25,36,800 INR)

6. Lincoln Nautilus

Image Source : cmsimages-alt.kbb.com
One of the best luxury cars coming out in 2019, the all new Nautilus carries a 2.7 liter twin-turbocharged V6 engine that delivers 335-horsepower and a torque of 380 lb-ft. Its remarkable fuel economy gives it a mileage of 25 mg (10 km/l). The 8-speed transmission creates an effortless sensation while you shift gears.
List of amenities is long, few of them includes adjustable seats with lumbar massage, adaptive steering, Android integration, and Apple CarPlay.
Price : $40,340 (29,23,843 INR)
Genesis G70

Image Source : cdn.motor1.com
First compact sedan from the new luxury car manufacturers, the B70 comes with two different engines depending upon the variant. First, 2.0 liter 4 cylinder engine producing 252 hp and a torque of 260 lb.-ft and the second optional, 3.3-liter twin-turbocharged engine to generate a power of 365 hp and maximum torque of 376 lb.-ft. Driving the rear wheel, 8 speed transmission and 6-speed gearbox is a part of both the engines.The standard model of the luxury machine comes with an 8-inch display for audio/video and other controls. G 70 has assistive safety features including Automatic emergency braking (AEB), Lane Keeping Assist System (LKAS), a warning system for pedestrians and many more. You can optionally upgrade to a robust Brembo braking system.
Estimated price: Around $ 35, 0008.

Aston Martin DBS Superleggera

Image Source : fm.cnbc.comDBS
Superleggera is the undoubted king of the luxury car. Easily the most stunning coup from Aston Martin, the Superleggera comes fitted with lightweight but strong carbon fiber exterior. A 5.2 liter twin-turbocharged V12 engine gives 512 hp and brings the powerful Superleggera to 62 mph (99 km/h) in a quick 3.4 seconds. Embraced with massive 21 inches wheels and 8-speed automatic transmission, it delivers handling that none another car can think of.
Price: $304,995 (2,21,06,037 INR)