Thinking of hitting the beach this summer? Then, here is a wonderful way to do that in the 'greenest' way possible. Here are 7 of the best eco-friendly swimwear options you can choose to wear to the beach. In addition to making a splash at the beach with these vibrant designs, you can spread the message of 'eco-friendliness' to those around you, urging them to follow suit.
Koru Swimwear 
Talk about eco-friendly swimwear and the first name that pops up in your mind is Koru Swimwear. This eco-friendly brand has dedicated itself to creating swimwear using eco-friendly fabrics as well as environmentally responsible manufacturing processes. If you think that eco-friendly swimsuits won't look good, think again. Koru Swimwear ensures that it produces suits that are both eco-friendly and trendy, thus appealing to women who value fashion, function and quality along with environmental responsibility. The brand also ensures that it follows eco-friendly practices in its packaging. While the hangtags are recycled, the bags that carry the swimsuit are made of organic cotton. Koru Swimwear also specializes in making clothes out of eco-friendly hemp linen and organic cotton.

Jungle Gurl 
Jungle Gurl is another y swim wear brand that creates super stylish swim wear that is also eco-friendly. The brand is owned and run by former model Natalie Golonka, and is a hit with celeb fashionistas like Rihanna. The bathing suits from Jungle Gurl are made of recycled, vintage fabrics collected during Golonka's travels around the world. These fabrics are then reworked to form one –of- a -kind bikini bottoms and tops that are extremely unique, stylish and not to forget mentioning, eco-friendly.
Vitamin A 
This fashion brand has launched a new line of swimwear design called the EcoLux which features swimsuits made locally in California. The suits are made of fabric that contains superfine matter jersey. The fabric itself contains Repreve recycle nylon fabric as well as LYCRA XTRA LIFE fiber. Both of these materials help to conserve resources as well as extend the life of the suits beyond standard swimwear. The company also makes use of another sustainable fabric called tencel, while the factories in which the swimwear is produced use less energy and water.

Odina Surf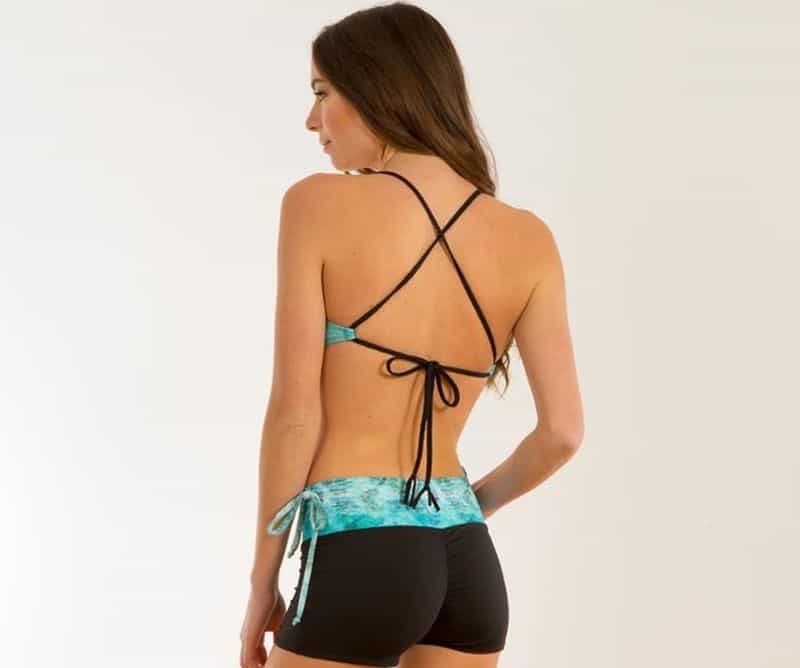 This swimwear brand has carved a name for itself by creating swimwear that is highly functional, fashionable and sustainable. Launched in 2010, Odina Surf took the suggestions of surfers while designing its swimwear line in order to enhance functionality while not compromising on the style or eco-friendly quotients. While the swimwear created by the brand uses recycled organic cotton and nylon fabrics, the company's website is hosted by a server that is 100% wind powered.

Aqua Green
Aqua Green is another swimwear brand that specializes in creating eco-friendly swimsuits. The brand's Eco Swim line uses locally sourced materials for its recyclable swimsuits. These classy, feminine swimsuits are definitely as eye catching as they are eco-friendly. Aqua Green is also an active member of a nonprofit organization called Oceanic Society that is dedicated to protecting marine and wildlife habitats.
Curlee Bikini
Curlee Bikini launched its range of eco-friendly swimwear back in 2009. Crafted in Austin, Texas, the brand's EcoLUX Swimwear line features suits made of remnant organic materials and vintage fabrics. The brand is also widely known and acclaimed for its unique range of bespoke suits.
La Isla
This eco-friendly swimwear brand creates swimsuits out of certified organic cotton as well as natural soy based dyes. The suits are crafted by single mothers employed by the company in Colombia and California. La Isla also ensures that half the profits from this swimwear line goes to the Ocean Futures Society, an organization that aims to protect oceans as well as educate the younger generations about the importance of the same.

A lot of swimwear brands are coming up with eco-friendly swimsuits that are super stylish, functional and highly sustainable. So if you are looking out for an eco-friendly swimsuit this summer, check out these brands.