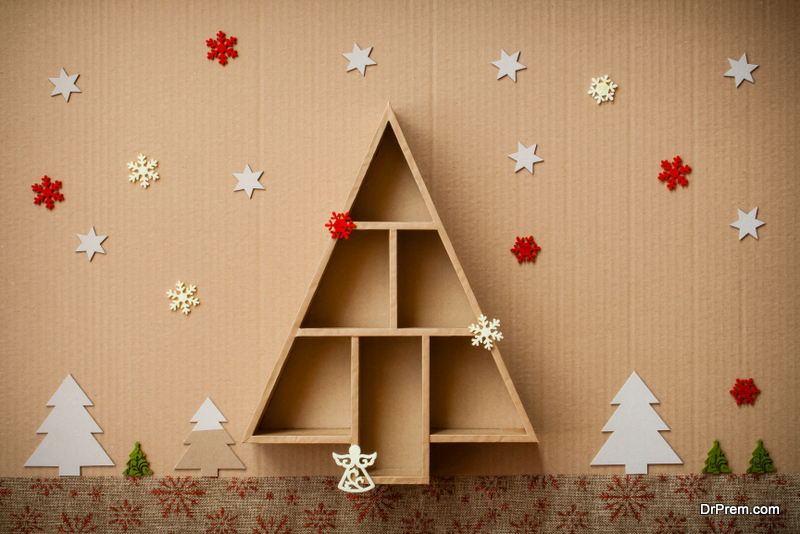 The festive season is about to commence with the Christmas time creeping closer. At this joyous time of the year however we cannot help but focus on the things such a degrading environment. A Christmas time is fairly associated with a Christmas tree. It is a mark of the happiness and fun associated with this time of the year. Yet this is also a harmful impact on the environment. One major issue is of course a rapid deforestation of the fir trees. These have a carbon footprint that is hard to remove. The upper portion of these trees too is chopped off to allow them the scope to grow in the living rooms. This too is not a sustainable option. So if you are looking for some eco friendly alternatives this article is here to help you in the process.
Some of the best eco friendly alternatives to Christmas tree


The ladder Christmas tree: Something as simple as a ladder can be turned into a makeshift Christmas tree. This can be easily done by using a ladder and having some painted plywood pieces neatly arranged. All the decorations and the presents can be carefully placed here and the others can be dangled. This Christmas tree will serve its purpose and can later be put into use yet again.


The Pallet Christmas tree: This we are sure never crossed your mind when you imagined your Christmas tree. But they can make the best Christmas tree and this eco friendly alternative can be the solution you are looking for. As for the gifts and all items of decoration, try hammering in some nails to the pallet and then you can simply hang things on them. How convenient indeed!


Recycled Laser cut cardboard Christmas tree: Not all houses are big enough to accommodate a giant sized Christmas tree. This however at just four feet is just the thing they have been looking for. Made of cardboard it also means one less tree felled and the convenience is worth the purchase. This artificial Christmas tree is such a look alike that with the right colors from a distance many wouldn't even know the difference. So go ahead and have a unique Christmas this year.


Christmas Tree from sticks: If you are a nature lover and this Christmas you are seeking a rustic natural look then this is the best among the eco friendly alternatives of a Christmas tree that you can lay your hands upon.  For this you just need to collect a number of sticks from the garden and tie them up nice and strong. Set up the lights and the decorations on them and you have your Christmas tree without having to go through all the trouble of having to purchase it.


Grow the tree yourself: If you are someone who is keen on celebrating green holidays then this suggestion will suit you the most. Instead of having to buy one at the onset of Christmas you can try and grow one yourself. This would mean that by the time it is Christmas you would have a Christmas tree that not only fits the bill but is also of the right size. It is also very eco friendly because you are not cutting it or clipping the top of the plant and instead celebrating the beauty of nature like it should be. So once the snow melts do these small jobs of planting the tree you want to use.


The Christmas tree from wine corks: The wine corks are indeed beautiful and people love making good use of them. A very important use of it could be to make a nice and innovative Christmas tree. This Christmas tree made of these corks will be not only an eco friendly option for you but will also be a nice decorated and attractive option to have this Christmas.


Christmas tree from Green bottles: We must warn you that this is not the easiest of Christmas trees to make. But surely apart from being a sustainable option it is also quite eco friendly. You need a few glass slabs on which the bottles would be neatly arranged in the shape of a tree. Such slabs will be then piled on top of each other for the height of the tree and you have it ready. Although an eco friendly alternative it however will not support as many gifts and decorative as you might want.


The Chalkboard as the Christmas tree: This is an idea that never goes wrong. All you need is a big black board with a Christmas tree drawn on it with a chalk. You can have some decorations and lights set on it. The best part of this decoration is that it will not only be effective in Christmas and you can change the diagram as per your needs. Surely among the more innovative ideas it is also one of the easiest and the most eco friendly.


The mobile Christmas tree: This too is not the easiest tree to put together and you would need quite a few tools at hand to get it done. But we must point out that once complete it will seem like it is worth all the efforts and would also come across to be an eco friendly alternative of a Christmas tree.


Ornament Mobile Alternative for Christmas tree: This will seem like suspended mobiles and would be provided with such ornaments which would suit it perfectly. As far as holiday decorations are concerned this clearly would be a showstopper with its glamorous decorations on display and the unique eco friendly idea on offer.

Final words
If green holidays are your idea of a perfect holiday then there is so much in this article for you to take a cue from. The ideas of putting up an artificial Christmas tree will keep the holiday spirit alive but in an eco friendly way. We hope these will be implemented and we will enjoy a green Christmas this year.