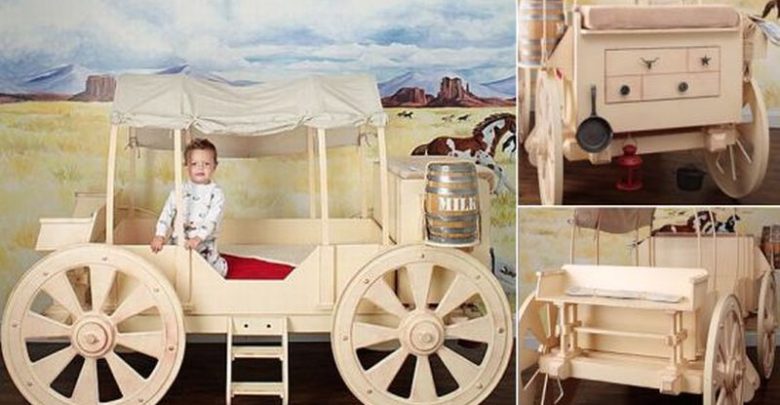 Unlike the conventional kid beds, these unique toddler beds give your kid's room the most customized look. These beds are preferred by kids for their playful features and attractive colors. Thus, together with the basic requirements like comfort and durability, these kid beds are aesthetically superior to their traditional counterparts. Thus, adding up to the décor of a room most perfectly.
Peppa Pig Toddler Bed
Peppa Pig Toddler Bed is great furniture to install in the kid's room. Pegga Pig, the major attraction of this kid bed is its soft baby blue color and colorful graphitti all over its surface. This bed is easy to assemble and comes with a built in shelf. So, your kid can stack in all the tit bits inside this bedside shelf without scattering them all over the house. The rounded corners of this bed ensure safety for your kids.
Buy at: playpennies.com/…
Cost: £63.50
Legare Frog Twin Bed
If you have been thinking of a bigger bed for accommodating your kid then have a look at Legare Frog Twin Bed. What will attract you the most about this bed is its unique headpiece. It features the face of a green colored frog with two bright and glaring eyes. The leg part of this bed features two padded legs of the frog. Functionally, the bed is a worth buy too due to its easy to assembly features and durability. Available in a dimension of 78" x 48" x 32 ", it is capable of withstanding a weight of 124 pounds. The use of durable wood with non toxic paint ensures that your kid will be totally safe.
Buy at: amazon.com/gp/product/B003B9CIJ8/ref=as_li_tf_tl/
Cost: $354.44
Floral Canopy Bed
This beautiful kid bed will be perfect for your little princess. The bed is decorated with six rose strands dangling all over it. The softness of this toddler bed has been retained by use of colors like pastel pink and light biscuit. The round shaped canopy on top gives a protective appeal to the bed. But, as your baby girl grows up you can always remove the canopy and transform the bed into a standalone piece. The flower pouch hanging from one side of the bed is meant for keeping your little princess's secrets safe. Made from soft birch wood it is extremely durable too.
Buy at: stylehive.com/bookmark/…
Cost: $249
Bed Finials
This innovative kid bed is perfect for adventure loving kids. The tent top of this bed is of special attraction among kids. This US made product looks after the safety of the toddler too. Hence it is equipped with features like raised head and foot board, steel compress in between wooden joints, safety rails, etc. Further, natural fabric has been used for the tent. This bed can be transformed into various styles like captain's bed, low bed, high loft, bunk bed, etc. which is sure to please any kid.
Buy at: artisticsensations.com/asp/…
Cost: $300
Thomas Friends Engine bed
This toddler bed will be a great gift for your baby boy. The aesthetic appeal of this bed is sure to enliven the gloomiest of a kid look. The foot board is characterized by the face of Thomas, the favorite cartoon character. The overall appearance of the bed resembles that of a steam engine. The functional part of the bed is quite impressive too. The built-in storage at the head part is meant for accommodating all the essential things your kid considers valuable.
Buy at: amazon.com/gp/product/B00022W6DA/…
Cost: $329.99
Moon Crib
Moon Crib is the best accessory for a fairy tale nursery. The crescent shaped crib is the brain child of the French designer Emilie of the boutique, Crème Anglaise and her carpenter husband Jocelyn Costis. The first Moon Crib was made from recycled wood. It meant exclusively for the offspring of this designer duo. But now it will be launched officially for the retail market.
Buy at: bambinogoodies.co.uk/the-moon-crib-by-creme-anglaise/
Cost: €990
Princess Toddler Bed with Canopy
This pretty bed is a great idea to enhance the décor of your baby girl's nursery. Made from non toxic plastic and metal frames and compress, this bed looks just like a doll's cot. The baby pink color adds further to this look. The decal of cartoon characters on the head piece and the sheer poly organza canopy with ribbon detailing make this unique toddler bed really impressive. Its height has been kept low so your little princess can crawl inside it easily. The side rails guarantee that your baby will never topple over while sleeping.
Buy at: http://www.wayfair.com/Delta-Childrens-Products-Disney-Princess-Toddler-Bed-with-Canopy-BB87081PS_999-DEL1272.html
Cost: $86.99
KidKraft Boat toddler bed
This stylish boat bed is yet another innovative toddler crib. The whole bed has been cast into a boat motif. The headpiece apparently looks like the back rest of a canopy with two side railings. But functionally they serve to ensure protection of your sleeping kid. The protruding contour of the leg part resembles a real canopy from every angle. Wood is the primary material used for the bed so that durability is never compromised with.
Buy at: http://www.allmodern.com/KidKraft-Boat-Toddler-Bed-76251-KK1368.html
Cost: $214
Mammut
This simple toddler bed adds sophistication to a kid's room. Available in two colors, baby pink and surf blue, it is suitable for a girl as well as a boy. The soft birch wood exterior gives the bed its required endurance. The head frame is made from fiberboard. The acrylic, non toxic color ensures that it is hygienically safe for the kid.
Buy at: http://www.ikea.com/us/en/catalog/products/S99837492/
Cost: $159.99
Safari Toddler bed
The zebra stripes throughout the surface of this toddler bed are perfect for a Safari themed nursery. To make it more realistic the
bed has been deliberately kept 12 to 13 inches off the floor by virtue of its car wheels. The raised edges all over the crib look after the safety of the kid inside it. The durability part is handled by Baltic birch wood exteriors.
Buy at: http://www.toddlerbeds.com/toddler-beds/car-toddler-beds/safaritoddlerbed.cfm?TID=JKS006-1&source=gaffiliates&aid=k170781&affnam=SusanVillasLewis&kwid=Primary
Cost: $299