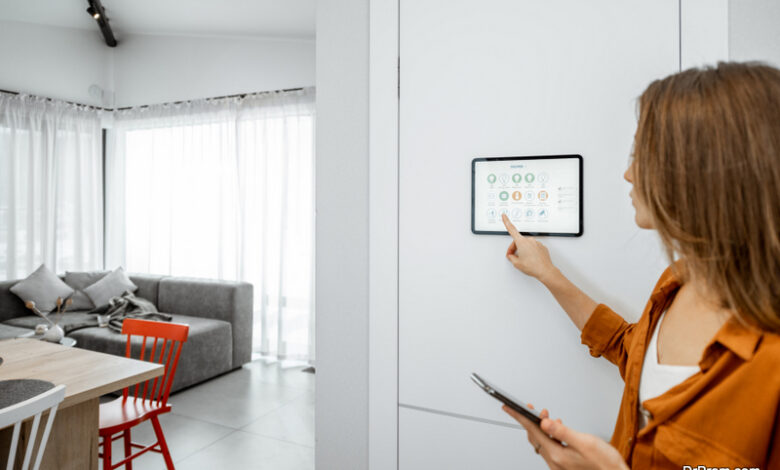 Automating homes is one thing almost everybody is going for these days, everybody wants to secure their homes from burglaries, and they want a system that can enable their home to do all those things on its own even without their being at home. Modern home automating systems allow us all to enjoy the comfort and convenience but there are also some risks associated with such systems that one needs to understand in detail.
Home automation systems do secure a home but they also give opportunities to hackers to hack the system and steal some personal information of the inhabitants, which they could use to commit a crime. However, if you know and do it all right then you can keep your home automating system far away from the reach of hackers. You must understand and consider the following things if you want to have a home automation system that is safe from hackers.
Understanding practical problems and threats while running your home through your phone
Home automation is catching on in a big way, as it allows you to have a control of so many happenings simply with some taps on your Smartphone. In a rush, you forgot to turn off the light in your drawing room, or you forgot to switch off the exhaust fan in the bathroom, no worries as you can switch them off by a single click on your phone. The list of comfort and convenience seems to be endless but some practical problems and threats associated with the home automation system that you run through your phone make it a bit problematic too.
Your Wi-Fi network is the easiest to hack
Some people think that they have given access to limited devices from their home router so they are safe well this is untrue, as you are supposed to be careful regarding the security settings of each device added to your network. If you do not do so, the device whose security setting you have not checked would be like an invitation for the hackers to have access over other devices and your home's personal information.
No guarantee of privacy
Hackers know it all; they know what gadget can be of help for them. For instance, the history of your log-out and login time in the smart lock at your door, or the vacation mode you put that thermostat installed in your home on, hackers can use all this personal information to their advantage.
Multiple apps are not easy to use
Some home automation systems require you to download multifarious apps on your Smartphone and having so many apps and managing them all is a task. They create a lot of inconvenience and confusion. Therefore, try to get systems that work on single apps and whose installation is wireless, as maintaining hardwired systems can get on your nerves at times.
Ways to protect yourself from home automation hackers
Secure your router with a code
Either many people do not give their router a password, or some forget to change the default password the router had come with. This makes it much easier for the hackers to do their job. Therefore, ensure you keep a code that is hard for the hackers to decode.
Choose a reputable brand
Make sure you install a home automation system that belongs to a big and a trustworthy name. You must enquire about your system's safety features.
Public Wi-Fi is not safe
Never use public Wi-Fi for the home automation devices, as they are easy to access by hackers also. Go for a secure network or a mobile data service that is safe.
Keep changing passwords
Your password should be strong and unpredictable, and you should keep changing it on a frequent basis.
Home automation devices add convenience and security to our lives but only if we use them with utmost awareness and carefulness.