Kitchen is one of the most important parts of your house where you have to toil every day to make healthy meals for your family. To lower your stress levels regarding meals and help you in all sorts of kitchen chores Electrolux has designed some unique and brilliant kitchen concepts. In the following, five of the best kitchen concepts developed by electronic experts and tech gurus are discussed.
Electrolux Table and Wall Kitchen:
For small apartments and spaces, Electrolux has designed the Rendezvous cooking table and Volare cooking appliance. Volare can be fixed on the wall very easily and the Rendezvous can be used for serving meals and entertaining your guests. The table is also a cooktop, which lets you prepare meals quickly. The Rendezvous comes with electronic sensors and guesses all your cooking needs perfectly. There are modular storage unit in the lower portion where you can store your cooking utensils and even the refrigerator. The virtual cooking guide will help you in every step. The customizable Volare can look like a costly modern art. It has an induction stove, which you can fold when not in use, and kitchen necessities like ice dispenser and tea/coffee unit.
Electrolux Kitchen 2099: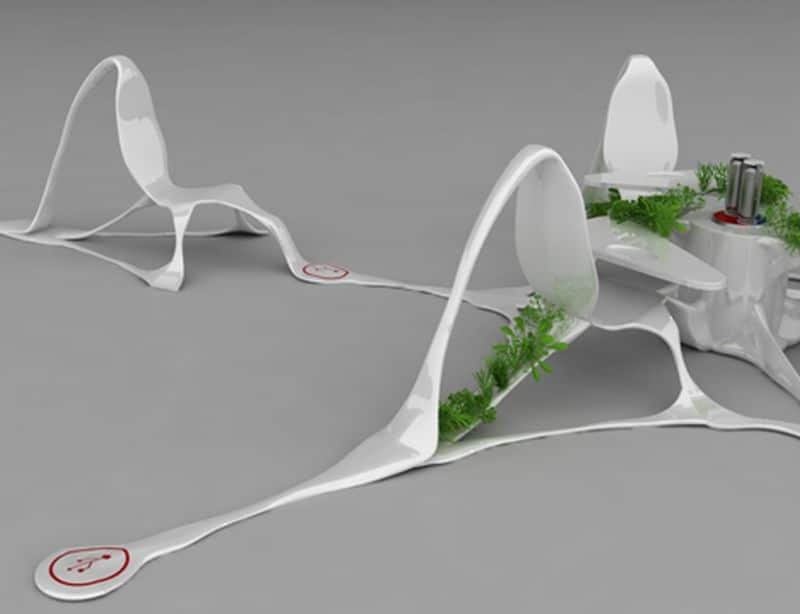 This is a futuristic kitchen concept from Electrolux that makes use of Claytronic atoms. The atoms are actually made of nano-robots or very small silicium spheres. It looks like a cube when you purchase it and can be installed easily if you follow the displayed instructions. Later on, you can anytime change the shape of the cooking unit. It is capable of cleaning and cooking without any help from you.
Electrolux e-Tree Kitchen Concept:
Saving space has become a necessity. Suzana Copa has designed the unique e-Tree Kitchen concept for Electrolux keeping this in mind. This tree like structure has a cooking area in comprising of induction cooking-plate at one of the lower levels and uses small spaces very nicely. At the top, there are plants for providing fresh air and there is a garbage bin, which turns kitchen waster into plant fertilizer, at the bottom. There are also oven and refrigerator integrated into the structure.
Electrolux Heart of the Home Kitchen Concept:
This amazing kitchen concept provides a table like interactive surface to you. With the Heart of home, you will not have to use any pots or pans. Just put your cooking ingredients on top of the surface and then check out recipes you can use. If you mark a portion of the surface for cooking, it will deepen and turn into a movable pan.
Electrolux Mini Kitchen:
This one is a great kitchen concept for couples and singles. It has a cooking mat that is actually made of silicon and comes with specified areas for frying, boiling and heating. The black box also cooks meals. It also contains a refrigerator that cools water, makes ice-cubes, and even keeps semi-cooked meals fresh. The touchscreen user interface lets you interact and find recipes while you cook.
Summary:
The Electrolux kitchen concepts, if being produced, can sort out all your cooking problems and make life easier. Each of them has been designed keeping contemporary needs of users in mind.