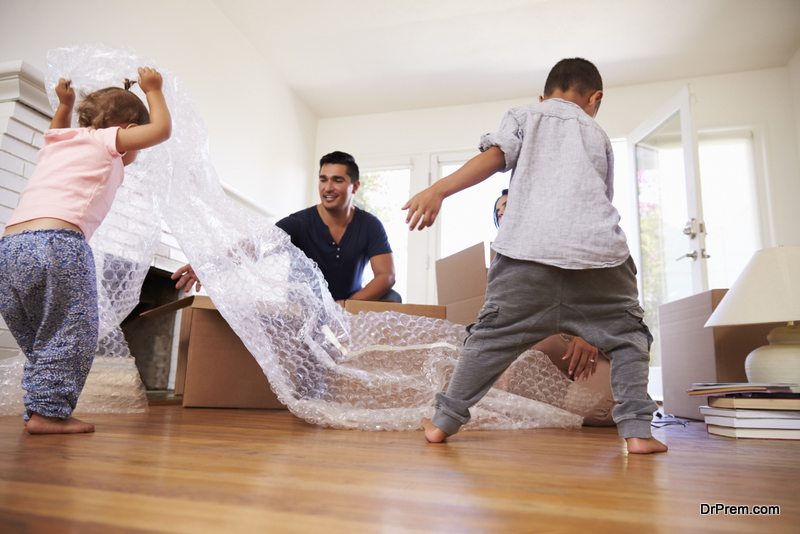 Popping bubble wrap is so tempting to kids (and adults)! It's invariably used when you're moving or if you want to protect a valuable item. It's a welcome distraction for kids as they can keep popping for hours. Bubble wrap can be used to create some fun crafts for your little kids. It's very entertaining and safe as well. Your whole family can participate making it a great way to spend time together. Check out these awesome bubble wrap art projects which you can do with your kids:
Snake plate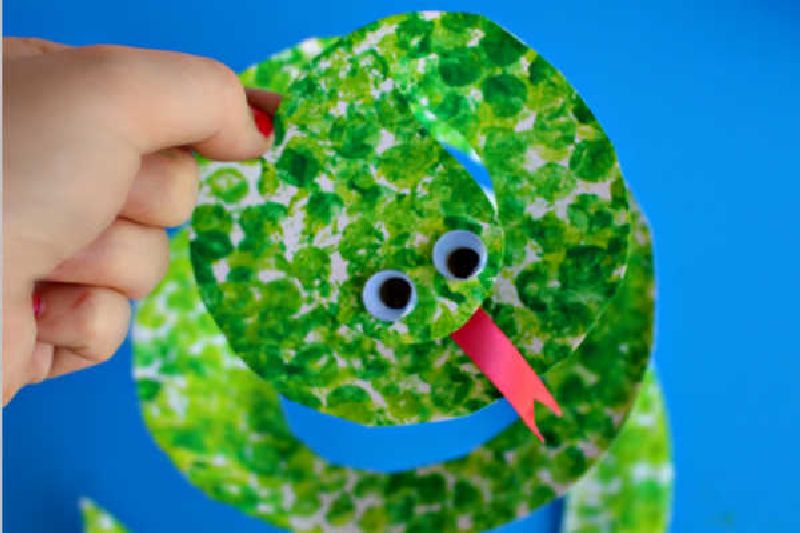 Make some snake plates with bubble wrap. These plates look adorable and will keep your kids busy for an entire afternoon. Scissors, ribbon, googly eyes, glue, and rolling pin are the things you'll need to cut out, color and stick the bubble snake on the plate.
Shaun the sheep
This funny and intelligent sheep is the favorite cartoon character of most kids. They would love to create their own sheep character, with your help, of course. All you have to do is draw the sheep outline on bubble wrap and color it in the easily identifiable colors. Your kids can play with their very own Shaun the whole time.
Fingerprint bees
Make a bee painting with cutting out and coloring a bee shape. Then get your little ones to paint their fingers and print it on the piece of paper. A beautiful bee painting is ready to be displayed in your kid's bedroom.
Bubble wrap painting
This simple but fun activity involves painting a piece of bubble paper with different colored paints. You can draw the outline and let the kids choose the colors to make a colorful painting you can frame. It can also double as a unique gift wrap.
Runway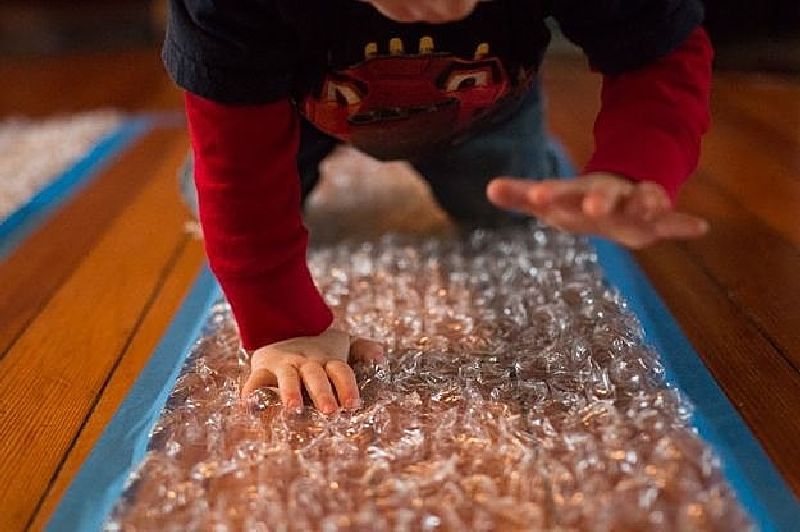 If you've just moved, you will be having huge quantities of the stuff. Don't throw it out, but make an exciting bubble runway for your toddler. He/she can use it to race cars, have a fashion show or just mess around with it!
Travel game
To keep young kids occupied during car journeys is a challenge for parents. Travel games can keep your kids entertained and happy, and you'd saved from a cranky back seat. Bubble wrap games, even just letting them pop the bubbles can keep them from being bored and make your journey as enjoyable as it can be.
Bubble wrap ornament
Print bubble wrap over Salt Dough pieces. It is a fabulous craft, which is extremely easy and looks great too. The texture would be completely transformed into something unique and original. One simple step makes a lot of difference to designing a wonderful ornament. 
Bug
With googly eyes, some bottle cleaners for legs, and by rolling a piece of bubble paper and gluing it, you can make the body. This bug will fascinate your kids and they'd love to show it off to their friends.
Tree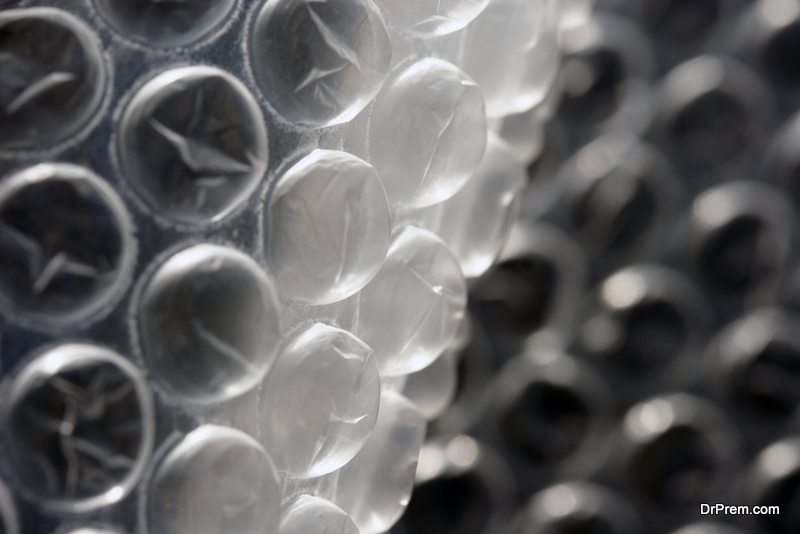 You can make a tree shape from the very versatile bubble wrap. It's an easy shape for children and they can draw, color the tree shape green and brown easily on the wrap. You can cut it out and paste it on paper, or just stick it on the fridge.
Stamps
Kids love stamps and with bubble wrap you can make a lot of stamps. You can keep them busy with painting motifs of their choice, and then have fun stamping on paper. Have to keep an eye on them while stamping so that you don't have stamped walls too! 
Flower
Do you enjoy making pretty flowers with bubble wrap? You can make many different flowers of different colors with green leaves and shapes. This is another simple shape that kids can manage on their own.
Jellyfish and fishes
Make this amazing jellyfish and fishes with bubble wrap. Paint many fishes and color the background in blue and turquoise to create a beautiful seascape. 
Snowman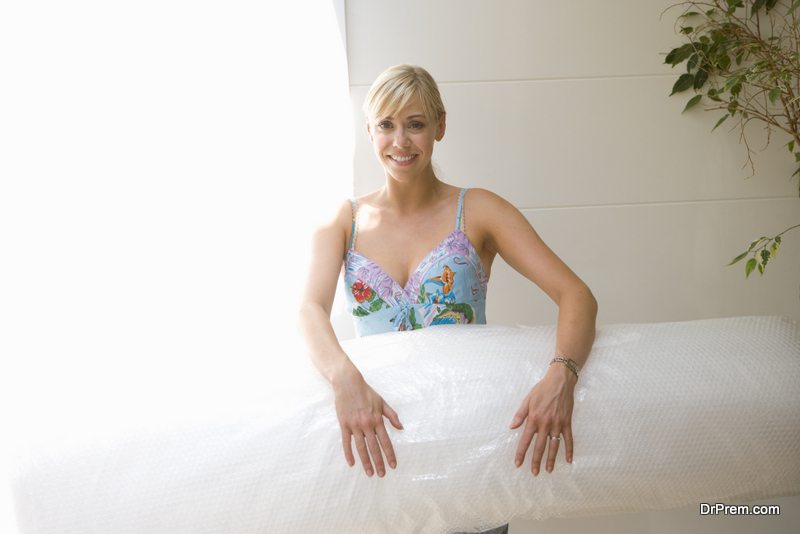 The snowman is a favourite of little children. When it's snowing outside and you can't go out, make a snowman with your toddlers – they will be sure to love their very own snowman out of bubble wrap.
Use your imagination and encourage your children also to think of new games, shapes and other activities using bubble wrap. A simple bubble wrap can give you hours of fun, teach little kids colors and shapes and inspire them to be creative.