Khajuraho: International Love and Art History: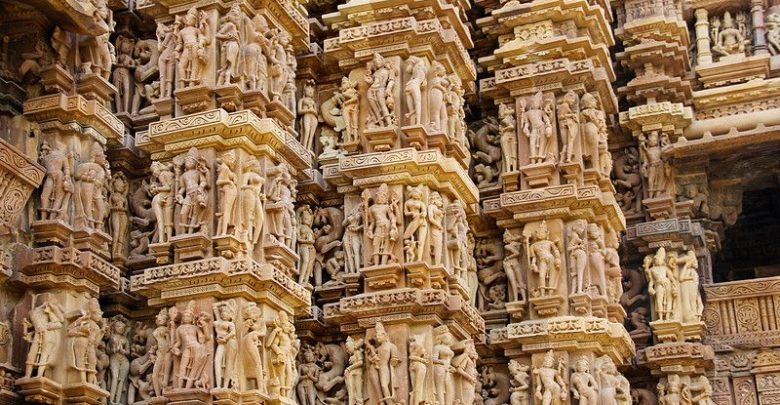 Khajuraho, located  in present Chattarpur district of  Madhya Pradesh has gained international fame for depicting art that flourished during Hindu and Jain periods in ancient India under the patronage of Chandela kings of the Bundelkhand. The art is featured in exquisite temples and carvings of human and animal figures on temples and monuments. A specialized collection of art and architecture has made Khajuraho come under the international limelight, and it had rightly been declared as a World Heritage site by UNESCO.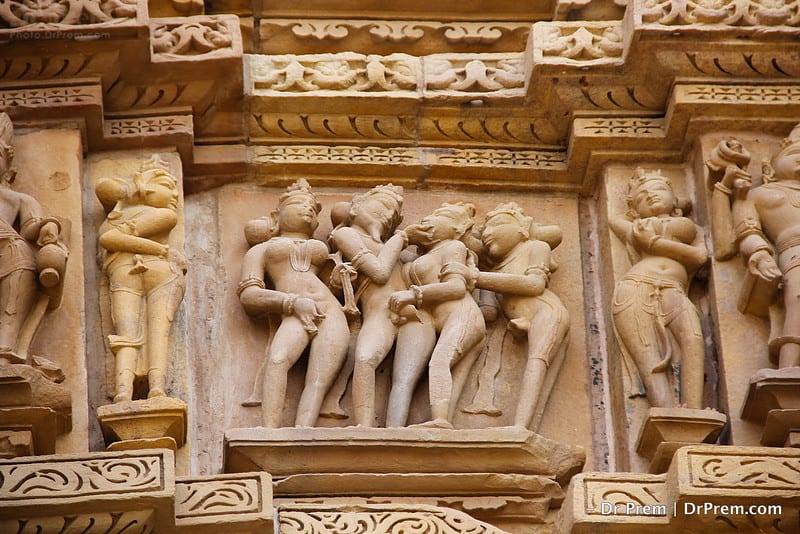 The theme of Khajuraho art is centered on erotica. In ancient India, the society had put immense emphasis on sex. It was not at all looked upon an act of profanity or an obscene interaction between two or more human beings which would invite a taboo. Rather, sex was glamorized and immortalized on rocks excavated from local quarries. Sex and its various aspects, its physical and emotional impact on the humans performing it in pairs or in groups were seriously explored.
Granite and sandstone were often the basic raw materials on which the gifted sculptors worked with chisel until their dreams and visions were immortalized on stone. Even animals found a respectable place in Khajuraho art ceremoniously displaying intimate sexual acts carved on rocks beautifully. The animals were often spectators to an act of sex between humans. The expressions in their eyes are very suggestive indicating a right mix of mirth and curiosity watching human beings in the most intimate pleasure seeking action. Sometimes the animal statues were made to participate in the act with human beings in a graceful collaboration where the carnal pleasure is shared between two or more living beings belonging to different species altogether. Here we find the existence of an unmistakable look of intense pleasure that is reflected from the animal's eyes. It is a big and blissful ritual where everyone one is allowed to participate and draw ecstasy. It tones the body, purifies mind and brings in all a sense of accomplishment and an overwhelming feel good sensation shared and enjoyed by all.
Exploring the erotic temple art of Khajuraho is a lifetime experience. Excellent photo opportunities exist ubiquitously across the site giving the travel photographers an insight into the quality of life led by the ancient citizens of Bundelkhand, their attitude towards sex and a serious attempt to immortalize them through carved idols. Their fine sense of artistry is another feature to be reckoned with reverence as well.
The enormous tourist attraction of Khajuraho is attributed to a couple of other factors as well. The background of the Vindhya Mountain range and its proximity to the Panna National park has enhanced its natural beauty with a generous dose of wild charm.
Medieval women in finery:
Source : Dr Prem's Travel Photography
The stone carving of the medieval Indian women in graceful attire indicates a strong sense of aesthetic beauty regarding dress code, jewelry, choice of flowers on hair increasing her desirability among men, and her general pose speaks highly of her social consciousness. Just a piece of rock and a magical touch by the sculptor's chisel has infused life in nature fetching loads of accolades from art critics even several hundred years after.
Kama sutra – the pleasure of multiple sex: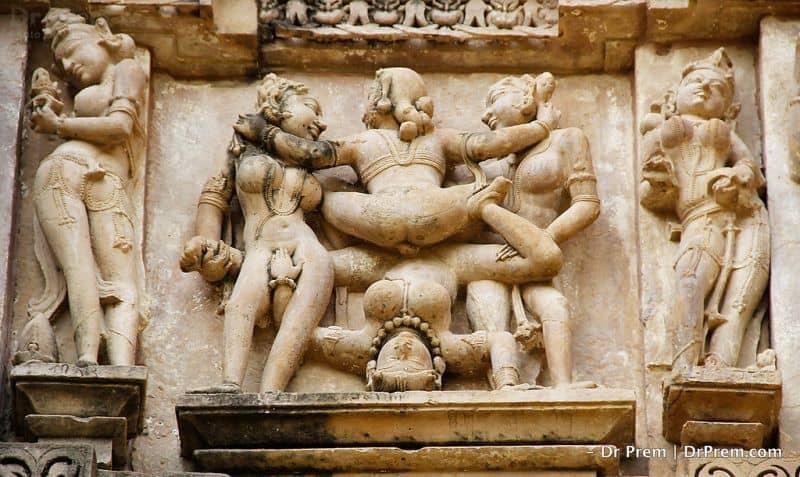 Erotic art during the Chandelas of Bundelkhand has attained the apex of glory. The stone sculptures engaged in paired or multiple sex acts have been so lively carved that it has received attention from globally acclaimed art critics. It is not only the artistic skill of the sculptor that has made these erotic statues immortal art pieces, it is the rich philosophy that goes with it as well.
Things to do in Khajuraho:
Source : Dr Prem's Travel Photography
Once you land up in Khajuraho, you will be amazed at its picturesque setting. The cluster of temples and architectural masterpieces surround you on all sides. There is enough space to explore around on foot. The entire plan of the site is well organized and very neatly distributed over a vast area carpeted in greenery. The distant Vindhya Mountain range acts as a fitting background to this amazing tourist destination.
There are lot many things to do in Khajuraho and a lot more explorations could be launched whether you are single or moving in a group.
1))You may well start the day with a bit of wellness therapy in a Keralite run Ayurvedic centre known as Ayur Aragyam. The centre offers complete health treatments and wellness therapies ensuring healthy and long living to everyone. The experience would be relaxing rejuvenating you with fresh energy.
2) An all India dance festival is organized in Khajuraho in the months of February and March when the spring season is in full bloom. Dances cover a wide range of principle recognized schools like Bharatnatyam, Kuchipudi, Kathakali, Odissi and Manipuri. Renowned dancers of national level participate in this festival, and the air is literally charged with intense mirth. You can well be a part of the audience with every beat and steps of the gifted dancers.
3) An exploration of the  Kandaria Mahadev temple in the western part of the complex will fill you with joy. This exquisitely designed temple dedicated to Lord Shiva is the most spectacular and the largest temple in the entire Khajuraho complex attracting tourists from India and abroad. This temple is also declared a UNESCO world heritage site.
4) Lakhsmana temple: Next you may proceed on to visiting the Lakhsmana temple located among the western group of Khajuraho temples dedicated to Lord Vishnu. This temple is known for its architectural splendor and is one of the most beautiful temples in the entire Khajuraho complex built by the Chandela kings of Bundelkhand.
5) Vamana temple: You should make it a point not to miss the Vamana temple. This temple is located in the eastern block of temples and is dedicated to the dwarfed incarnation of Lord Vishnu also known as the Vamana Avatar. The temple has an entrance porch, a vestibule and a Maha Mandapa (Grand Stage). The interior walls of the temples are sculpted with voluptuous figures of Apsaras or heavenly nymphs sharing carnal pleasures with Munis or mystic saints. The architecture of the temple is mind blowing.
6) If you are tired after visiting the above temples, you can relax under the cool shade of a tree as there is no dearth of greenery in Khajuraho. Next you move towards the Brahma temple, a great tourist attraction for its excellent architectural style. This is the oldest temple in the eastern group, which was constructed way back in 900 AD. The temple is built by the side of Khajuraho Lake.
7) Chitra Gupta temple: This is quite a masterpiece architecture worth exploring. Known for its architectural marvel, the temple is dedicated to Lord Surya or the Sun. It features an entrance porch, a sanctum, a vestibule and a Maha Mandapa. Inside this gorgeous temple stands the magnificent statue of Sun god riding a chariot drawn by a team of seven horses.
8)Dulhadev temple : Your trip to Khajuraho will be incomplete unless you visit the Dulhadev temple dedicated to Lord Shiva, which is the last temple built among the southern group of temples. Dulha Dev or Dulhadeo means Holy Bridegroom where Lord Shiva along with his wife Goddess Parvati is seen along with intricate carvings of Apsaras spread over the temple ceiling. Located on the banks of Khurao Nullah, it is perhaps the best temple in the complex with a stealing beauty.
Khajuraho -Other attractions:
Source : Dr Prem's Travel Photography
Khajuraho as a tourist destination ranks among one of the world's best ones where the primary focus is on temple art, building architecture and spectacular sculptures.  Apart from its appeal centered on temples and erotic art, there are yet other attractions that keep the tourists coming back to this place in quest of pleasure, travel photography and fun.
Let us explore some of the other attractions of Khajuraho that hold the tourists mesmerized:
Panna national park:
This is a wild abode home to a variety of flora and fauna. The deep gorges and the rivers inside the park are amazingly wonderful where you get a feeling that you are in a perfect paradise on earth set amid unspoiled nature far from the din and bustle of city life. This is a place of perpetual bliss.
Covering an area of over 542 sq km, this park is the twenty-second tiger reserve in India.
Dawn breaks here with the twittering of different bird species as the mellow rays of the sun penetrates through the thick foliage in an attempt to hit the moist ground that becomes a bed of dry leaves, shrubs, grassland and, of course, the predators' tracks triggering thrill. The landscape inside the park is amazing that shelters tigers, sambars, wild dogs, chinkara, chital, sloth bear, leopards, rodents and reptiles. Countless species of birds keep the forest ambiance alive with their constant cacophony. As the sun goes below the horizon and dusk sets in, the forest wakes up filled by exotic grunts, growls, hoots and howls. The atmosphere builds up slowly charged with high voltage thrill. The park is about a distance of 25 km from Khajuraho set amid exquisitely beautiful natural surroundings.
There is a Tiger reserve in the park monitoring the rise in tiger population after it suffered a sharp drop in the total number of tigers roaming the park. As per recent census, there are around five tigers and ten cubs inhabiting the wild. Steps are taken to control habitat loss and poaching. The tiger reserve has all the thrill of the world in store for you. Even if you fail to locate a tiger, the atmosphere is enchanting enough for you to keep Panna national park atop your bucket list.
State museum of tribal and folk art:
This is another important attraction in Khajuraho and a very popular haunt among tourists. This museum has a rare collection of artifacts and articles, which represent vividly the tribal culture and tradition that exists in and around Khajuraho. This museum is both informative and educative. It quenches your curiosity about the ways of life prevailing among the ethnic groups of Chattarpur district. Exotic and visually attractive pieces of jewelry, pottery, tribal paintings, wood crafts, bamboo decorative pieces, wristlets, armlets, bangles and head gears crafted by gifted tribal artists are on display that will enchant you with a thought, could the hands trained on hunting and gathering food can create such exquisite pieces of craftsmanship?
Pandava falls and caves:
Located about 35 km away from the main site Khajuraho, this is a marvelous waterfall that plunges through a height of thirty meters after hitting the ground and a pool at its base. The tributary of river Ken unites with this spectacular waterfall in a furious blend of waterworks. According to myth, the Pandava brothers from the Hindu Epic Mahabharata, after being banished into exile have wandered the forests of Central India taking refuge in the Pandava caves at the base of the falls for some time.
Narora Sagar:
Just by the quaint village of Khajuraho, there exists a lake called the Narora Sagar. It is a bit off the beaten track but promises a pristine ambiance.
 Khajuraho –Restaurants:
Source : Dr Prem's Travel Photography
Not only does the visual pleasure of the erotic art of Khajuraho temples provides you with a unique kind of mental relaxation mixed with curiosity and fun, the restaurants here will certainly take care of your gastronomic desire. There are a number of quality restaurants in Khajuraho, which ensure you good food and relaxing moments. Let us explore here a few of them that you will remember for the quality of food they have on menu and their hospitality.
Zorba, the Buddha:
This restaurant located in hotel harmony with a great roof top ambience would certainly fascinate you as would its delicious food served tempt your palate that you have never experienced before. Open throughout the week, its timings are from 7:30 AM till 7:30 PM. The price is stipulated at Rs 200 for two and up onwards. The interior decor is tasteful with expensive wooden furniture installed. The staffs are warm and hospitable. Stir fried vegetables and hot garlic sauce is a big hit here as is pasta and aromatic preparation of chicken curry. The restaurant furnishings are Buddhist icon inspired and they seem ubiquitously present in the restaurant.
Bella Italia:
This restaurant is located in Jain temple road and is open throughout the week with timings between7:00 AM to 10:30 PM. The price for two persons would start from Rs 200 and above. This rooftop eatery is brightly colored to keep you cheerful. The restaurant will give you a pleasant surprise with the choice of furnishings. Long flowing curtains guard the large sized windows and they appear very elegant. The restaurant focuses on authentic Italian cuisines like flavored pizzas and pastas and a wide choice of salads. You may have your meal custom designed by the chef. While he cooks, you settle with a chilled beer or a rejuvenating coffee.
Paradise restaurant:
True to its name, this restaurant retains its standard of food and is immensely popular among tourists. Do not be misled by the modest get up of this eatery as it serves awesomely tasty food. This restaurant is located on the main road and the price starts from Rs 100 for two persons. The atmosphere of this restaurant is peaceful and your batteries get recharged as you spend some time here after a hectic trip exploring the temple sites. Be it the breakfast or the main course lunch or dinner, this restaurant always steals the show with food enthusiasts. The desserts are delicious but moderately priced. The vegetarian pasta and cheesy garlic breads are instant hits. You can even opt for a can of fresh fruit juice or fuming hazelnut coffee. They will leave you absolutely delighted.
Mediterraneo:
This restaurant is located in Jain temple road and is open throughout the week except Mondays. The timings are between7AM to 7PMand the price tag is slightly on the higher side starting from Rs 500 for two. The ambiance is tranquil and the meal is served in generous quantity that will keep you full. Well, of course, not only the quantity the quality is also very high. The aroma of freshly cooked pizza and pasta dishes would flood your salivary glands. Here Carbonara pizza and pasta need a special mention for their wonderful taste.
Raja's Cafe:
This restaurant is located in the main road and is open throughout the week except on Mondays. The restaurant operates between8 AM to 7:30 PM. Food price starts from Rs 100 for two persons and up onwards. The restaurant is run by two Swiss sisters and the homely atmosphere is appreciated widely by domestic and international tourists. The rooftop restaurant will give you a clear view of the temples. Here you can order spicy Indian cuisine or a hearty Swiss or a Chinese meal as well.
Khajuraho Nightlife:
Source : Dr Prem's Travel Photography
Khajuraho night life is as exciting as the exploration of awesome temple art and amazing erotic sculpture that you have been exposed to during the daytime.  The night sky in Khajuraho is itself a magic. Dotted with millions of twinkling stars overhead against an enigmatic background of the dark and eternal sheet of skyline the entire environment would simply enchant you, and during a full moon night it is just incomparable beauty. Lit by bright celestial bodies at night, the sky looks gorgeous and the temples and beautifully designed shrines below shine with a kind of eerie halo.
Khajuraho night will send you into a state of bliss by its enormous charm, and that is dependent on which season of the year you are visiting this captivating site. Generally, in spring, nature is at its best with a full bloom of greenery and flowers bearing a sweet fragrance in the air. The night sky is clear and the gentle breeze creates a romantic ambiance difficult to overlook. You will, in fact, enjoy it to your heart's content.
During the evening, when your hour and minute hands of your wrist watch coincides vertically downwards, the famous sound and light show of this enchanting tourist destination commences with all its glamour and arresting appeal. This program is organized by the Department of tourism, and the venue is in the Western group of temples. The garden where the audience gathers is well groomed and picturesquely beautiful providing a perfect setting for the famous event to go on full-flight capturing the collective mood of the audience taking them to the height of a psychedelic ecstasy.
Chairs are arranged in the garden under a ravishing night sky as tempting as the bewitching stone carvings of ancient Indian beauties that you might have explored during the day. Sometimes, the voices of celebrities like eminent film stars and other famous personalities are employed to address the audience with excerpts and anecdotes drawn from the rich history of the Chandela kings and their immense contributions towards Khajuraho temple art and erotic sculptures. The voice unmistakably creates a dramatic effect on the audience who now has gathered tightly on their seats listening and absorbing all of it with rapt attention.
The show peaks gradually attaining a crescendo of delight and the enticing background voice punctuated by an equally enthralling music holds the audience with undivided attention in a powerful and yet sublime grip. The curiosity of the audience keeps mounting with the awesome narration detailing the construction, history and the significance of the temples. The myth slowly comes up in a hypnotic voice where we are told Hemavati a local Brahmin girl of a stealing feminine beauty was united physically with the Moon god right over here. Consequently, a son was born to her whom Hemavati raises with love and care. This child one day grows up to become the founder of Chandela dynasty.  Since the dramatic episode has its source in physical unification of a human being and an omnipotent deity, the Moon god and the explanation for glorification of sex in temple art becomes quite evident.
The show takes place in two phases. The first one is voiced in Hindi and the second one in English. The quality of the baritone voice has much to do with sustaining the atmosphere and building up the magic spell. The entry fee to the show is 50 INR for Indian tourists while it is 200 INR for foreigners.
During the Khajuraho dance festival conducted from February – March, the night atmosphere becomes charged with a mood of festivity. Famous national level dancers gather here putting up their best performances in one of the premium dance festivals of India fascinating the audience.
 Khajuraho – Off the beaten track:
Source : Dr Prem's Travel Photography
After exploring historical temples, gardens, erotic art and dance festivals, you should not miss other offbeat attractions in Khajuraho that will keep you spellbound. Let us explore these out of the way attractions that have fascinated the tourists with added curiosities and thrills which perhaps only Khajuraho can offer:
A) Yoga- Awesome displays:
The man walked with a slight limp and was most ordinarily dressed hiding a mountain of talent with which he could summon a crowd of tourists as a magician would do with his magic wand. His name was Gopi. We fixed an appointment with him at a venue just a kilometer away from our hotel. A few Americans and a Dutch couple joined us as well to be the spectators to Gopi's jaw-dropping displays.
Just before dusk, we went to meet Gopi at the appointed time and venue. The thin soul was clad in a light dress. It was a soothing summer evening with a light breeze relaxing enough to set our comfort level right. Without much ado, the man straightaway headed for business.
Gopi was a yoga practitioner. It was his bread and butter. After a little bargain, we settled on an agreeable fee for his spectacular yogic display. The Americans and the Dutch couple smilingly agreed to his demand. He sat on a carpet spread on the floor in 'Padmasana'. Exerting all his body weight only on the fingers of both hands that were his only contact with terra firma, he lifted himself through an astounding height of half a foot from the ground. He seemed to do this effortlessly and remained in the position with tranquility written over his face as if he could continue like this for a span of eternity.
Next he did a full arch resting his body on his knees in the pose of ' Ushtrasana' or the Camel stance and bent his vertebral column so much that his head almost touched the inside of his knees at an impossible angle.
He demonstrated the most difficult posture ' Sirsasana' where his body was posed vertically upside down with all his body weight resting on his skull that was in contact with the ground. After a few Asana or yogic stances we told him enough is enough and he need not risk an injury further displaying his yogic skills. Gopi answered with a smile. The man's body was incredibly flexible and seemed made of some kind of elastic material. He explained us the health and sexual benefits of these yogic practices which are certain to enhance our virility. In Khajuraho, a great importance is put on the primitive carnal desires of human beings, I mused smiling.
B) The old village of Khajuraho:
The ancient village of Khajuraho is another offbeat attraction located near the temple site and is a specimen for some serious exploration. The village looks like any other Indian village with rustic lads and lasses frolicking around. The rural population was engaged in their daily chores, and there was a general sense of harmony in the air. But on a closer look, I came to learn all that you see around is not the real story. Behind a facade of universality and calm, there exist certain demarcation lines which are very sharp separating one caste from the other. There were separate wells and property markings based upon the caste of the owner. The concept seemed weird and unjust but nevertheless ignites your curiosity.
C) Raneh Falls and Ken Crocodile sanctuary:
Just 18 km away from Khajuraho, you will find this fascinating site nestled amidst nature. The landscape is brilliant with a picturesque distribution of granite rocks and greenery merged in a wonderful mix. The locals fondly call this place 'The Grand Canyon of India'. The place is a home to langurs, peacocks and a variety of birds and reptiles. Two types of crocodiles are farmed here; the fish-eating ghariyal and the carnivorous crocodiles. The place is a tourist's paradise for those who are in quest of a little out- of- the-way adventure.
D) Varaha temple:
This exquisitely designed structure is the very first temple you come across as you enter the threshold of the western group of temples. This temple is famous for its nine feet tall huge statue of a boar, which is, in fact, an incarnation of the Hindu deity, 'Varaha Avatar '. The sculpture is awe inspiring by its sheer size and animal strength which is reflected from the creation.
E) Panna national park:
About 30 km away from Khajuraho, this park would beckon you if you love the thrill of off the beaten track. The forest cover is in its primitive beauty providing habitat to tigers, sambhars, chitals, chinkaras, monkeys, wild dogs and a myriad of birds. Even if you are not lucky enough to spot the yellow and black striped feline, the wilderness would definitely thrill you.
Khajuraho – The best time to visit:
Source : Dr Prem's Travel Photography
The climate of Khajuraho fluctuates in tune with the seasonal changes, and depending upon your tour itinerary and the schedule of activities one touring season in Khajuraho can be more desirable than the other. In general, Khajuraho is a rather dry place and so your tour program will never be hampered by water logging and flooding even during the rainy season. Ideally, the time period from July to March would be the best for a Khajuraho trip as the temperature remains comparatively cooler.  One must remember Khajuraho is an extremely dry area almost devoid of humidity. So even during the high summer season, your body will not be drained off moisture losing your vital salts as you do not sweat much.  You may find yourself highly enthusiastic about exploring around temples appreciating erotic sculpture even under the punishing sun.
Here we have a season wise breakup of the typical Khajuraho climatic features according to which you can plan your trip:
A) The long stretch of five fascinating months from October to February commences the advent of the winter, the best season to explore Khajuraho outdoors. The atmosphere chills around 20 degrees Celsius on an average November day, and there is a sharp drop in mercury as we move on to drier months ahead. By the month of January, the chill in the air will beat the shit out of you with a freezing temperature of around 4 degrees Celsius. This is the prime season for exploration of temples and Khajuraho's custom designed erotica on the rock. You can do this on foot with a knowledgeable guide accompanying you. Winter is good for taking long trips to forests and mountains like Panna national park, Pandava falls, Raneh falls and Ken crocodile sanctuary. The mellow sun rays feel great and, in fact, you would extremely enjoy its warmth by the side of your hotel swimming pool if you prefer to stay indoors in a lazy winter afternoon.
February is that long awaited month for which you might have been planning a Khajuraho dance festival trip well in advance. Stay throughout February and March, enjoy the dance festival, relish the enchanting spring and a sweet flowery fragrance in the air and be inspired by the romance that is overwhelming and triggered off by the intimate male – female intimate poses immortalized on rock. This season is ideal for a visit along with your paramour. Both the partners get a lot of encouragement from the rock carvings in the backdrop of a spring season when Cupid himself has made both of you his target for shooting all his wonderful arrows.
B) March to June will be the summer season with the scorching sun overhead fiery and furiously spewing heat that might slow you down a bit. Never mind. Drink enough water and juices to keep you hydrated and take necessary protection. The temperature might shoot up to 47 degrees Celsius during mid May when city tour is advised. It will be pleasant inside a cozy air conditioned restaurant chilling out at your leisure.
C) July to September is monsoon season in Khajuraho with different kind of attractions that go with it. Fed by rain, the vegetation around the city turns lush green. The wild forests freshen up in a new look attractive enough for tourists. It is humid during daytime but evenings are soothing. The temperature remains within tolerable limits. Exploring temples and other architectural marvels may not be that tiring. Evening sightseeing is opted by many to escape the humidity. The wild forests freshen up in a new look attractive enough for tourists. Since Khajuraho monsoon is lean, you may avail stay at boutique hotels at decent off season discounts.
Erotic art in Khajuraho – What it reflects?
Khajuraho- A critical evaluation from socio cultural angle
Why should you visit Khajuraho?
Role of nature and environment on Khajuraho art
Life of people in ancient Khajuraho
Combining Wildlife, Cultural, and ecotourism in Khajuraho
Specific Khajuraho Temples with their essential features
Khajuraho Wild life safari – Special attraction
Khajuraho Dance Festival – The special event